Besides regular AQ Soldiers, there are a few powerful commanders or bosses in Call of Duty: Warzone's DMZ game mode. These enemies are more difficult to eliminate than the armored bots. Here's a guide to all the commanders that spawn in a DMZ match and how to defeat them.
Where to find a Commander in DMZ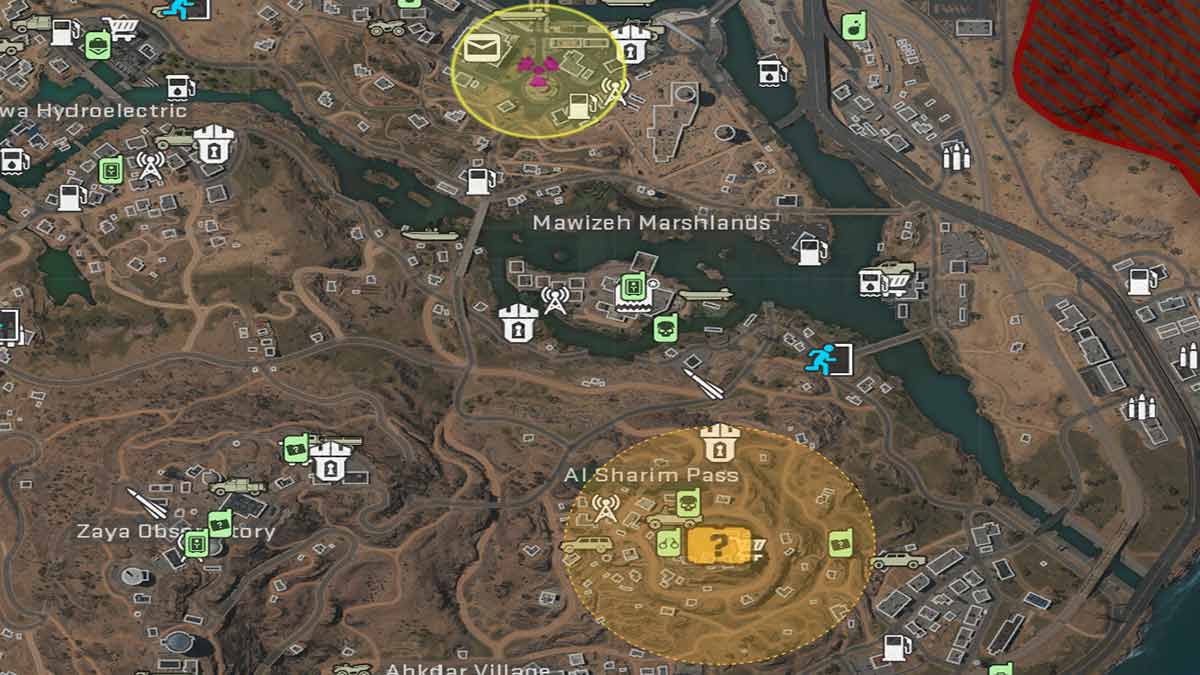 When you first load into the DMZ, you'll find two yellow circles somewhere on the map (see first image). The smaller circle with the hazard symbol is where the Chemist can be found. The Juggernaut's location is marked with a yellow case with a question mark on it. Finally, the third commander in DMZ is the Boss Chopper, who is marked by the white skull icon.
Chemist
The Chemist lurks inside the radiation zone and is protected by several armored guards. You can identify it with its yellow hazmat suit. Before going to hunt down the Chemist, make sure to equip a Gas Mask or consume Radiation Blocker pills, so that the radiation doesn't take away your health. The Chemist uses Smoke Grenades to escape and reposition. Engage it from cover and it should be an easy kill. Also, extract the M13B that drops if you haven't already unlocked the weapon already.
Related: How to complete the Poisoned Well mission in Warzone 2 DMZ
Juggernaut
The Juggernaut has more health than the Chemist and, hence, more effort is required to kill it. Its minigun and aim are extremely accurate, therefore, don't stay in its line of sight for too long. The best way to defeat a Juggernaut is by using explosives, RPGs, and shooting at it from different angles. Once dead, it'll drop a Weapon Case that you can extract for bonus XP and exclusive rewards.
Commander Helo / Boss Chopper
While the Chemist and Juggernaut spawn when the match begins, the Commander Helo may spawn after a while, usually 10 minutes into the game. It appears at a random location and only retaliates if fired upon. Your team can dump several bullet magazines into the helicopter to bring it down. The Boss Chopper releases a supply drop on crash, which you can loot for some valuable loot.
Stay tuned to Pro Game Guides for more Call of Duty: Modern Warfare 2 and Warzone 2 content. In the meantime, head over to our article on How to control three SAM Sites simultaneously in Warzone 2 DMZ.