Call of Duty conducts various major tournaments throughout the year, be it CDL Championship or World Series of Warzone (WSOW). The 2022 World Series of Warzone is scheduled to run from Aug. 12, 2022, to Sept. 7, 2022, and has a total prize pool of $600,000. Here's everything you need to know about the biggest upcoming Call of Duty: Warzone tournament of the year.
How to participate in World Series of Warzone 2022
The World Series of Warzone 2022 event is being hosted by Amazon Prime Gaming. The participants include content creators invited by Activision, players from Call of Duty League teams, and teams who qualify in the initial stage. The first stage of WSOW 2022 is the In-Game Open, in which anyone from the North America (NA) and Europe (EU) region can participate:
Head over to GameBattles NA or GameBattles EU webpage, depending on your region.
Read the complete rules for the tournament and click on Create A Team to enter yours and your teammates' details. You must register before Aug. 15 at 6pm PT, preferably before Aug.12.
From Aug. 12 to Aug. 15, you need to enter the WSOW BR Trios playlist and try scoring higher every game. Your 10 best games will be considered after the In-Game Open concludes.
The top 40 teams will proceed to the Qualifier round. If you are amongst the top 20 qualifying teams, you'll compete in the Final against professional Call of Duty: Warzone players.
Related: How to get 2022 CDL Champs viewership rewards for CoD Warzone & Vanguard
World Series of Warzone 2022 Schedule and Format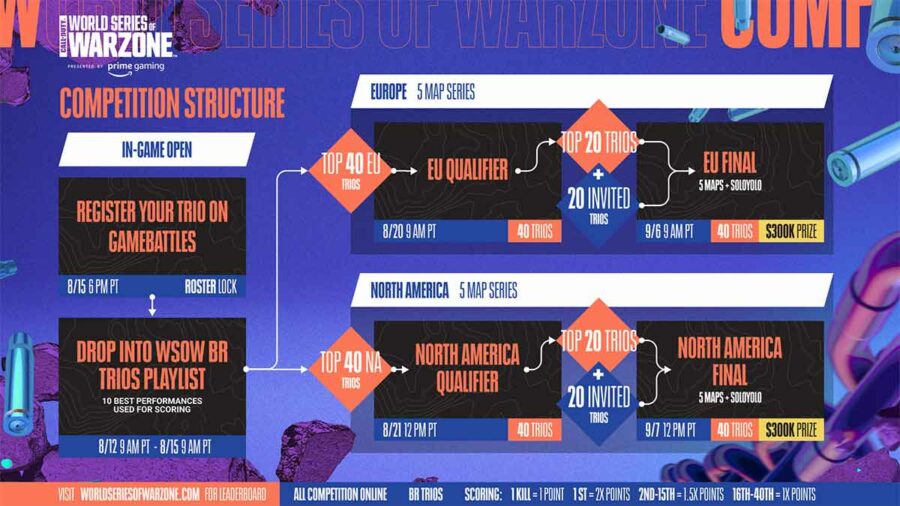 World Series of Warzone 2022 will be conducted separately for two regions—NA and EU, each featuring a prize pool of $300,000. The tournament is planned in three stages for both regions:
In-Game Open - Aug. 12 at 9am PT to Aug. 15 at 9am PT
Qualifiers (top 40 teams from last stage)

NA - Aug. 21 at 12pm PT
EU - Aug. 20 at 9am PT

Finals (20 qualified and 20 invited team of trios)

NA - Sept. 7 at 12pm PT
EU - Sept. 6 at 9am PT
WSOW will primarily be a Caldera Battle Royale Trios tournament with an additional Solo match where the winner takes all the money. In the Final round, five matches of trios will be played, and the prize pool will be $200,000. On the other hand, the winner of the "SoloYolo" game will bag the prize of $100,000 all for themselves.
How to watch World Series of Warzone 2022
You can watch your favorite streamers and friends on whatever platform they will be live streaming on, i.e., YouTube, Twitch, and Facebook. WSOW Qualifiers and Finals will also air on Call of Duty's official Twitch channel.
The event also brings the World Series of Warzone Battle Pack available through Prime Gaming. From Sept. 2 onward, players can claim this bundle that contains an operator skin, two weapon blueprints, and more in Warzone and Vanguard.
Stay tuned to Pro Game Guides for more Call of Duty content. In the meantime, head over to our article on How to play 'Rebirth of the Dead' mode in CoD Warzone.