It just wouldn't be a live service game if there weren't levels and passes to worry about. Despite still being in beta, Modern Warfare 2 is putting players on that hamster wheel and putting the carrot on a stick with levels to be earned and rewards for hitting certain milestones. Here's everything that can be earned for hitting the level cap.
Is there a level cap for the Modern Warfare 2 beta?
At the time of writing, during the first beta weekend on PlayStation, the current level cap is 15. This will go up to level 30 on the second beta weekend. Progress from the first open beta weekend will carry over to the second and players with access to the second weekend only will still be able to earn the first weekend rewards.
What are the Modern Warfare 2 beta dates?
Weekend One
September 16 to 17: PlayStation Early Access
September 18 to 20: PlayStation Open Beta
Weekend Two
September 22 to 23: Xbox & PC Early Access, PlayStation Open Beta
September 24 to 26: All Platforms Open Beta
Beta Rewards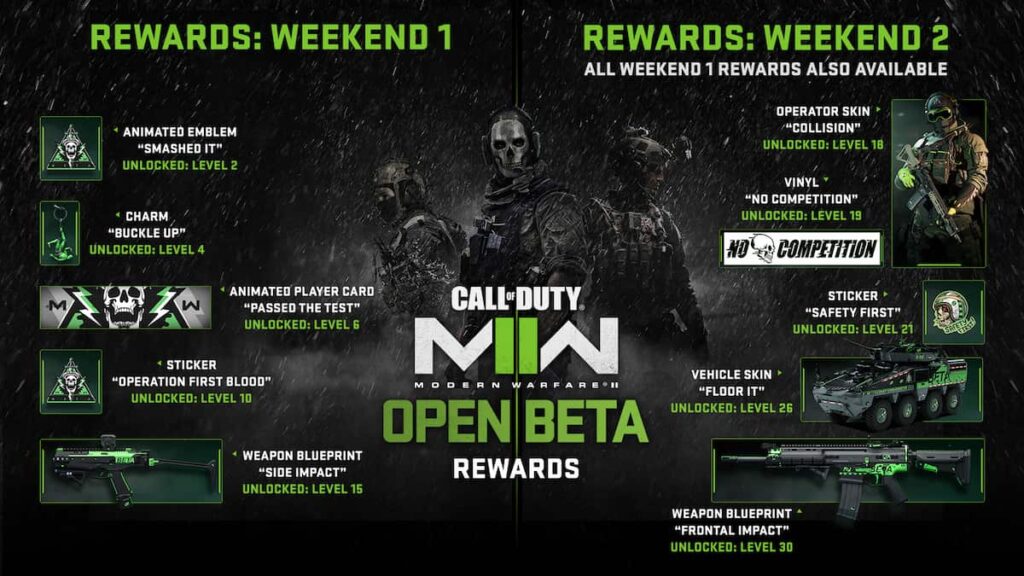 Weekend One
Level 2: Animate Emblem "Smashed It"
Level 4: Charm "Buckle Up"
Level 6: Animated Player Card "Passed the Test"
Level 10: Sticker "Operation First Blood"
Level 15: Weapon Blueprint "Side Impact"
Weekend Two
Level 18: Operator Skin "Collision"
Level 19: Vinyl "No Competition"
Level 21: Sticker "Safety First"
Level 26: Vehicle Skin "Floor It"
Level 30: Weapon Blueprint "Frontal Impact"
For more Modern Warfare 2 goodies, check out All Operators in Modern Warfare 2 beta and how to unlock them on Pro Game Guides.