Cities: Skylines is the leader of the market when it comes to city simulation games. It has multiple DLCs (Downloadable Content), some of which provide the players with new maps to build on. While all have their positives, only a few have rose to the occasion to be named the best maps of the game.
Best Maps in Cities: Skylines
Whether in the base game or part of a DLC, here are the best maps in Cities: Skylines.
Green Plains
The Green Plains map is available in the base game of Cities: Skylines. This unassuming map is especially great for its wealth of raw materials. It also gives lots of open space with more relaxed terrain, giving way to an ideal environment to expand a city in. The map has a unique road system that has a built-in highway loop. This is great for giving the map easier development and traffic control/flow. Green Plains provides players with two lakes and three rivers, which is perfect for establishing water access with sewage and water utilities.
Grand River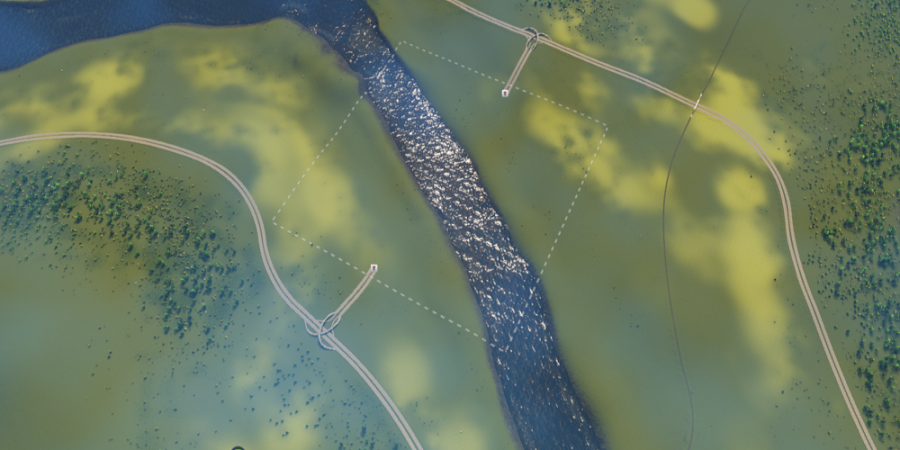 The Grand River is a map in the base game, which means no DLC purchases are necessary. This map may have a giant river running straight down the middle, but the layout is otherwise uncomplicated. The land area of the map gives players freedom in how they build, rarely limiting their style of building. When it comes to the river in the center of the map, players have the option to create a highway across the body of water. This gives players the ability to create a high-traffic area that will increase land value and demand for commercial and industrial buildings. The river has a strong current that is a consistent source of energy (comes after unlocking the dam). While this may be a drawback for some, there are no oil and minerals on the map, making it ideal for those who do not want to work with that challenge.
Arid Plains
The Arid Plains map is in the Mass Transit DLC of the game. It provides players with a gargantuan building area, with the two biggest areas being comprised of forestry and water. The map gives moderate rain conditions, which can ward against flooding. This is a good map for those that are new to large development and expansion; Arid Plains gives you a lot of freedom to build and little to no pressure to condense your city. The map also boasts good, consistent terrain and materials.
Lavender Lake
Lavender Lake is a map in the Green Cities DLC of the game. The map is prided on its large forestry industry area, giving players the ability to expand industrial industry with less pollution risk (as it is renewable). While not a practical perk of the game, the Lavender Lake map has a 25% chance of experiencing the Northern Lights. This can be a great easter egg for players. While some maps have higher occurrences, this map is the best mix of practical and fantastical. It also contains multiple terrain types, such as rivers (and a lake), wooded areas, and hills. This map gives players open options for building, which is great for more creative players.
Azure Gulf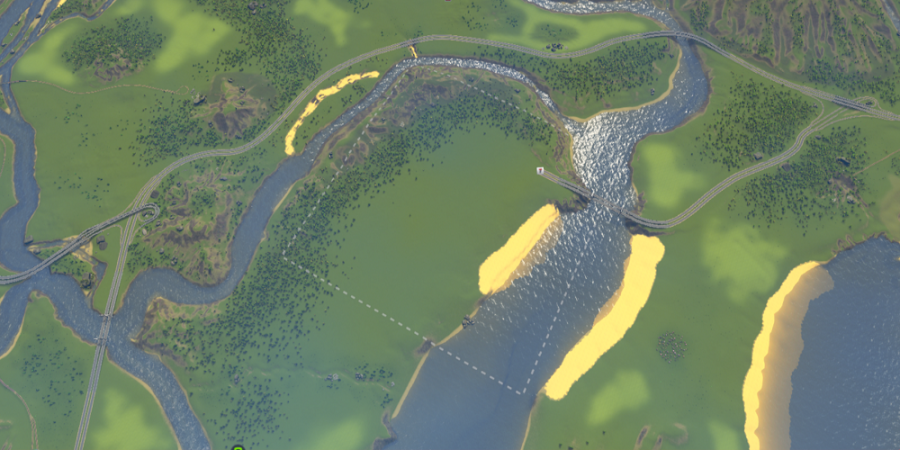 Azure Gulf is part of the Sunset Harbor DLC in Cities: Skylines. The map has a water-dominant building area, which gives unique (but not insurmountable) challenges in building, planning, and expansion. This is one of the ideal maps for the fishing industry. The varied terrain of this map, which is comprised of beaches, rivers, and a seashore, are sure to give players many options. For land area, the terrain is flat, which is perfect for those who do not want to focus on incline challenges.
For more coverage of Cities: Skylines, be sure to check back with Pro Game Guides.