Rainbow Pearls are currencies that are often distributed as big-ticket prizes in events. They can also be earned by delivering cargo in Touc's Trade Harbor. Players can start making use of these elusive Pearls by unlocking the Rainbow Shell Gallery, which can be accessed inside Touc's Trade Harbor. They can also be used to purchase Sea Fairy Cookie's Decor from the Decor Shop.
Rainbow Shell Gallery
The Rainbow Shell Gallery sells rare items at a limited supply. These refresh every three days, so it's important to grab what you need while it's still around!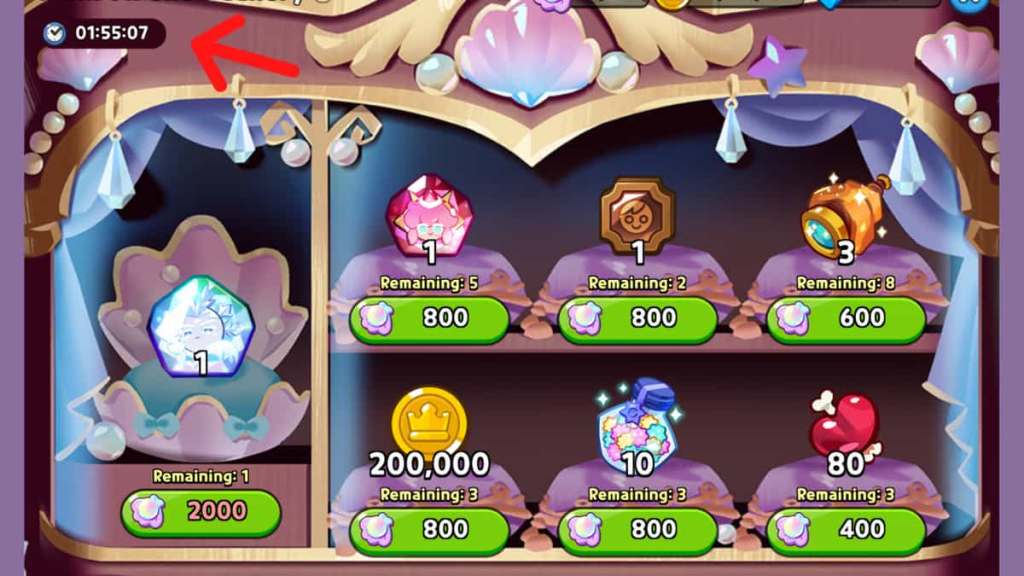 Once inside the Rainbow Shell Gallery, you can determine how much time is left until the next restock by looking at the timer on the upper left. While the items on rotation are random, you can expect a variation of these items to always show up:
Legendary Cookie Soulstone
Epic Cookie Soulstone
Guild Relic
Sea Rarities
All other rewards are stocked from an existing pool, including Magic Cookie Cutters, Treasure Tickets, Skill Powders, and EXP Star Jellies.
Related: Best Almond Cookie Toppings build in Cookie Run: Kingdom
Decor Shop
The Decor Shop typically asks for Coins and Crystals in exchange for various Kingdom Decor. But Dream of the Tower, Sea Fairy Cookie's designated item, costs Rainbow Pearls to purchase.
The water tower costs 24,000 Rainbow Pearls, and it can be purchased from the Tropical Island section of the Decor Shop. Sea Fairy Cookie has a unique interaction with it: she sits atop the tower and draws her sword for a moment.
Check out our guide on How to unlock Touc's Trade Harbor in Cookie Run: Kingdom to access the Rainbow Shell Gallery and farm Rainbow Pearls.