Cyberpsycho Sightings are a unique type of GIG in Cyberpunk 2077, where players are tasked with neutralizing Cyberpsycho stricken NPCs. However, although the quests tend to be straightforward with their objective, some can still prove enduring due to unique challenges that vary between each GIG. The LT.Mower Cyberpsycho Sighting is no different and may test the skills of the most hardened mercenary. Luckily, in this guide, we are going to explain step by step what you need to do to defeat LT.Mower in Cyberpunk 2077.
Fixer: Regina Jones
Location: Watson, Kabuki
Quest Type: Cyberpsycho Sighting.
Requirement: Completed both main missions, Rescue and Ripperdoc.
How to beat the Lt. Mower Cyberpsycho Sighting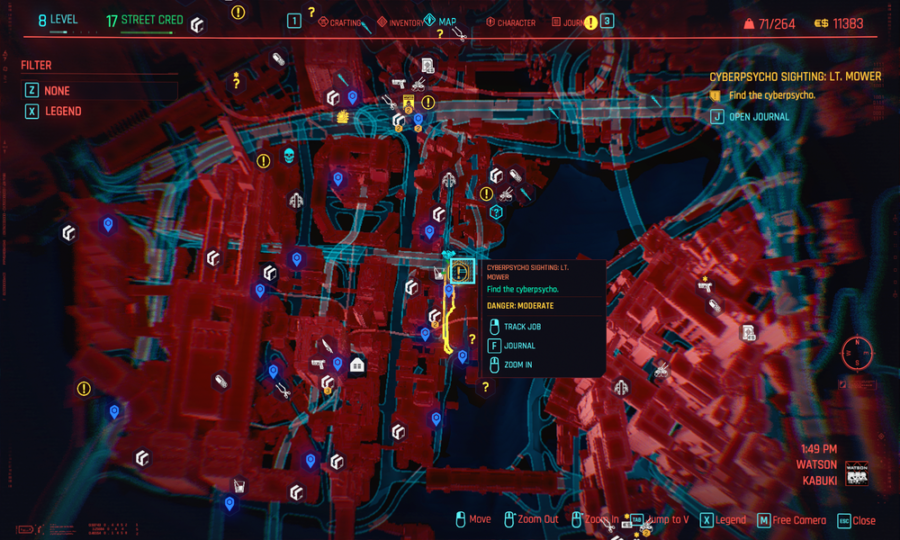 To beat the Lt. Mower Cyberpsycho Sighting, you need to first start the quest at the location shown on the map in the image above. Upon arriving at the site marked above, Regina Jones will call you, informing you of the situation, and give you the job of resolving it. After you reach this point, you will need to locate Lt. Mower and incapacitate them.
Before you begin this quest, let's go over the basics first. In short, as with all Cyberpsycho sitings you will, in general, need to either kill or peacefully take down the Cyberpsycho. To start, each quest will vary in requiring you to either kill or incapacitate targets, and for the Lt. Mower sighting, as we just stated, you will need to incapacitate them. Luckily there are a few ways you can do this in the game, and if you check the list below, you will find some of the best nonlethal methods.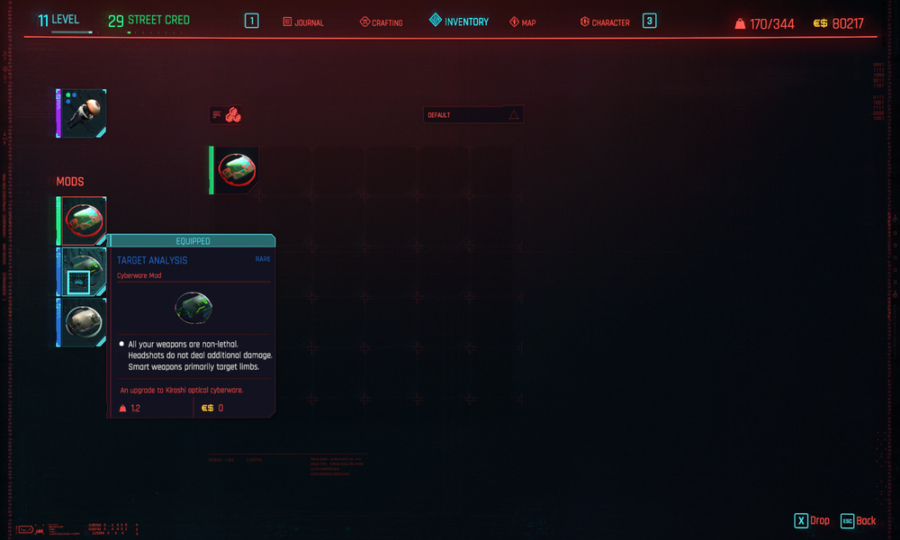 Use Non-Lethal weapons:

Using a melee weapon like baseball bats is a great way to knock out enemies, but will require you to get in close, which is not recommend depending on your level and character build, as Cyberpsychos can be dangerous and deadly in up-close combat.

Use Cyberware and Weapon mods:

In Cyberpunk 2077, players can use a lot of mods to enhance their abilities; some of these mods like PAX and Target analysis can even turn your weapons from lethal to nonlethal. Because of this, we recommend using Target analysis over PAX, as the former can be freely equipped and unequipped.

Use Quickhacks:

In general, quickhacks can be helpful tools for taking down Cyberpunk 2077's various obstacles, but the System Reset quickhack is probably the best one you can use on Cyberpsychos. This is because it will allow you to take them down without getting into combat; If you want to go with this route, you will need to unlock crafting quickhacks with the required skills. You can also check merchants that sell quickhacks, but there is no guarantee they will have it in stock.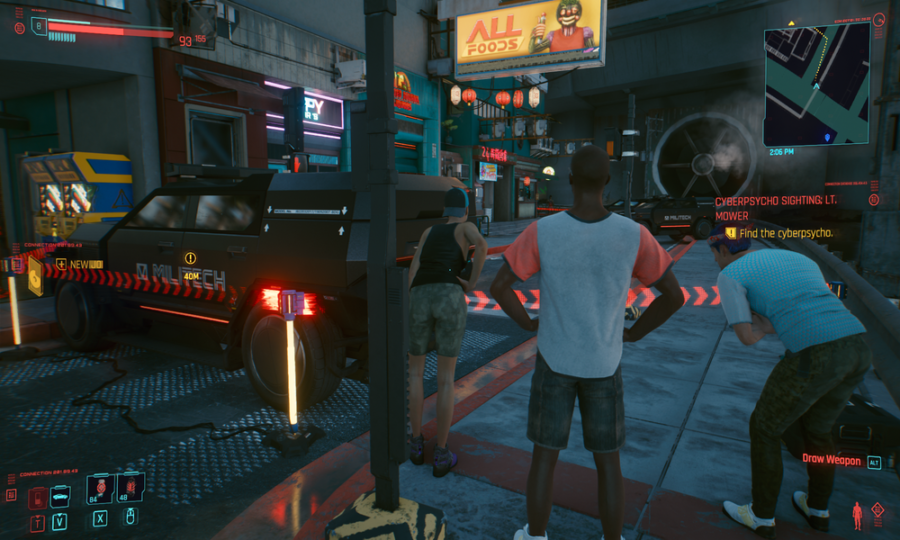 Once you get your weapon situation figured out, you can then carry on to the quest location. That said, start by heading past the cop car shown above; from there on, you will need to head towards an alleyway. It won't be hard locating this area as you will see several miltech soldiers rushing towards it when you first enter the area.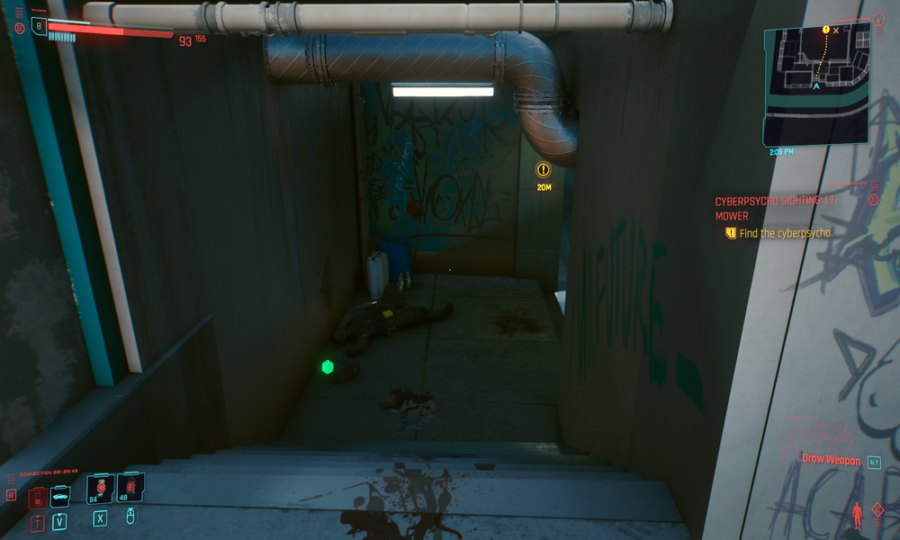 When you reach the alleyway, don't forget to loot the bodies, as shown above. After you have done so, turn right, and you will find Lt. Mower in a small courtyard with several dead bodies surrounding her. This is where you will need to beat Lt. Mower, and if you use the methods described above, you won't have any problems doing it. However, if you check below, we will have some additional helpful tips for defeating her.
Avoid melee combat if you can
If you are a melee focus character, we recommend caution when engaging with Cyberpsychos up close, as some can have dangerous attacks that can one-shot you. Lt. Mower is no different and will have a notable electric attack that is only amplified by the fact the area you fight her in is covered with water.
Because of this, we highly recommend avoiding melee altogether and take potshots at her from range. But if you still want to go with melee attacks, we recommend falling back whenever she is about to discharge her electric attack.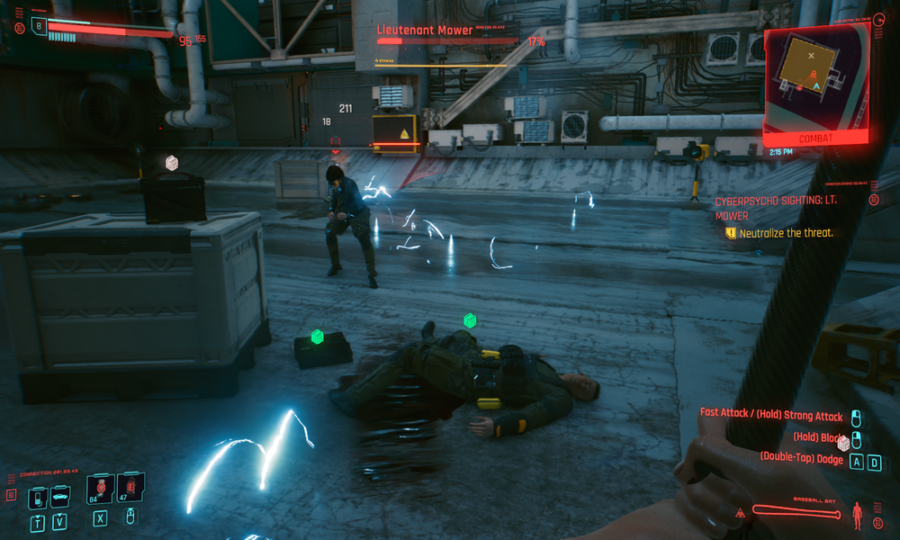 Use range attacks and Quickhacks
The best way to take down Lt. Mower is from range; we recommend using a sniper rifle or a power precision rifle to accomplish this. Along with this, combine range attacks with the use of quick hacks like Overheat for superb results. If she ever closes the distance on you, be sure to move and dodge any of her incoming attacks; we also recommend falling back to the entrance to heal up if you are close to dying.
Once you beat Lt. Mower, you will need to loot her to get a shard; after that, send Regina a message to complete the quest and get your reward. If you are unsure, why not follow this YouTube guide below.
For more on Cyberpunk 2077, PGG has you covered. We have an extensive roster of guides on nearly everything for the game. To start you off, I'd recommend visiting our how to level up and farm money guides.