Throughout Cyberpunk 2077, there are items called crafting specs, which are basically blueprints for various items in the game. If you find one, chances are it can be crafted to get a really powerful weapon or gear item. However, you can just use crafting specs as soon as you get them, as there are a few steps you need to do first. That said, in this guide, we will show players how to craft items and get crafting specs.
How to craft weapons and gear in Cyberpunk 2077
To craft items in Cyberpunk 2077, you will need first to get both upgrade components and various other resources, including a crafting spec. You can find all of these items during quests inside loot containers and sometimes as loot from dead enemies.
Along with looting, you can also dismantle every item you receive for both resources and upgrade components. To disassemble items, just go to your backpack and hold the dismantle button over an item you want to break down. Lastly, upgrade components can also be bought from nearly any merchant in the game, however, the better and cheapest route would be just to dismantle any weapon you don't want.
After gathering both resources and upgrade components, you can craft items via crafting specs in the crafting menu tab inside the inventory hub. As shown above, when you are in the crafting menu, find the crafting spec for the item you want to make.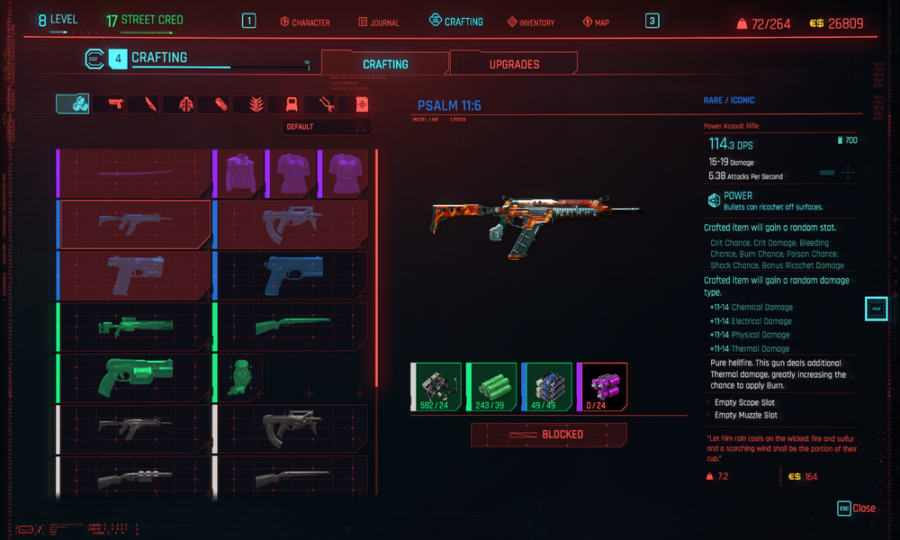 You can find crafting specs listed by rarity on the first tab, or you can find them organized by item variant as well, such as weapons, clothes, and cyberware. When you find the spec you want, click on it, and then in the next menu, you can craft any item you want, provided you meet the required resources or level requirement.
To check for both, look at the bottom of your screen while in the crafting menu; all the crafting requirements will be shown there, and you won't be able to craft the item you want if you are not at the required level. Along with this, the crafting spec will be highlighted red on the crafting spec list, which is an indicator of it being level locked.
For more on Cyberpunk 2077, we at PGG got your back. Come on down today for guides on nearly everything in the game and more on the way. To start you off, we recommend checking out both the how to fast travel and equip attachment guides. Take care and be safe, you cybernetic mercenaries!