Dead by Daylight brings in winter with the Bone Chill event that will give their most valuable players some exciting rewards by simply logging onto the game daily.
There will be more than enough rewards during this season's chilling DBD event, but only for a limited amount of time. Now is the perfect time to dive in and take advantage of the game's holiday spirit.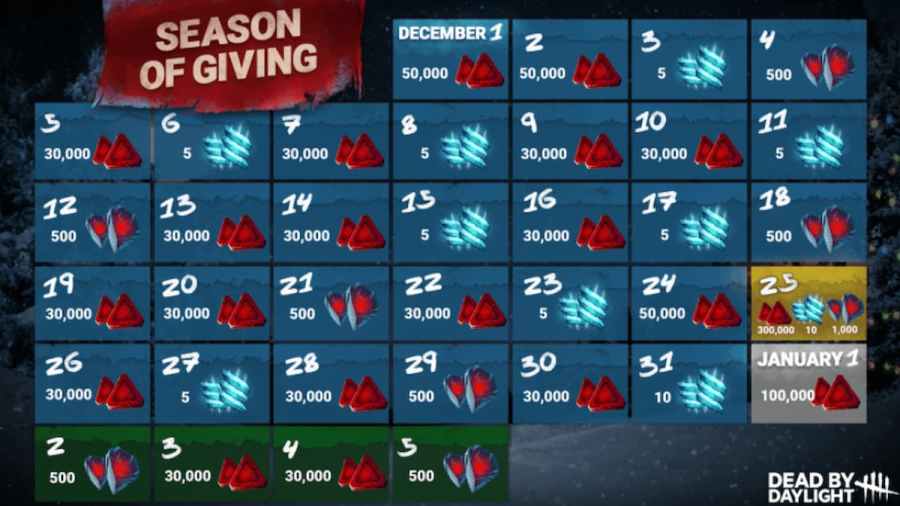 Related: When does the Dead by Daylight Winter 2021 Bone Chill Event end?
A form of in-game currency will be awarded to players that log into the game every day from Dec. 1, 2021, until Jan. 6, 2022. Each reward period will begin at 11 am ET and end 24 hours later. Shown in the image above, these daily login rewards include Bloodpoints, Rift Fragments, and Iridescent Shards!
For all DBD Survivors and Killers alike, 'tis the season of boasting the scariest of ugly sweaters, building snowmen, and sipping hot cocoa in Dead by Daylight's Winter 2021 Bone Chill event.
Don't miss all of our Dead by Daylight news, lists, and gameplay guides, right here on the PGG! In the meantime, check out our guide on How to unlock winter cosmetics in Dead by Daylight Bone Chill Event.