Sometimes when your fireteam has been wiping nonstop and the Crucible wins aren't coming, it's nice to take a break and look at some memes. Memes are a refreshing way to step back and poke fun at Destiny 2's features with no hard feelings involved. They help members of a community feel connected in their struggles and triumphs, creating a sense of belonging. Come join us as we peruse the best Destiny 2 memes.
Best Destiny 2 memes of the month
Who's a good boy?
This Reddit post by SluggedMario is an adorable variation of a cutscene from the Witch Queen expansion. This meme prompts us to wonder which Destiny class our pets would be in.
Calus, bring us back.
This Reddit post by QuicheUnleashed reminds us of the good old days of Leviathan raids. We can never forget the first time we ran Leviathan, and how we had to carefully instruct our teammates to avoid shooting his chalice. Although the Leviathan ship is now derelict, our memories are as pristine as ever.
How many times do we have to teach you this lesson, old man?
This Reddit post by B0MB-locket depicts the relentless Taniks with a brand-new fit. We always thought Taniks needed some denim to spice up his aesthetic. With this drip, Taniks can finally relate with the kids with his new persona Janiks.
One of the best shaders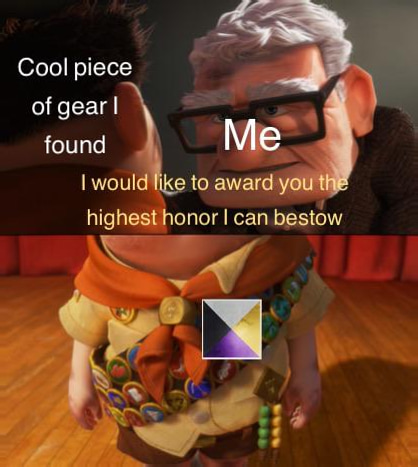 This Reddit post by Remarkable-Cup-4096 illustrates the significance of using your favorite shader on a new piece of gear. Once you apply the Calus's Selected shader to a gun, it's yours for life. It is a claim of both ownership and prestige.
It's hardly a good roll, too
This Reddit post by scarletRageX is centered around our communal frustration at receiving dozens of Out of Bounds SMGs. Although we are tired of seeing the gun's smug bright red icon, it does actually have some decent PvE rolls.
For more Destiny 2 content, come check out Is there a Light Level advantage in Iron Banner in Destiny 2? here on Pro Game Guides.