One of the greatest features of Destiny 2 is the game's creative freedom. With character customization and shaders, players can design a look that suits them personally. Shaders are color schemes applied to armor and weapons and can be individually chosen for each component. These shaders can either be used to maintain a consistent aesthetic or create a patchwork design reminiscent of the discount toy bin. Here are the 20 best shaders in Destiny 2.
Top 20 shaders in Destiny 2
Calus's Selected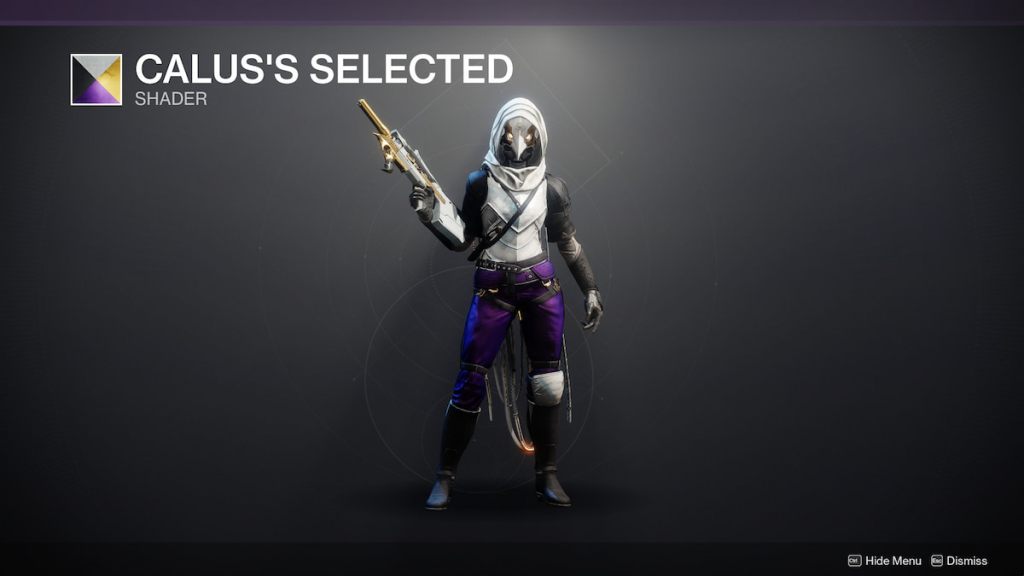 Calus's Selected was earned from the now vaulted Leviathan raid and bears the royal purple and gold tones of Calus himself. The shader sports a lovely deep purple color and looks especially excellent with the Emperor's Agent suit. The gold and white combo look clean and sophisticated, while the purple gives the entire outfit a pop of color.
Bitterpearl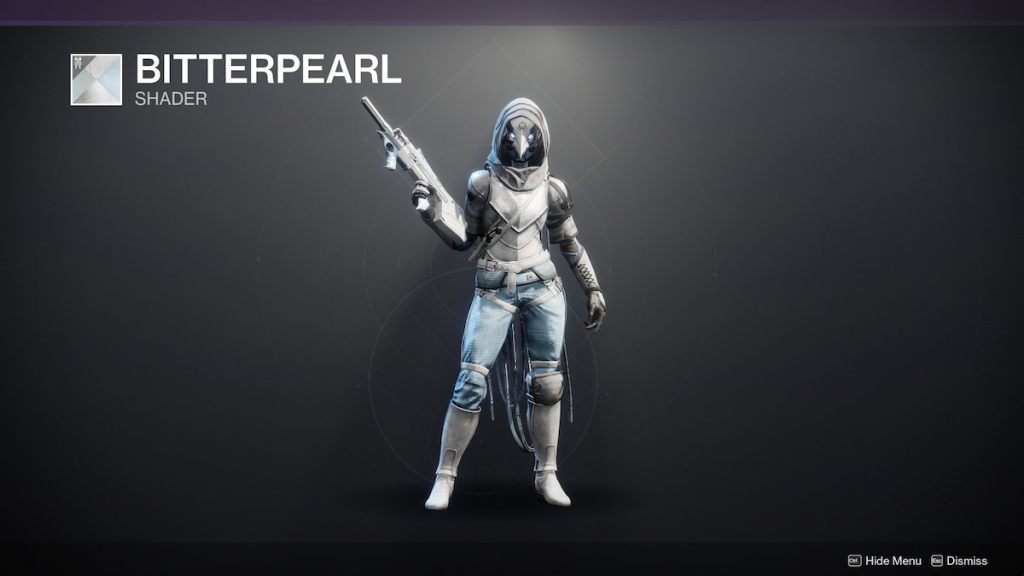 At long last, Bungie gave us an all-white shader, with the exception of some light blue areas. This shader is crisp, with a white color that doesn't have a distracting texture or iridescence. This shader is the equivalent of finding a shirt from Forever 21 that doesn't have text or an out-of-place image but a pure, solid color. Thank you, Bungie.
Rustberry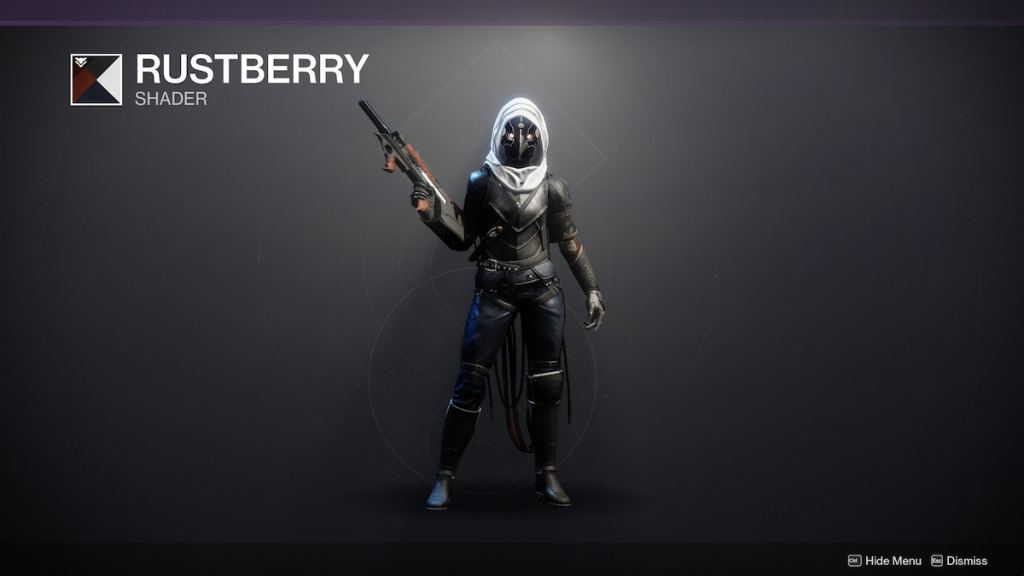 Rustberry is the yin to Bitterpearl's yang. For years, Rustberry has been the go-to shader for all black outfits. It is one of the best shaders for the faceless look, where players use dark shaders to hide their character's helmet. Although Rustberry has some brown and white sections, it typically turns the helmet completely black. With the help of shaders like Skele-Ghaul and Vintage Timber, Rustberry brings you one step closer to becoming the edgiest Guardian around.
New Age Black Armory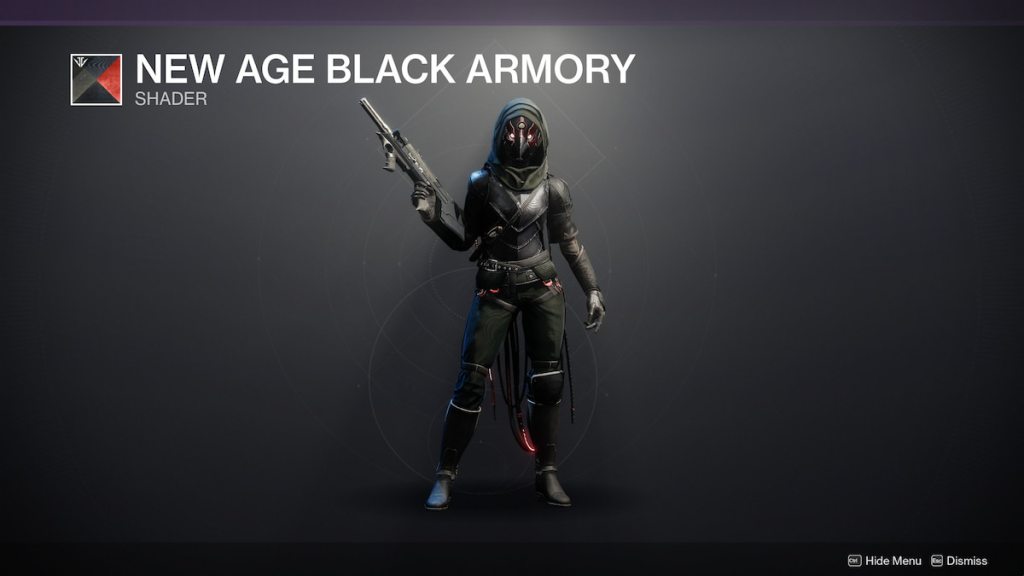 Although it's hard to see at first glance, New Age Black Armory is an animated shader that swirls like ink. The combination of black and red is striking, and the addition of the red isn't overwhelming. This shader is perfect for a simplistic and sharp design.
Technofusion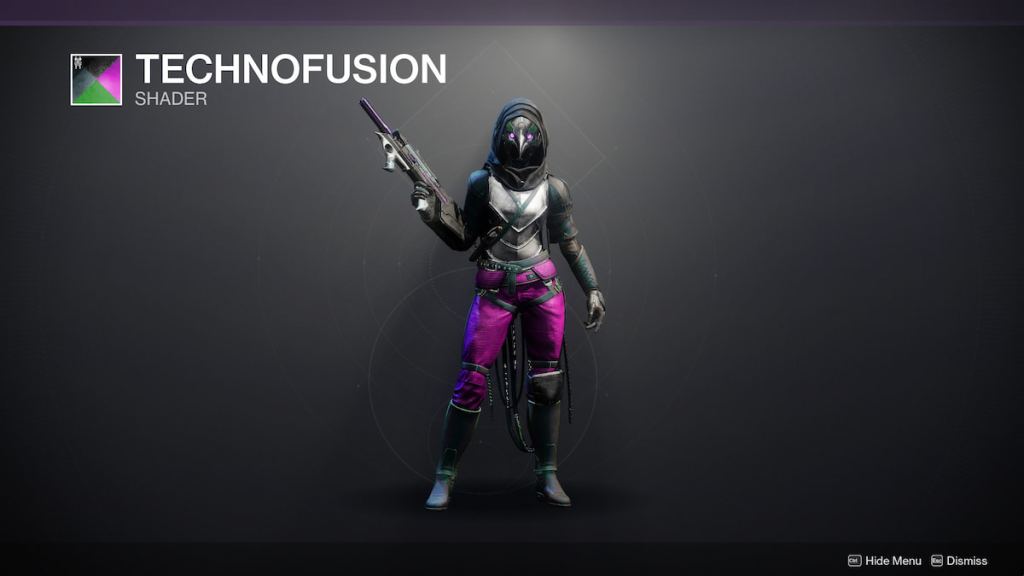 Technofusion was obtainable from the season pass for Season of the Splicer. Although the shader can sometimes look odd on armor, it looks beautiful on weapons. The green and pink surprisingly pair well together, creating a futuristic hue on any weapon. Even though the pink does look strange on leg armor, we must say, you cannot find a hotter pink in the world of Destiny 2.
Ritualism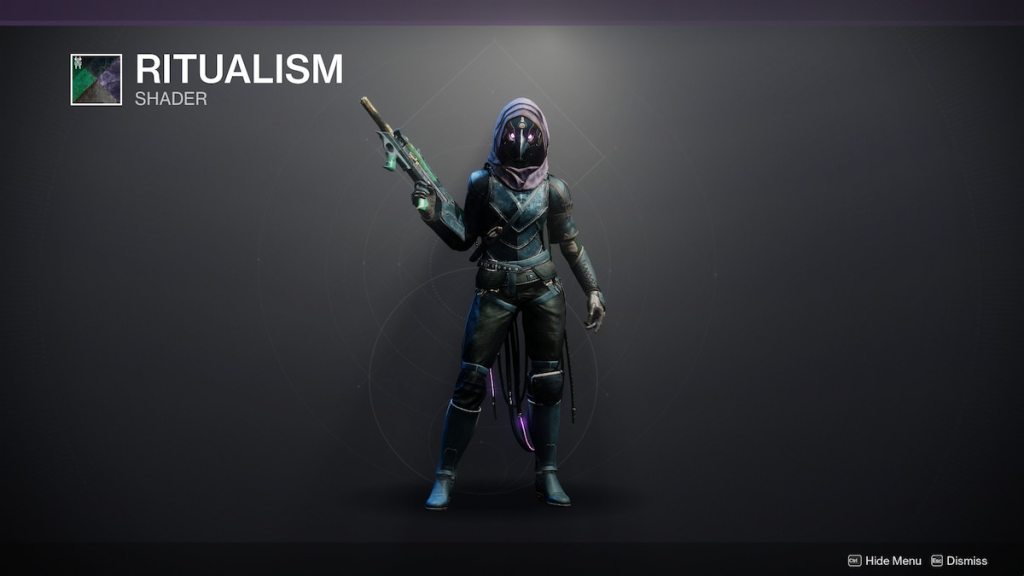 Ritualism is a bit of a sleeper hit. Due to the fairly basic green and gray colors in the icon, we initially didn't expect much from this shader. However, the dappled green texture is quite unique, and the color scheme reminds us of the Witch Queen expansion. This is the perfect shader for exploring any wetlands in your area, as this shader looks like a bog, but in a good way.
Related: Should I Buy Destiny 2: The Witch Queen? – Destiny 2: The Witch Queen Review
Neopop Wave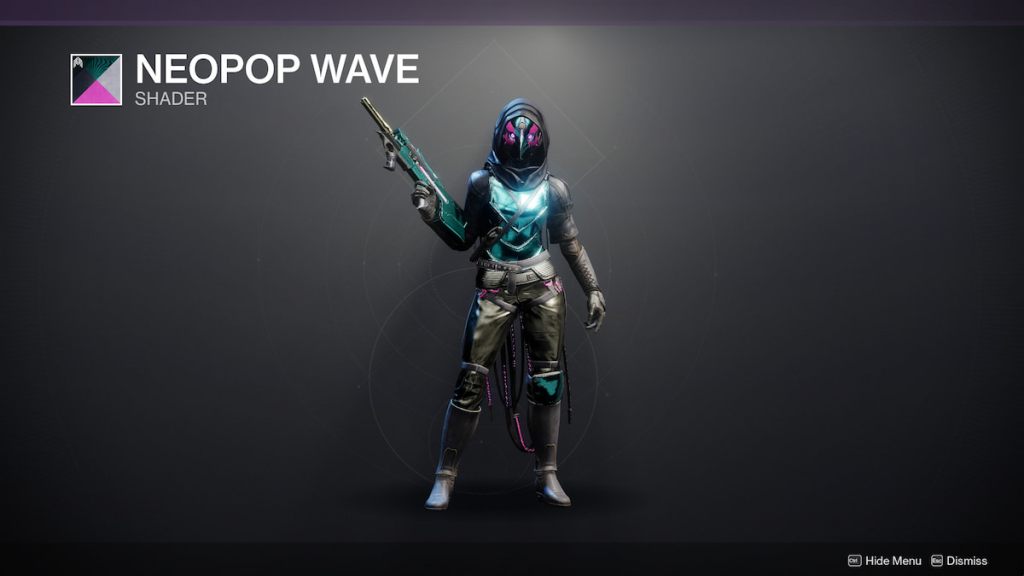 While this shader is often used ironically, the blinding blue and pink of Neopop Wave started to grow on us. There's something endearing about a ridiculous color scheme that is self-aware of its absurdity. When the community complains of its "ugliness," Neopop Wave does not back down. It does not falter. Though the words of the public are like arrows, Neopop Wave is a wall of iron.
Seven Sisters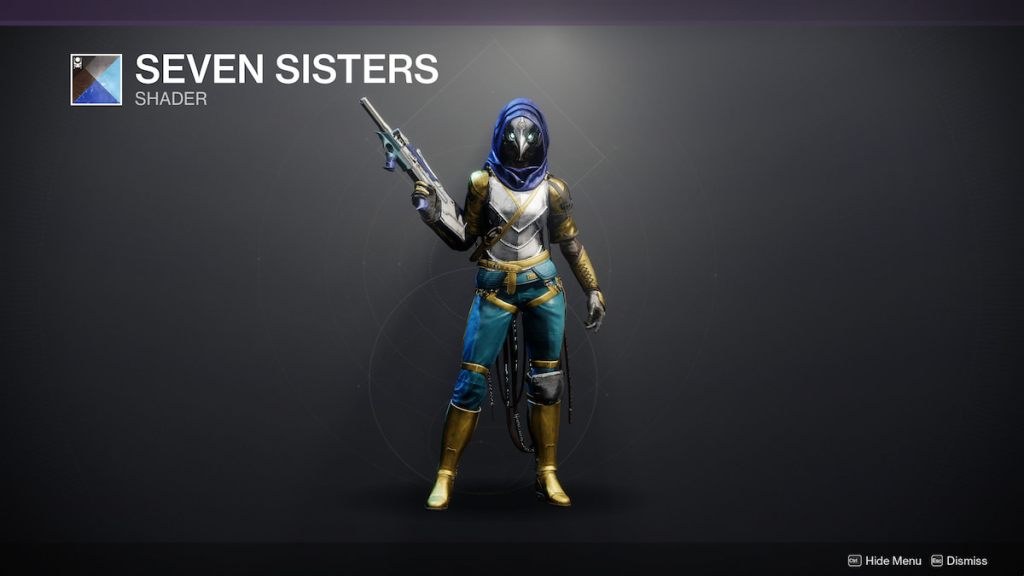 Even though this shader does not look excellent on body armor, it is breathtaking on capes. Seven Sisters is an animated shader that turns fabric into stars, floating across the surface of any cape. This shader is effective when mixed with other shaders since it only looks best on class armor. And yes, we also have no idea where the gold came from when the icon only shows brown and silver.
Dreaming Spectrum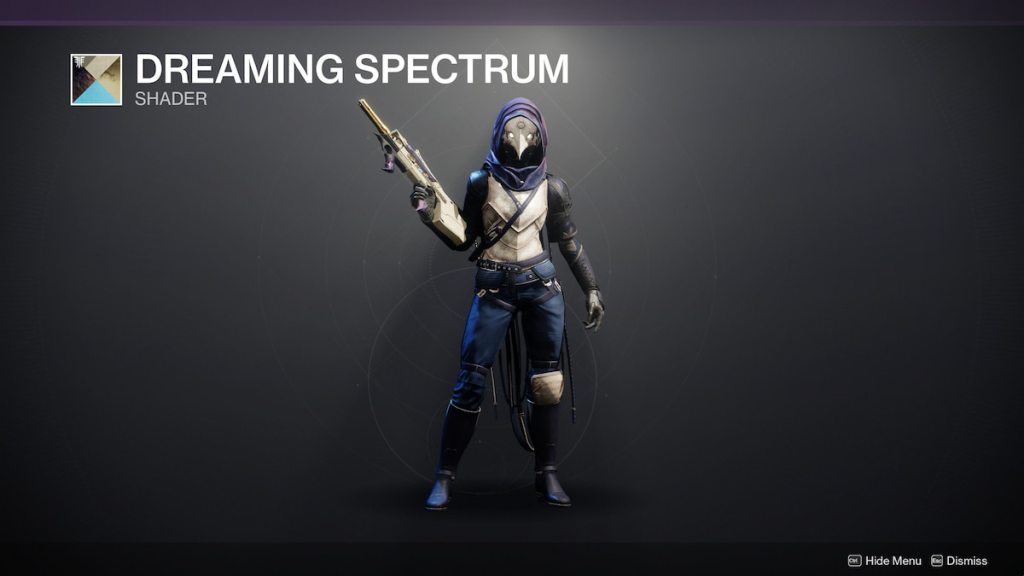 This shader makes armor look like it's made from bone. There's nothing else we can say that justifies its place on the list. Bone armor is incredible. In all seriousness, the blue and iridescent purple highlights give this shader life, making the neutral colors pop. It makes some arm pieces completely black, such as Mechanik 1.1. It also looks like bones.
Butterbark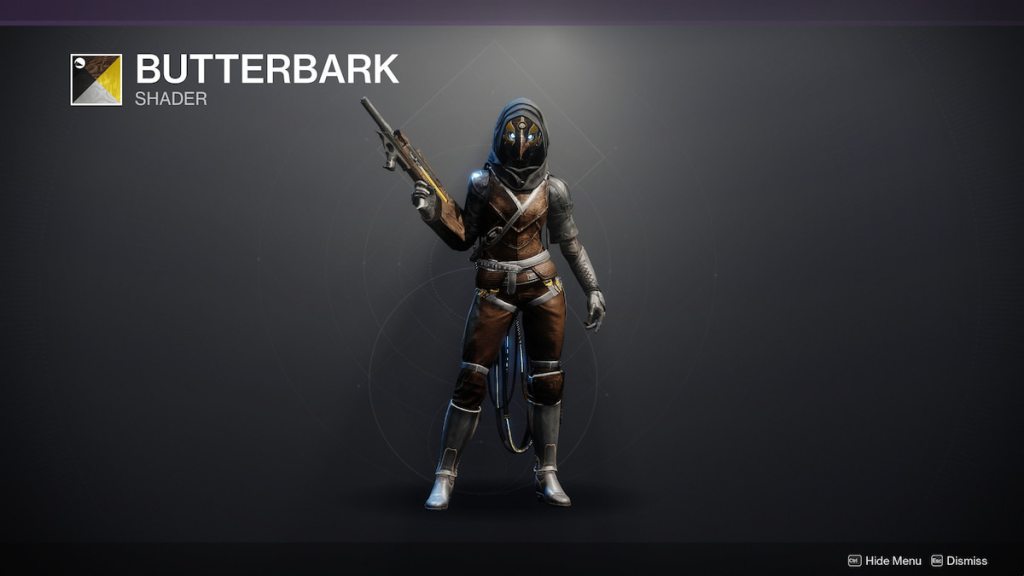 Butterbark is highly referred to in Destiny 2's community as "the wood shader." This shader mixes the appearance of wood and a sparingly used yellow highlight. While Butterbark looks fairly good on armor, the shader shines when applied to ships and sparrows. On ships, this shader looks quite believable, and is beautifully textured.
Safety First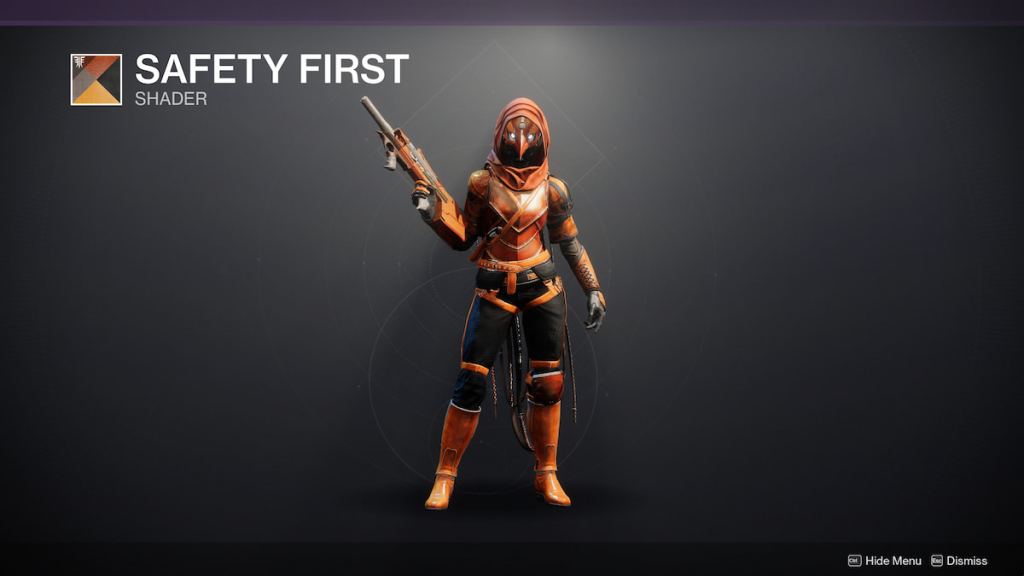 Safety First makes all of your traffic cone dreams come true. This shader is unapologetically orange, and we admire its confidence. It does not try to become anything other than construction orange; it simply accepts its fate as a traffic cone. This is also one of the most thoroughly orange shaders, which is helpful for all-orange looks.
Bergusian Night
Bergusian Night is an animated shader that resembles a galaxy. The shader drenches your armor in blue and purple, which all move in the same direction. This shader provides a consistent color scheme, with no colors that appear from nowhere. If you like purple and blue, you should certainly try Bergusian Night.
Skele-Ghaul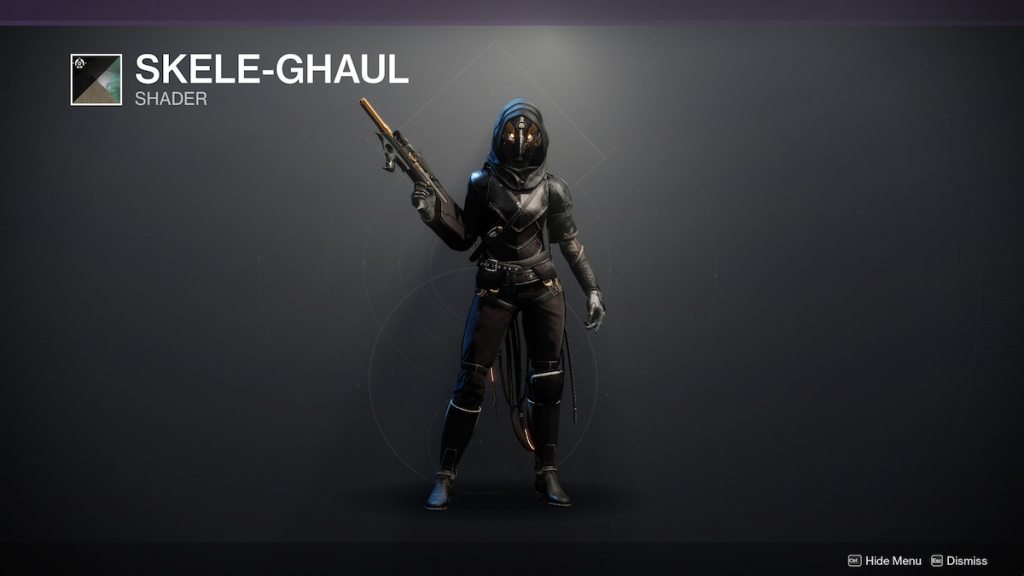 Skele-Ghaul is the perfect shader for simulating the appearance of leather. This shader mixes a deep brown with black, resulting in realistic-looking attire. It can also be combined with Rustberry to create an all-black design. This shader is optimized for players who want to equip their Guardians in streetwear or other believable outfits.
Descendent Vex Chrome
Descendant Vex Chrome is widely known as the "rust shader." This shader uses a dark green and coppery rust to create an aged look. This shader looks wonderful on armor, but when used on weapons, it loses the rust effect and turns into a textured green color. This shader looks especially nice when applied to the leg armor Substitutional Alloy Strides.
Cryptic Insignia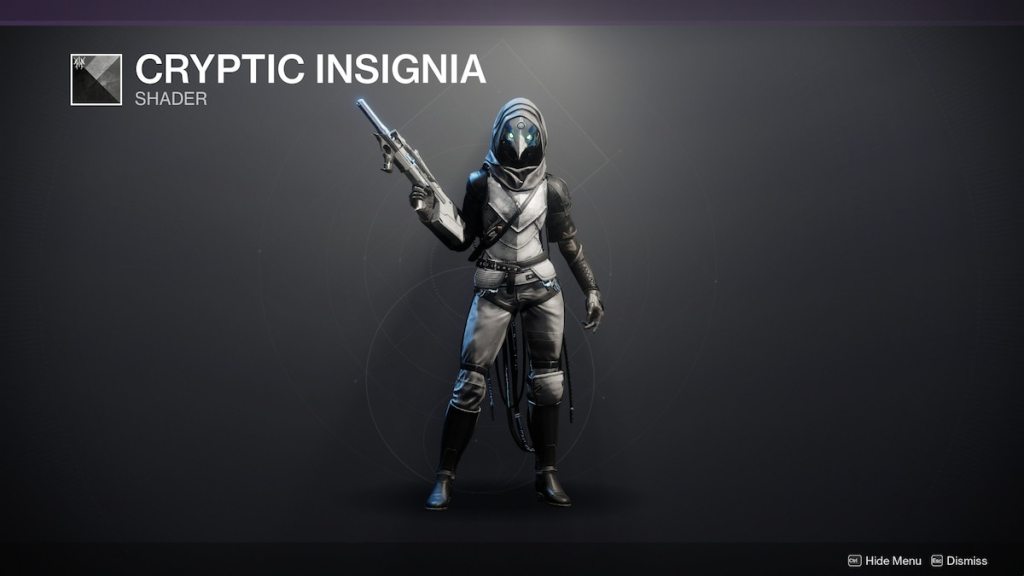 Cryptic Insignia is a clean shader that mixes a monochromatic look with highlights of blue. This shader's off-white and gray colors are pristine, offering an alternative to stark white and pitch black. This shader mainly shines when applied to armor, as it can turn the barrel of weapons blue, which looks odd when viewed closely.
Royal Treatment
Royal Treatment features a lovely purple hue with the iridescence of oil. The black arm and leg armor complement this purple shade. This shader also makes capes look exquisite. Royal Treatment is an effective shader for armor and weapons, due to the hints of gold that make the weapon's colors pop.
Monochromatic
Monochromatic knows exactly what it wants to be, boasting of nothing more and nothing less. The white color has a slight texture, but it is not distracting when paired with a full outfit. The black colors in this shader are also vivid and clean. Whether you'd prefer to create an all-black outfit, an all-white outfit, or something in between, Monochromatic is the shader for you.
Gambit Chrome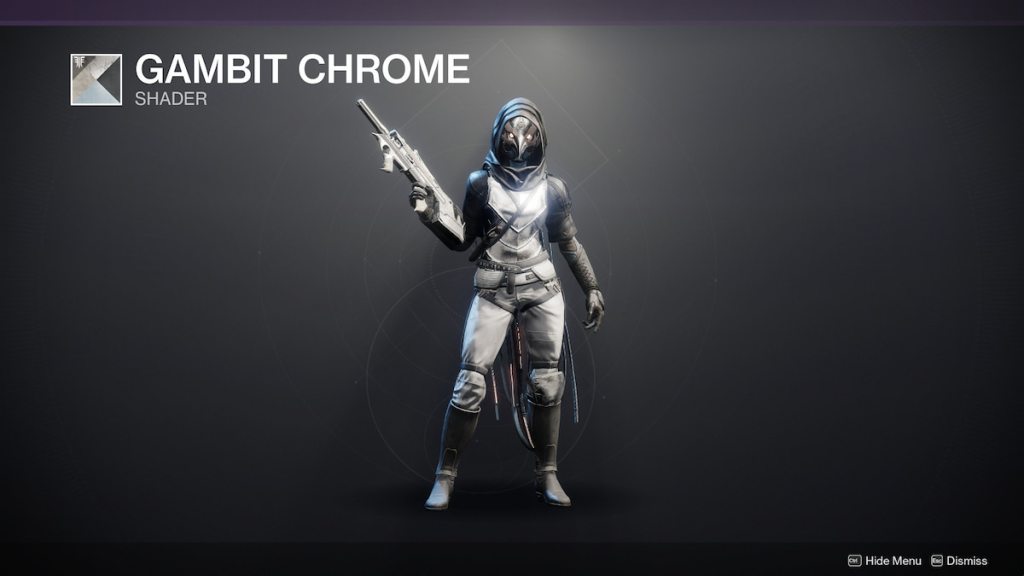 Gambit Chrome is renowned for its shiny silver hues. Although the shader also features light tan and gray, the metallic silver will surely blind your enemies on the battlefield. With this shader, you can use the sun itself as a weapon. Drifter would approve.
Related: Destiny Gambit Guide – Tips and Tricks, Everything You Need to Know!
Horizon Blush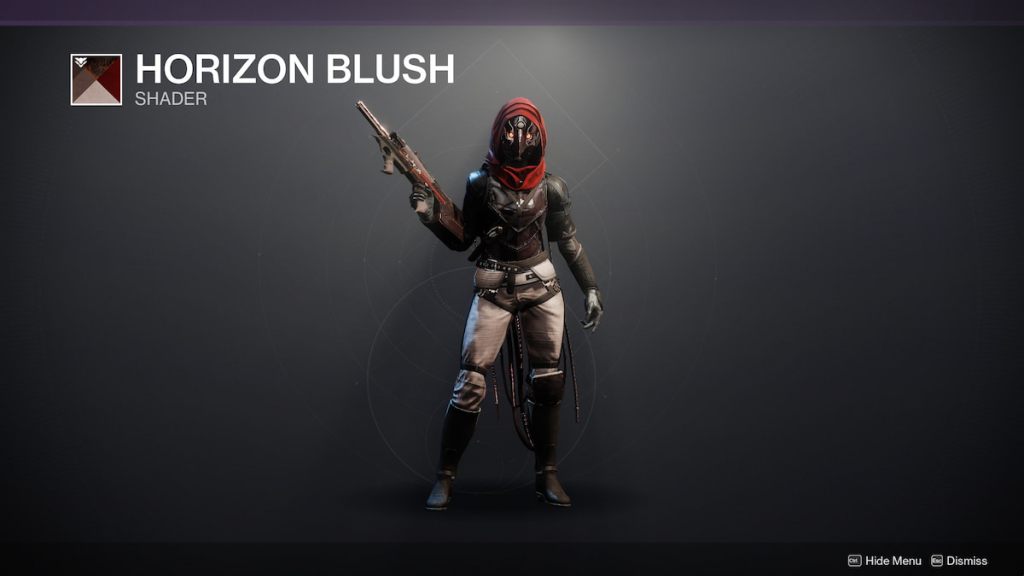 Horizon Blush features deep reds and dark leather hues. This shader causes your cape to adopt a striking red color, complementing the muted reds on the rest of the outfit. Horizon Blush's colors also remind us of both the Shadowkeep expansion and the Assassin's Creed franchise.
Pomegranate Gloss
Pomegranate Gloss sports a lovely red color with a swirling texture. The texture is reminiscent of fire, or lava flowing from a volcano. Although the gold color in the shader is quite strange, the unique reds make up for this oddity. Pomegranate Gloss also looks excellent on weapons and seems to change colors when rotated.
For more Destiny 2 lists, come check out 10 Best Soundtracks in Destiny 2 here on Pro Game Guides.