Festival of the Lost is upon us, and it's up to Guardians to don their best spooky attire to face off against the Headless Ones. Eva Levante is here to help Guardians in their quest with all manner of goodies. While each mask and costume is a treat, some stand out more than others. Here are some of our favorites.
Best Funny Masks from Festival of the Lost in Destiny 2
5. The Colonel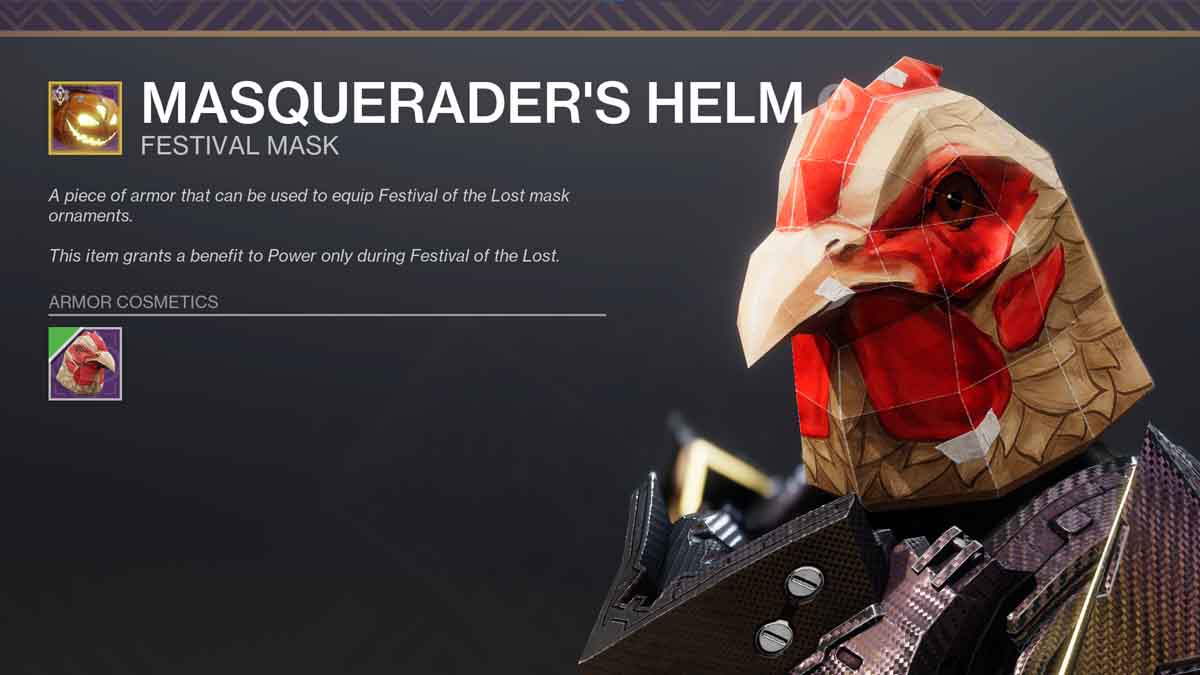 Though Cayde-6 is no longer with us, his fine feathered friend lives under the care of Amanda Holliday and Saint-14. In honor of the last Hunter Vanguard and his companion, why not roll with this clucking awesome mask and the Ace of Spades hand cannon?
4. Riven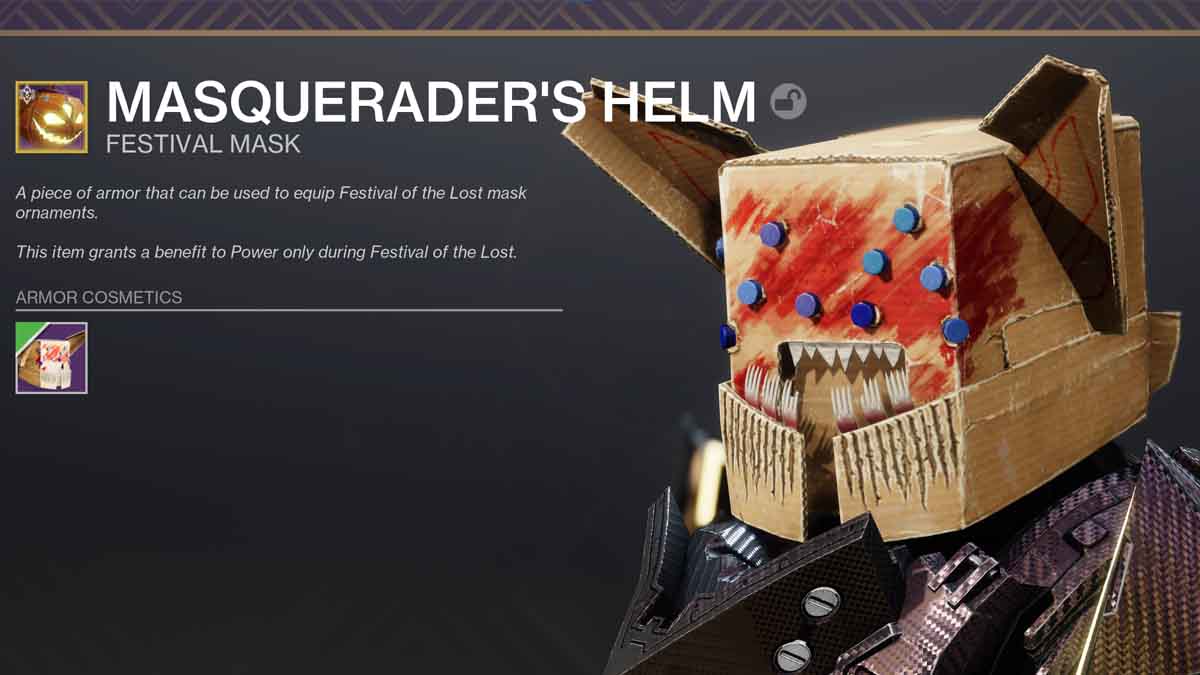 Bwahahahahaha. We can't even look at this one without laughing. The beady eyes and the forks for teeth! The crude cardboard contraption that is this mask is nigh perfect. Hopefully, the 15th Wish is that this becomes permanent.
3. Blueberry Mask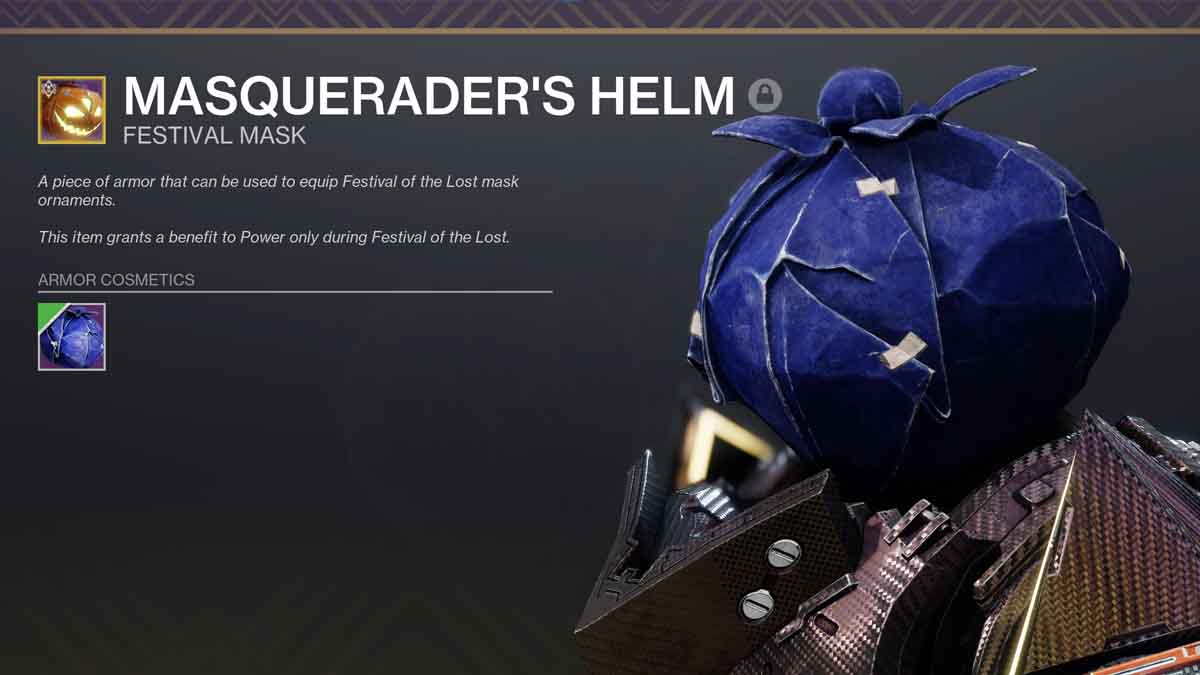 The inside joke goes a little further this year. Just be sure to take this off before The Dawning rolls around. It would be awful if Grandma Levante accidentally baked you into a batch of cookies.
2. Telesto Mask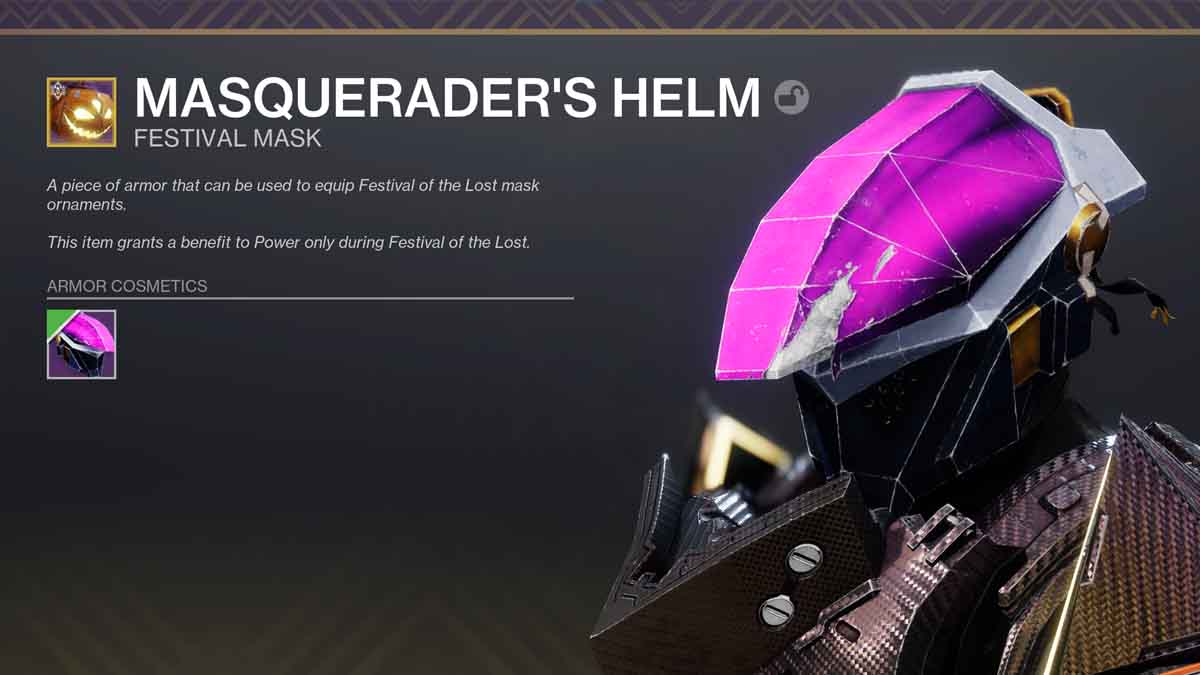 Destiny 2's equivalent of the Blue Screen of Death is Telesto. This rascally weapon has broken the looter shooter more than about everything else combined. As such, it's a truly terrifying visage to behold.
1. Savathun Mask
Button eyes? Check. Trash bin crown? Check? Crudely drawn grimace? Check. This mask is perfect and indistinguishable from the Hive Queen of Cunning.
Best Halloween Costumes in Destiny 2 Festival of the Lost 2022
5. Chemflesh (Titan)
Frankenstein's monster has come to the far-flung future of Destiny 2 after disappearing in the Arctic centuries ago. This costume melds flesh with armor in an iconic look that perfectly captures the holiday spirit.
4. Technosaurus (Titan)
Winner of the 2021 Guardian vote were the dinosaur-themed armor sets. Winning out amongst those Jurassic creatures was the t-rex inspired Titan. With a suit of armor that could also work as an homage to Mecha Godzilla, this tyrant king terrorized our wallets when they debuted.
3. Mechanized Protector (Titan)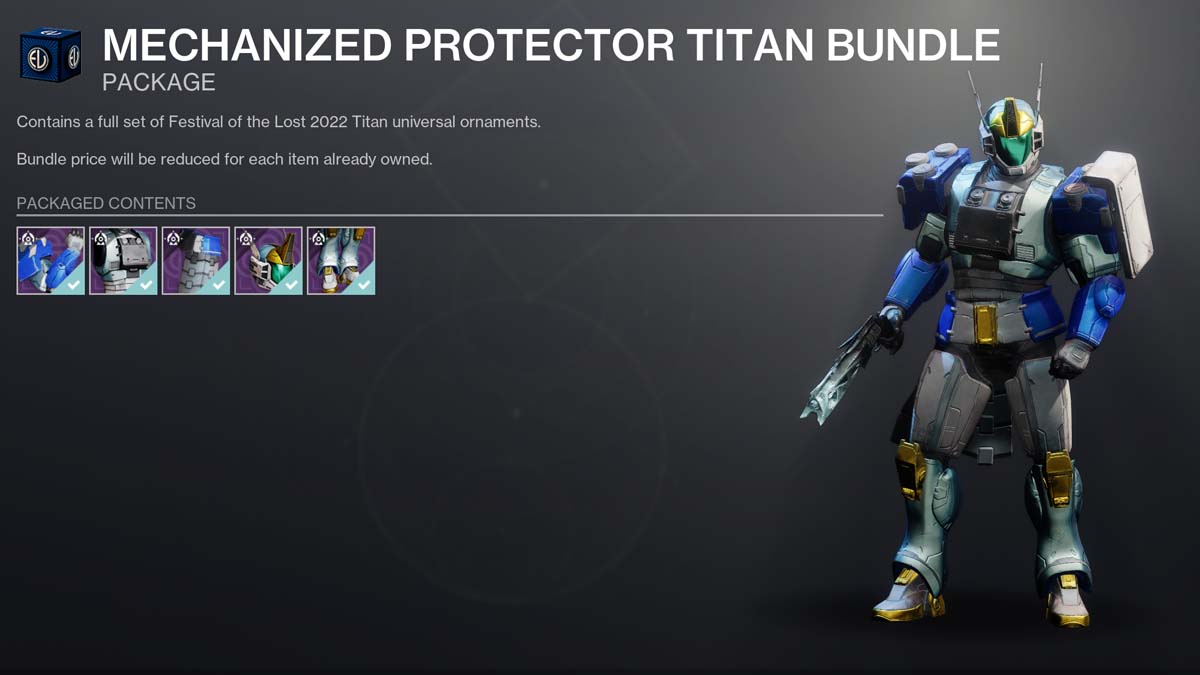 It's Gundam! It's Robotech! It's the big beefy class of Destiny 2 parading around in big beefy mech armor! While we wanted to put this one higher on the list, this spectacular mech suit doesn't evoke classic horror like our top two spots. That being said, it can be argued that this armor alone carried mechs to the win in the 2022 vote for the Festival of the Lost theme.
2. Canis Luna (Hunter)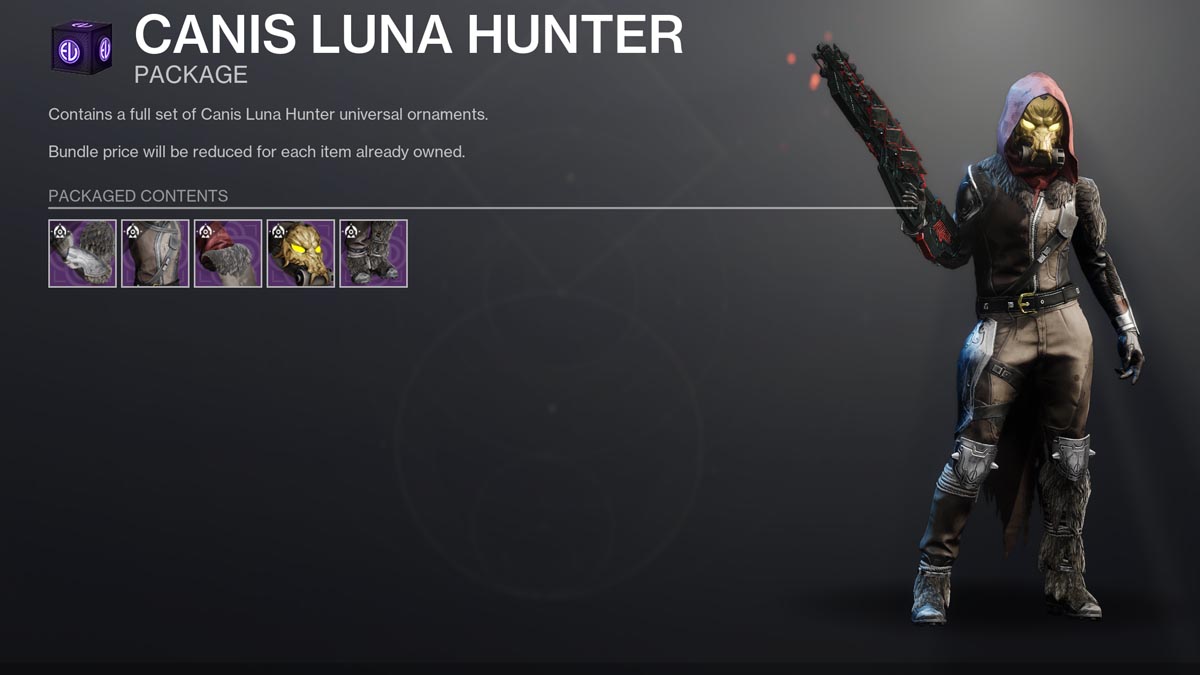 Not since Lon Chaney Jr. has there been a more iconic depiction of the classic Wolf Man persona. While we might be exaggerating a bit, what can't be overstated is how eerily amazing this costume is. Mixing in the Wolf Man with some Big Bad Wolf and one of the best Hunter helms of all time makes this outfit an easy buy, even if you're not a Hunter main.
1. Blood Lineage (Warlock)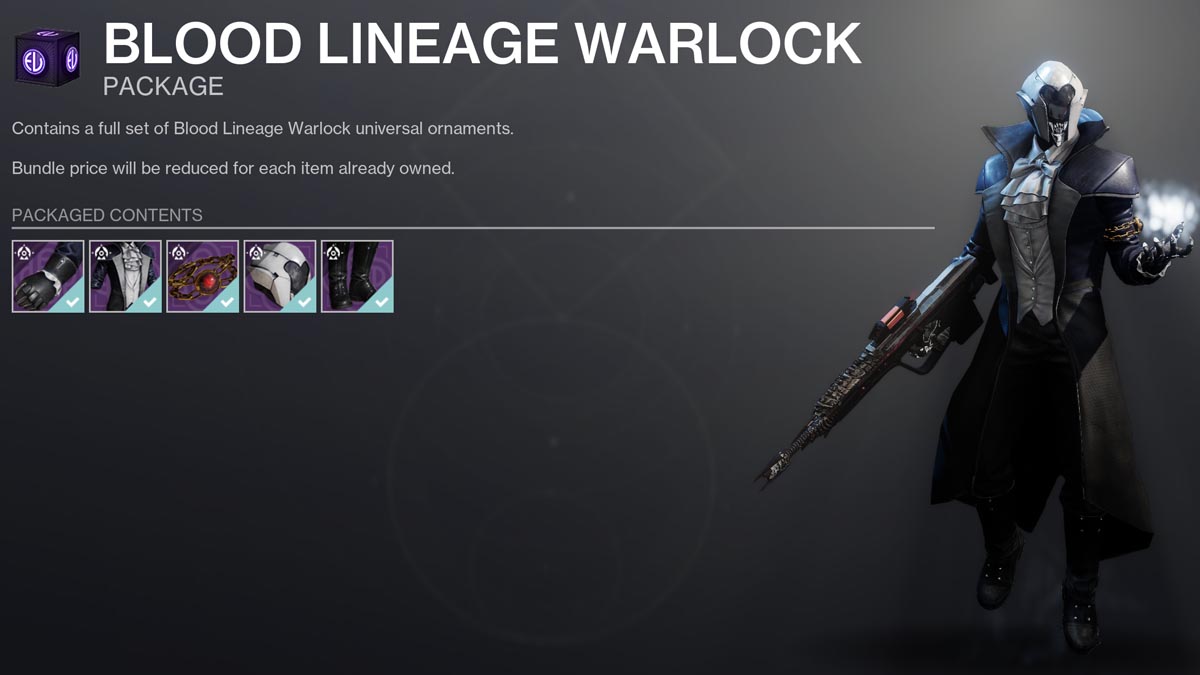 It doesn't get much more classic Halloween than a vampire costume. Eschewing a cape for an overcoat with some regal Victorian aesthetics, Warlocks clipped in their plastic fangs for this absolutely stunning costume that looks good all year round.
For more Destiny 2 goodies, check out Destiny 2 Cryptic Quatrains III Steps and Clues on Pro Game Guides.