Bump in the Night is one of the most popular Rocket Launchers in Destiny 2. It is an Aggressive Frame archetype, its Legendary rarity means that it won't hog your Exotic slot, and it's good in both PvP and PvE. Here's what you need to know about the Stasis weapon, including how to get Bump in the Night and its God Roll.
Bump in the Night God Roll in Destiny 2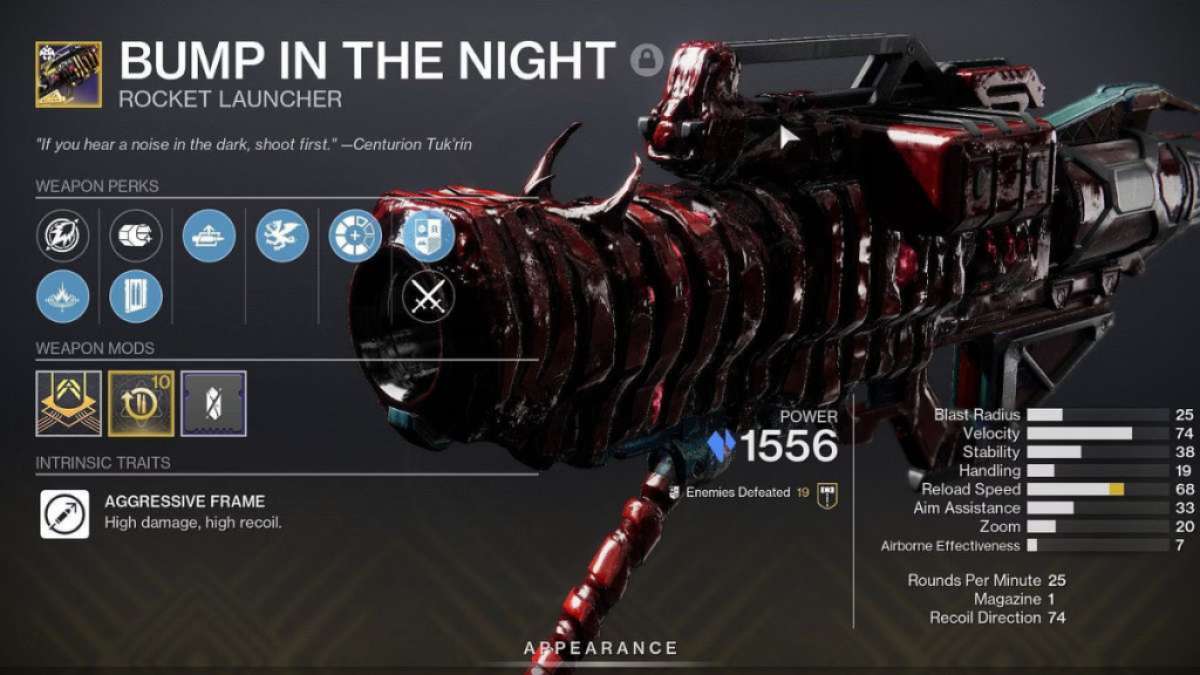 When it comes to Bump in the Night, you want perks that can dispose of mobs and bosses quickly and easily. It can fire slowly, so any improvement to projectile speed will be a godsend.
Here's the recommended God Roll for Bump in the Night in Destiny 2:
Launcher Barrel: Quick Launch—Increases handling and projectile speed (Velocity +10, Handling +15).
Magazine: Impact Casing—Increases stability and damage on direct hits (Stability +10).
Trait 1: Demolitionist—Kills generate grenade energy.
Trait 2: Chill Clip—Slows targets with direct hits from top half of magazine.
How to get Bump in the Night in Destiny 2
Bump in the Night first debuted during the Season of the Haunted in May 2022, and was obtained by completing the Nightmare Containment seasonal activity on the Derelict Leviathan Cabal ship. But that was months ago...
Related: Destiny 2: Darkness in the Light Quest – How to get Malfeasance
At the time of writing, the only way to obtain the Bump in the Night is from Xûr, the Agent of the Nine vendor. It isn't as simple as just buying it from him, though, as he only appears on weekends, and his stock rotates each week, meaning it's a case of waiting and hoping that the Destiny 2 weapon appears in his lineup sometime. And that's just the first hurdle; it's also not guaranteed that it'll have the perks you want.
Whether another way to get your hands on Bump in the Night will be added in the future remains to be seen. So, for now, keep an eye on Xûr's wares and save up your Legendary Shards so that if it does appear, you'll be able to buy it with no issues.
For more information on Destiny 2, check out Destiny 2 Codes – Emblems, shaders, & more! on Pro Game Guides.