You could argue that weapons are the heart and soul of Destiny 2. They are the primary way that Guardians interact with the world. From shooting aliens to getting more guns to shooting puzzles to unlocking more aliens to shooting for more guns, it's a rich and robust system. You could also argue that PvE content is the core of Destiny 2, as PvP content is lacking and not nearly as cool as raiding. So, when running PvE content, Guardians will want the best of the best. And that's what we're here to give you.
What are the best PvE weapons in Destiny 2?
10. Lumina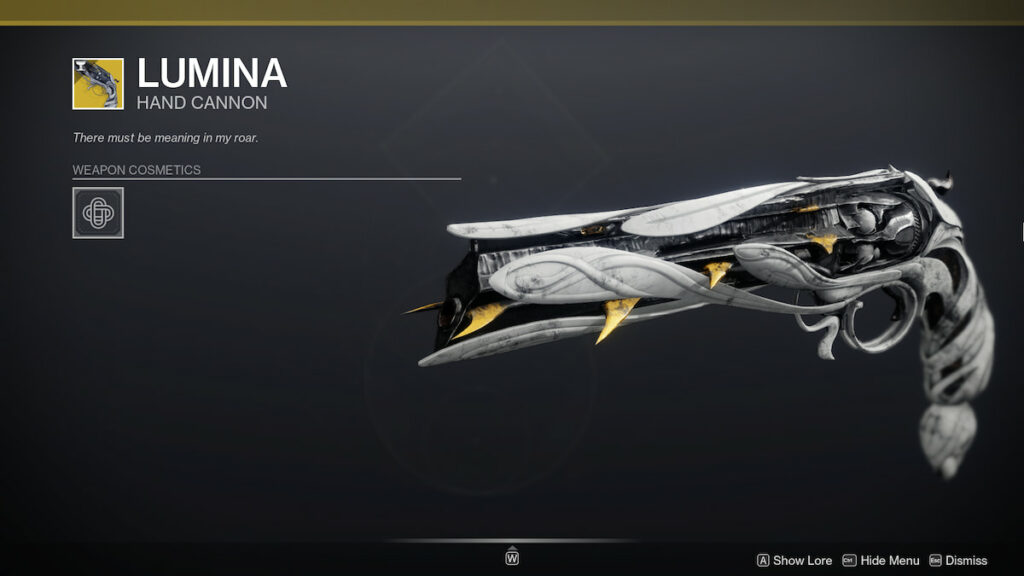 Lumina is the purified version of the renowned Thorn hand cannon. After a lengthy quest, the Guardian was able to infuse the Weapon of Sorrow with Light to reshape it and give it a new purpose. This hand cannon is an absolute delight to shoot and has an Exotic Perk, Blessing of the Sky, that allows Guardians to heal their allies by shooting them.
9. Gjallarhorn
Brought to Destiny 2 in the 30th Anniversary Event and its Grasp of Avarice dungeon, Gjallarhorn quickly became a must-have for endgame content thanks to its Exotic Perk. Pack Hunter gains increased handling and reload speed when standing near allies. Firing Gjallarhorn also grants Wolfpack Rounds to allies wielding non-Exotic rocket launchers. Aside from the obscene amount of damage it produces, Gjallarhorn is all about sharing the wealth.
8. Witherhoard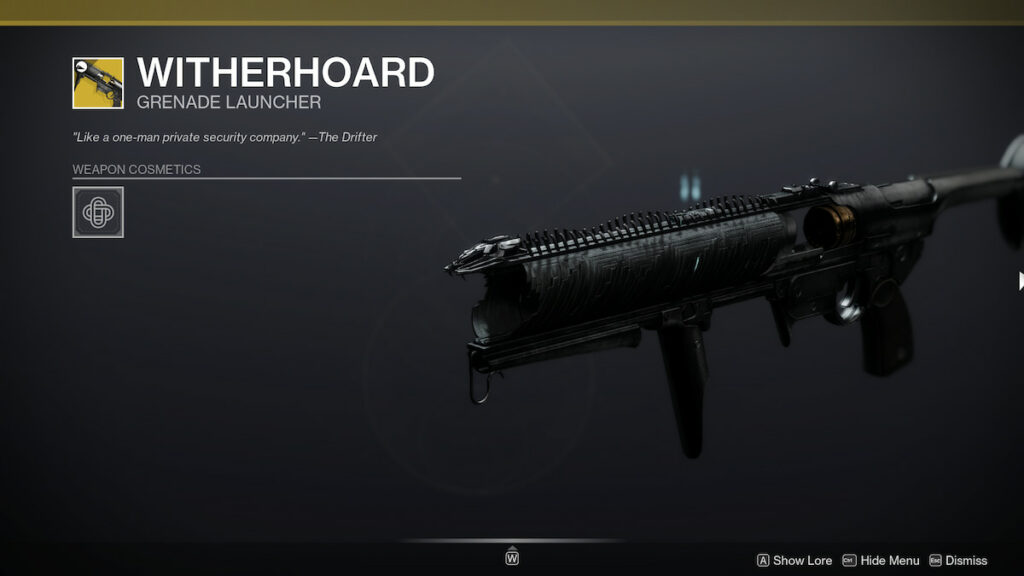 Introduced in Season 11 as part of the Season Pass, Witherhoard might be the champ of add clearing. Since then, this weapon has been the bane of Guardians and the forces of Darkness alike. It drops a big nasty blob of blight that deals damage over time and infects any that step into it. When they die, the blight is also spread. It's devastating and incredibly easy to use, thanks to being a grenade launcher.
7. Osteo Striga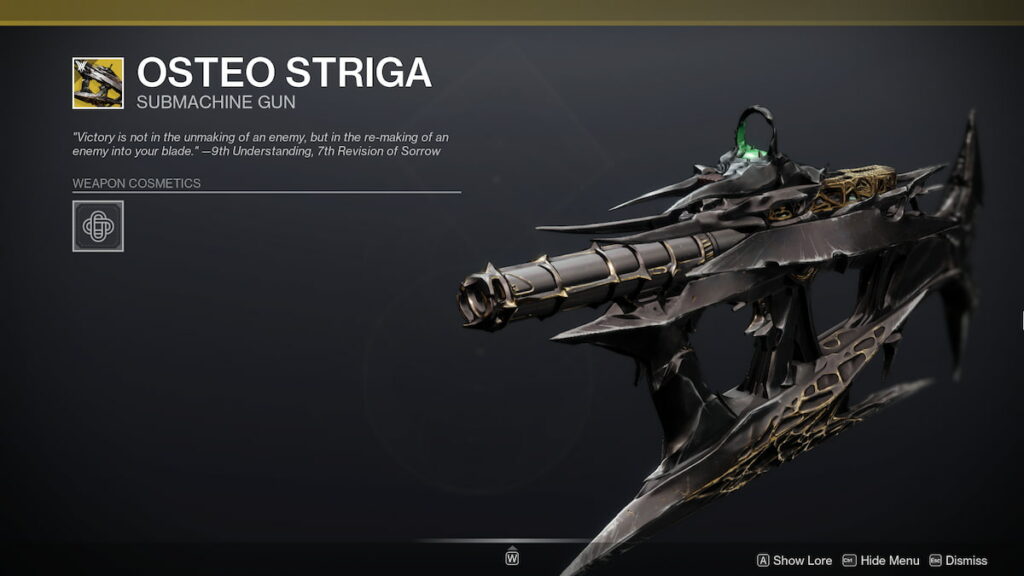 The first craftable Exotic, Osteo Striga is a Weapon of Sorrow. It fires a stream of sentient, toxic projectiles that track their enemy and burst into a poison that affects nearby targets. It's fast, quick, and utterly vicious.
6. Eriana's Vow
Introduced in Season 8 with a nightmarish catalyst quest, Eriana's Vow is either a Guardian's most hated or favored weapon. There's not much in-between. This oversized hand cannon fires shield-piercing ammunition and can drop Barrier Champions with ease. It also deals bonus damage when aiming down sights on the opening shot of an attack. This bonus is then rolled over if the shot deals precision damage or strikes an elemental shield. With the right build for picking up special ammo, this hand cannon is a beast for dropping beefier enemies.
5. Dead Man's Tale
Dead Man's Tale came about when Bungie decided to inject some much-appreciated horror into Destiny 2. This scout rifle comes from the Tex Mechanica family and is a thing of beauty to handle. It works wonders from the hip but is also effective at range for precise damage. Of all the guns on this list, Dead Man's Tale might be our absolute favorite to shoot.
4. Le Monarque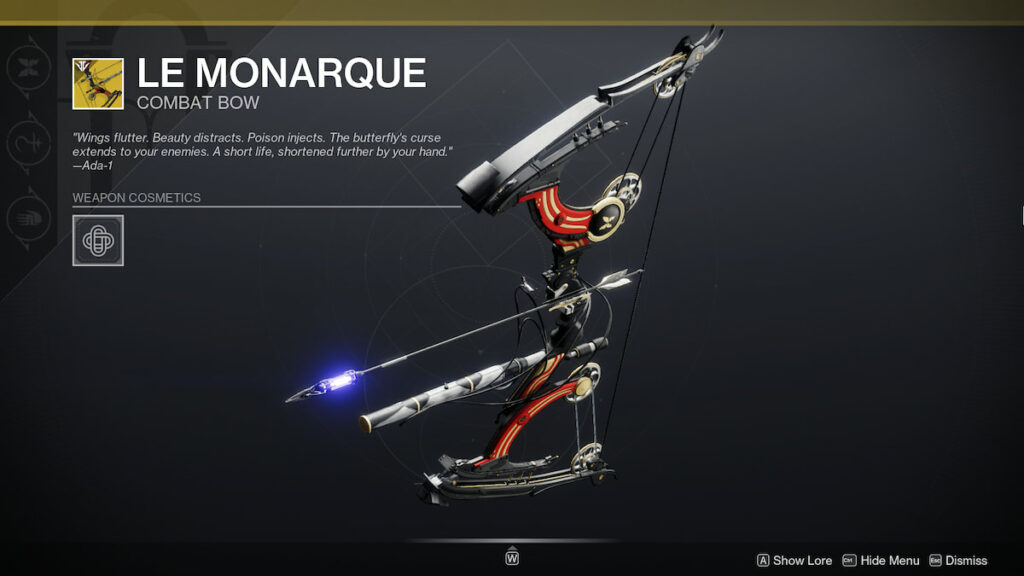 There's a lot of debate in regard to the best bow in Destiny 2. It was a very tough choice between Le Monarque and Trinity Ghoul, but ultimately this elegant weapon won out. It's a little on the slow side, but hits hard and can spread its poison to foes, making it great for both single targets and adds.
Related: Best Destiny 2 Memes
3. Outbreak Perfected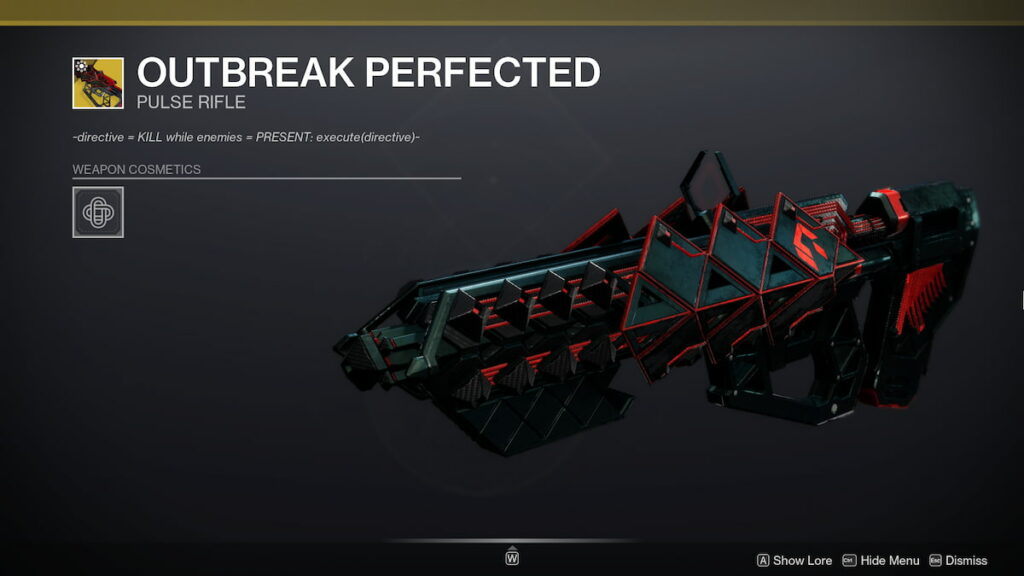 The AI Warmind Rasputin knows how to make a weapon. Outbreak Perfected lives up to its name as it might just be the perfect primary Exotic in Destiny 2. It's a delight to shoot, and the whine from its nanomachine projectiles exploding and heading to their next target is sublime. Like Le Monarque before it, it's great at dropping single targets and groups thanks to its Exotic Perk. Plus, and perhaps most importantly, it's such a good-looking gun.
2. Sleeper Simulant
Rasputin! What are you doing back on this list? Ah, who are we kidding? If we could, we would have loaded this list with all its crafted weapons. Sleeper Simulant made its return to Destiny 2 with the Warmind DLC. It's a linear fusion rifle that hits like a freight train before ricocheting off surfaces and coming back for more. This beast was such a monster that Bungie had nerfed it several times. Even then, it still performs like the monster it is.
1. Divinity
Most raid groups have a dedicated Divinity person. Their job is to blast the boss with this debuffing behemoth. Divinity creates a big ol' precision bubble that's easy to hit in addition to a +30% global damage debuff. This makes it almost required for many raid groups. A shame it's such a pain to get from the Garden of Salvation raid.
For more Destiny 2 goodies, check out Sundering Glare Mod in Destiny 2, Explained on Pro Game Guides.