Hawthrone is the Clan Steward at the Tower, and she will offer various goods and services. The first of which is selling players various boosts called Raid banners that allow Fireteam members to gain Super Energy and Heavy ammo in Raid encounters. On top of Raid Boosts, she also has a weekly bounty you can complete. Completing the bounty will reward you with Legendary engrams.
Where is Hawthorne located in Destiny 2?
If you are wondering where Hawthorne is in Destiny 2, she is easy to find. In short, you can find the NPC Suraya Hawthrone at the Tower location. At the Tower, Suruaya sits between the Drifter and Ikora Rey, the Warlock Vanguard, inside the Bazaar section of the Tower. Head to the Bazaar section of the Tower, and you will be able to find and speak to Hawthorne in the location shown below.
However, you will need to have at least 1,000 Glimmer to purchase the weekly bounty. Luckily Glimmer is easy to get in Destiny 2. Kill enemies, complete missions, and you will get enough Glimmer. Once you have enough Glimmer, purchase the Weekly Bounty to start it.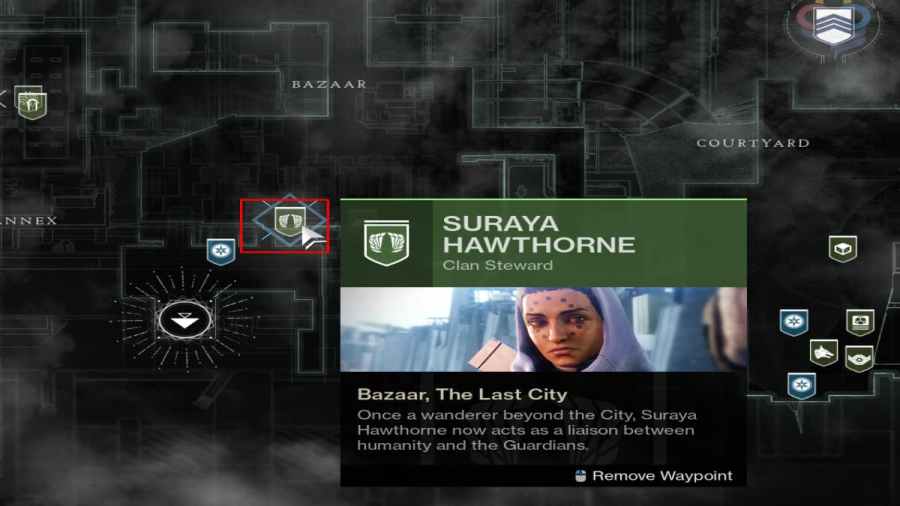 Related: How to complete the Shoot to Score quest in Destiny 2
How to complete the Which Witch Weekly Bounty in Destiny 2
To complete the Which Witch weekly bounty in Destiny 2, you will need to complete the Last Wish Raid without taking any damage from Shuro Chi. This objective will also apply to you and any members of your Fireteam. Because of this, you and your Fireteam will have a tricky time completing this Weekly bounty.
We recommend having everyone in the Raid focus on constantly moving and never staying in one spot. Combine this tactic with watching out when Shuro Chi makes one of her special attacks. Doing both will help you and your Fireteam complete the Which Witch weekly bounty in Destiny 2.
For more on Destiny 2, we at Pro Game Guides have you covered with guides like How to Get the D.F.A. Hand Cannon in Destiny 2 and Who is Mor'ak, Lightstealer in Destiny 2?