After successfully unlocking Beast and Belle from The Beauty and the Beast realm, you can now work on leveling up your Friendships and earning unique rewards. Beast especially needs some help settling into the Valley, and in his level 2 Friendship quest, you'll start by trying to boost his confidence. Keep reading below for all the steps to complete this quest!
How to complete "The Beast With No Bite" quest in Disney Dreamlight Valley
You'll reach Beast's level 2 Friendship quickly after welcoming him into your Valley, and now you can begin working through his little story, beginning with boosting his confidence so he can grow closer to Belle. To start, you'll bring Beast on a photoshoot around the Valley. You'll need to take photos with him in the following places:
In the Castle
In Remy's Restaurant
In any exterior location
This can be done fairly easily, especially if you already have Remy's close to the Dreamlight Castle. Simply equip your camera from the Tool Wheel, press the photo button, and then capture a photo with Beast beside you. You can take a photo right outside the Castle for the exterior one; as long as you are anywhere outside, it works fine. Be sure to press the capture button for it to work toward the quest. You'll see it checked off from your quest if you did it in the right spot.
Related: How to enter DreamSnaps challenge in Disney Dreamlight Valley
After his photoshoot, you can help boost Beast's confidence more by giving him some advice about relationships. You can earn this advice by speaking to some fellow villagers around the Valley. You'll need to speak to Mickey and Mirabel.
The two will give you the idea to throw a romantic dinner date for Belle and Beast. So, to help him prepare, you'll need to order a Date-Night Exterior Table from Scrooge.
Head to Scrooge's Shop, select the 'I'd like to order some items' dialogue choice with Scrooge, and then select Furniture. You can quickly find the item you need by selecting the Beast quest icon at the top and immediately filtering it to the exact table you need. It will cost you 5,000 Star Coins, so be sure to save up the amount you need ahead of time. Don't worry; it will be worth the purchase because you will be rewarded with the cool furniture item after the quest is complete.
Related: Disney Dreamlight Valley – How to get Star Coins quickly
After purchasing the table, bring it to Beast. Now it's time to really prepare for the perfect date night. You'll need to cook some meals for them to enjoy. If you don't already know the recipes, Beast will give you them to learn from your inventory.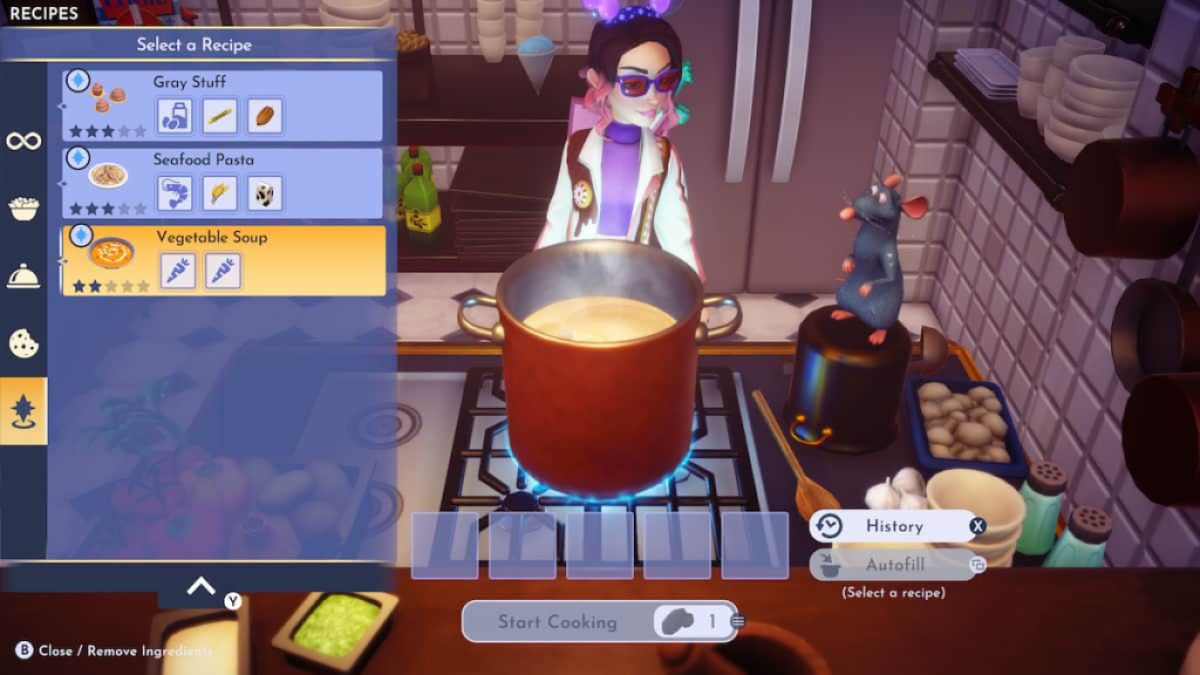 At a cooking station, you can quickly filter to the recipes you need by selecting the sparkles icon at the very bottom of the recipes tab. Here are all the meals you'll need and how to make them:
Vegetable Soup
Seafood Pasta
Any Seafood x1
Wheat x1
Milk x1
Gray Stuff
Any Dairy or Eggs x1
Wheat x1
Cocoa Bean x1
Now that you have the meals prepared, you'll need to wait for the perfect time for their date: sunset. Since the game runs on your real local time, you'll need to wait till around 6 or 7pm, to continue this quest.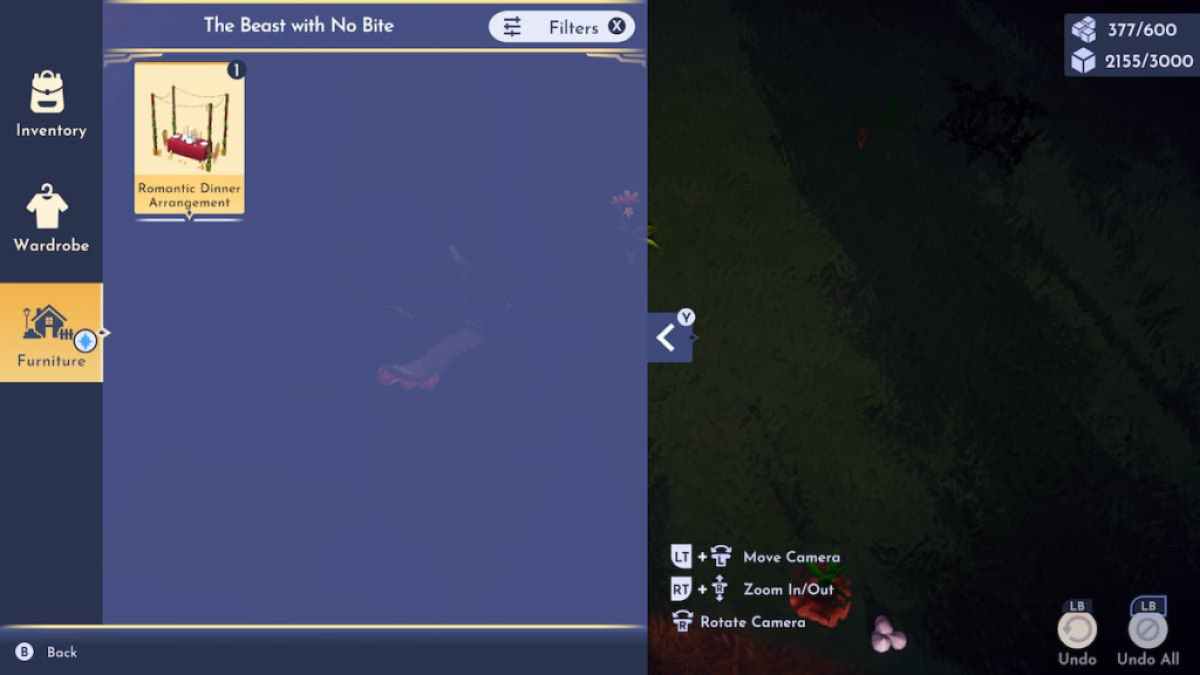 Once it's sunset during clear weather, approach Beast and give him the food you prepared. Then he'll want you to set up the Romantic Dinner Arrangement for him and Belle. You'll find it in your Furniture menu to place down anywhere in the Valley. I made up a nice spot in the Forest beside their house for it. As soon as you place it, you can take a picture of the date to commemorate the moment.
You've successfully helped Beast pull off a romantic date and gain some confidence in himself. He's starting to feel more at home in the Valley, and he'll let you keep the date table for helping out. Keep building your Friendship with Beast to continue his Friendship quests!
Looking for more Pro Game Guides Disney Dreamlight Valley content? Check out our guides on How to place multiple player houses in Disney Dreamlight Valley or Disney Dreamlight Valley patch notes!