Disney Dreamlight Valley includes many old and new Disney favorites. If you want to invite Buzz and Woody back from the Toy Story Realm, you'll need to do some crafty toy work before you do so. Here's how to complete both realm quests in Disney Dreamlight Valley's Toy Story Realm.
How to complete A Secret Mission in Uncharted Space Realm Quest and unlock Buzz
To start this quest, you'll first need to head into your Castle and unlock the Realm Door. It's to the right of the Frozen Realm Door. It will cost you 7,000 Dreamlight points to unlock.
When you first step into Bonnie's Room, you'll need to walk up the pile of toys on your left to talk to Buzz Lightyear standing on the orange flower desk. He needs to tell you something, but his voice box is acting up, and he needs you to look around Bonnie's Room for 2 AA Batteries.
You can find the first between the stack of books and the toy kitchen. The second is in front of another stack of books next to Bonnie's bedside table. Give Buzz the batteries to find out something is still not quite right. You can choose to pull his switch to the left or the right. We pulled to the left, which briefly activated Spanish mode, before flipping the switch back, correcting Buzz's problem.
Woody fell out the window (by accident this time.) To make matters worse, the window slammed shut and locked. Buzz wants you to help him reconstruct a race track and fix the problem in a way only a toy would, by using a race car to knock the lock open.
This time you'll need to find 10 pieces of Race Car Track around Bonnie's Room to bring back to Buzz. They look like one of the two forms above and are all scattered on the ground floor. There will be six long pieces and four short pieces. They will all have a sparkling effect when you walk near them. If you're stuck, don't forget to check Bonnie's closet. Once you've found them all, return to Buzz.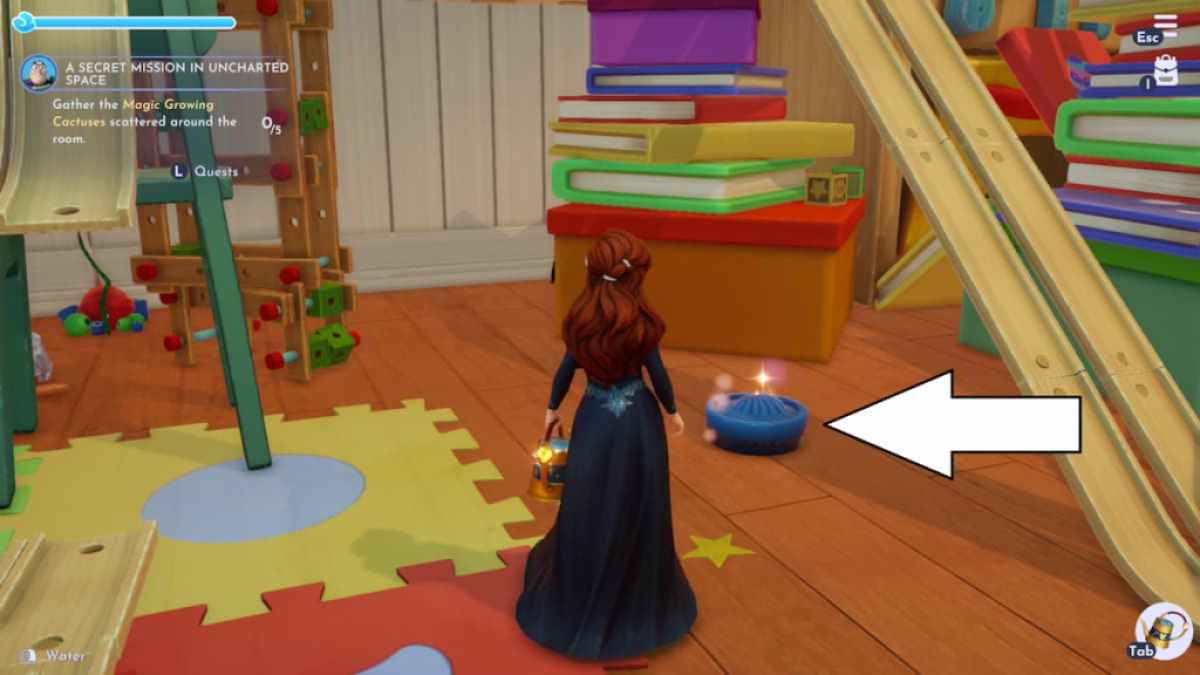 Now the track is complete but not quite at the right height. You'll need to find five Magic Growing Cactuses around the room that will be used to prop the track up. They look like the disc pictured above but come in different colors. There is a green one in Bonnie's closet, a yellow one by her bedside table, a red one just in front of Buzz on the floor, a blue one by the penguin behind a yellow box, and another green one next to the stack of foam floor tiles in the back of the room. These items will all have a sparkling effect when you walk near them.
Related: How to make a My Hero Cookie in Disney Dreamlight Valley
Once you've found them, you'll need to place them underneath sections of the track that need lifted. These spots will all have sparkling effects. The first section with two spots is right in front of the realm door. There is a third spot in front of Bonnie's closet door. The last two spots are in front of the red slide. Once you've placed them, you can use your Watering Can on each of the three sections to watch the magic happen, then return to Buzz. He'll give you a toy car and ask you to climb the ladder near the toy kitchen to set your plan into motion.
With the window unlocked, Woody finds his way into the room. Walk across the bed and talk to him. Woody was knocked out the window while trying to reconstruct a pipe cleaner and popsicle stick creation of Bonnie's that broke. Talk to Buzz next, who tells you they need pictures of Bonnie's blueprints (her colorings) to know exactly how to recreate her craft.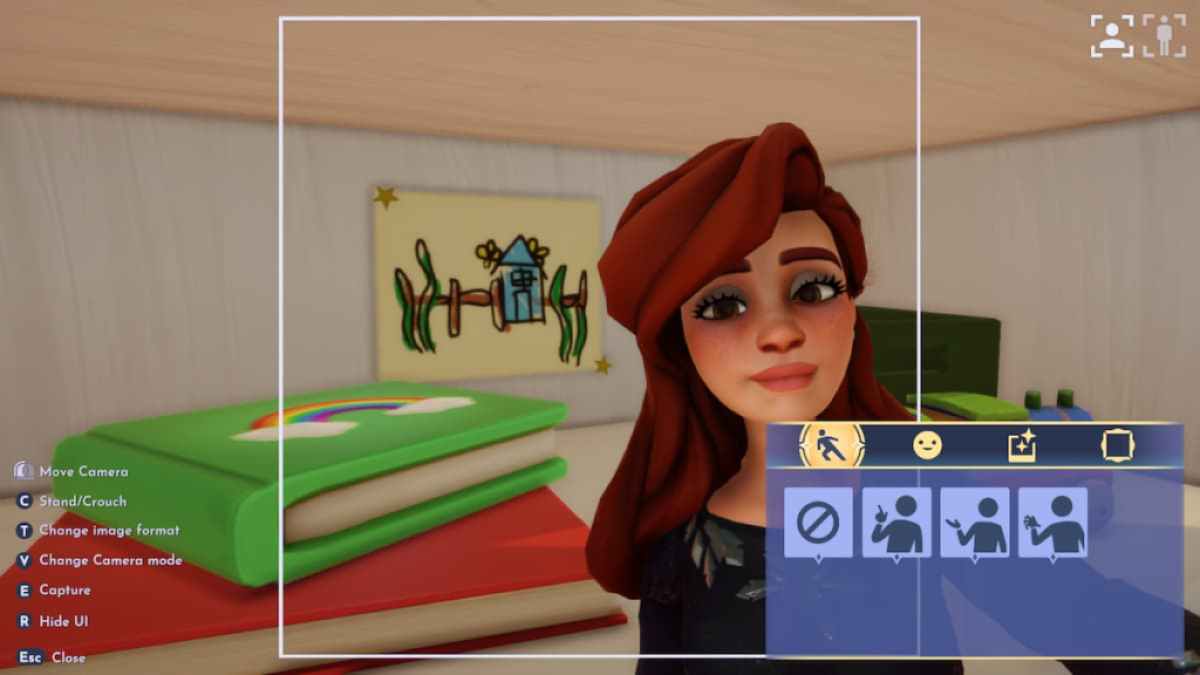 Where to Find Bonnie's Drawings in Disney Dreamlight Valley
All of Bonnie's drawings have gold stars on them, here's where:
Inside the white cubby to the right of Bonnie's bed. Another is in front of the stack of books next to her bedside table.
Hanging on the wall of the closet if you walk in and look to your right.
Red and hanging on the wall to the left of the toy kitchen.
Buzz will want to find more materials to make Bonnie's craft even better. You'll invite him to look for the materials in your Valley, and he quickly accepts. Go back to your Village and place Buzz's RV anywhere in your Valley. You'll need to pay Scrooge McDuck 10,000 coins to construct it. A new Toy sized Buzz will be unlocked in your Valley.
How to complete You're My Favorite Deputy Realm Quest and unlock Woody
This quest will automatically trigger after completing A Secret Mission in Uncharted Space. Return to the Toy Story Realm and talk to Woody. He's still set on recreating Bonnie's farm. Help him out by using your pick axe to break up five candy piles (to collect pipe cleaners) and your shovel to break up eight paper piles (to collect popsicle sticks.) They are all on the ground floor. Don't forget to check the closet again.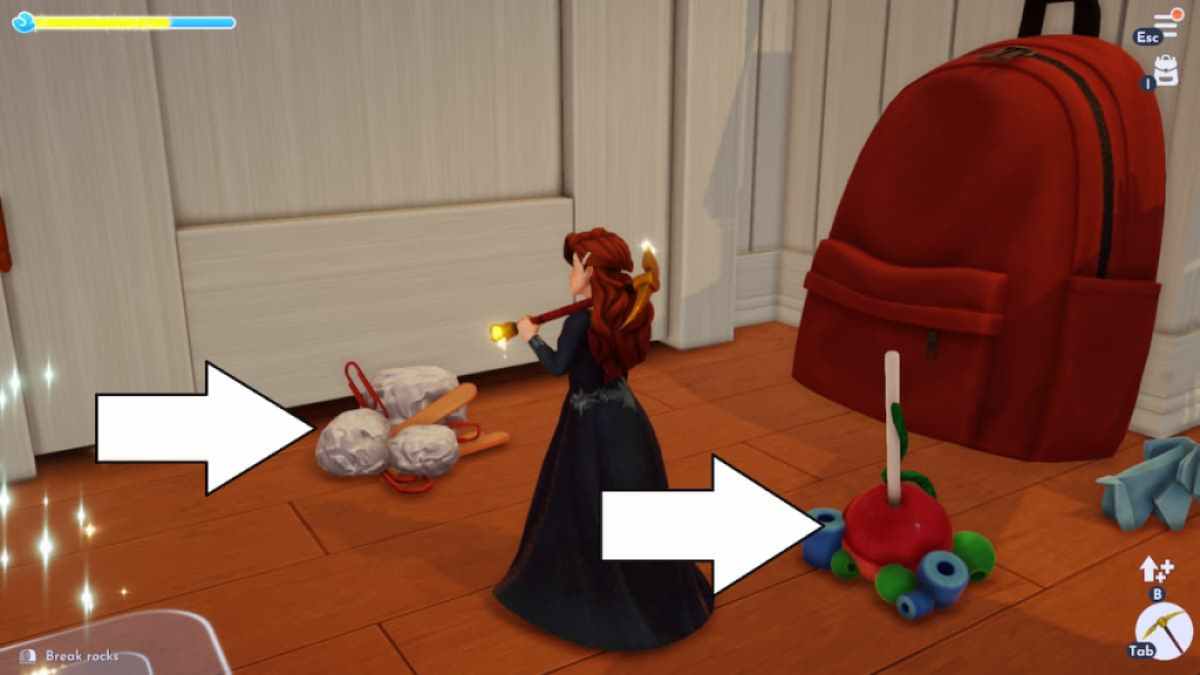 Give the supplies to Woody. He'll still need two Yellow Daisies and something to hold everything together, so return to your Village. Yellow Daisies can be gathered from the Peaceful Meadow Biome. Then talk to Buzz, who'll provide you with Super Glue. Bring the three items back to Woody in the Toy Story Realm. The farm is built, now you'll just need to find the animals that go with it.
There are five origami animals scattered around the room. There are two blue elephants, a green turtle, a purple butterfly, and a penguin. They will all sparkle when you walk next to them. The two elephants are just in front of Bonnie's bed and beside her red backpack by the door. The turtle is in Bonnie's closet. The penguin is next to the wall beside the toy kitchen, and the purple butterfly is next to the easter egg book nearby the farm.
Woody is satisfied with a job done well, and you'll now be able to place Woody's Carousel in your Village, pay Scrooge McDuck 10,000 coins to complete the construction, and unlock Woody in your Village and complete this quest.
Want to make your new friends some tasty treats in Disney Dreamlight Valley? Check out How to make Blueberry Pie in Disney Dreamlight Valley or How to make a Coconut Cake in Disney Dreamlight Valley here at Pro Game Guides.