Disney Dreamlight Valley is a life-sim farming game where you can team up with your favorite Disney characters and more exciting upcoming characters to follow. Help restore the land of Dreamlight Valley as the evil magic of The Forgetting wrecks havoc. You will need to complete unique questlines for each character, craft items, decorate the Biomes, and even cook special Disney-themed meals. There are many recipes out there to learn that are essential to boosting friendships around the Valley, restoring your energy, or even selling for some extra Star Coins. Here's how to make some Chocolate Ice Cream.
Chocolate Ice Cream Recipe in Dreamlight Valley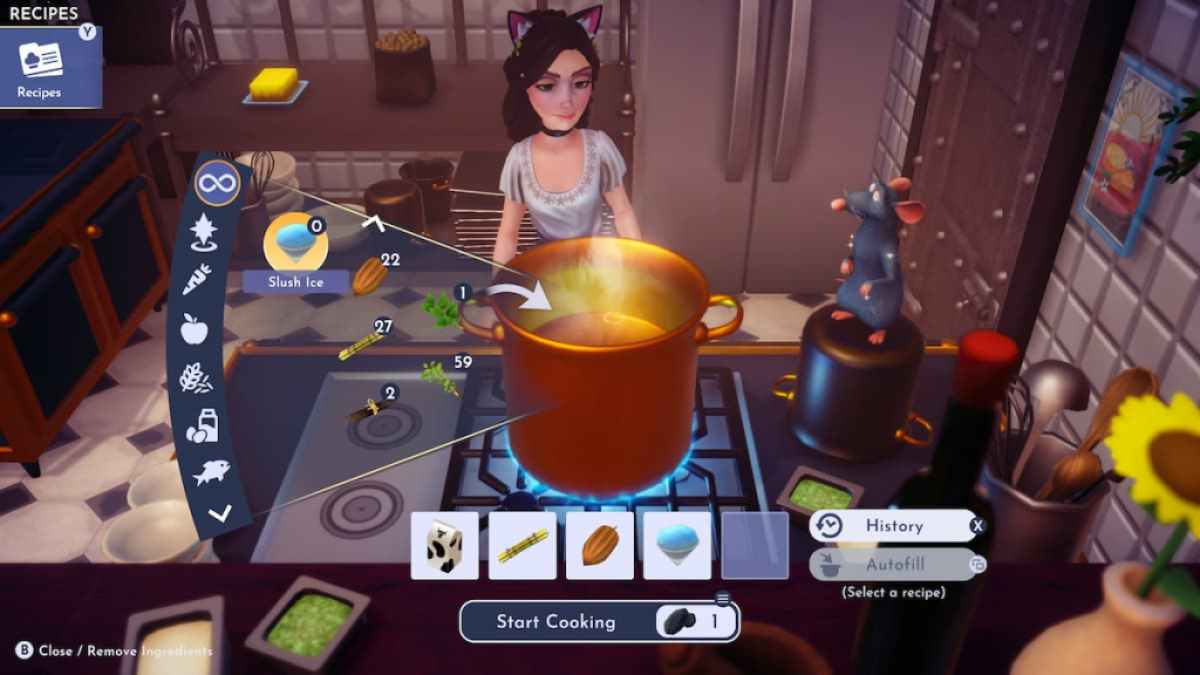 Chocolate Ice Cream is a sweet four-star dessert that requires four different ingredients. Despite being a seemingly easy dish to whip up, it may require a little extra work since the ingredient Slush Ice can be tricky to get your hands on. If you're further along in the game with all the Biomes and most of the friendship trees completed, you should have no trouble at all, and this dish can be highly beneficial to you.
When eaten, it can restore up to 2,074 energy or be sold at any of Goofy's Stalls for 655 Star Coins. You may also wish to give this to a friend in the Valley as their daily gift or as their order in Chez Remy to boost your friendship levels with them. Here's everything you will need:
Milk x1
Sugarcane x1
Cocoa Bean x1
Slush Ice x1
Where to get ingredients for Chocolate Ice Cream in Dreamlight Valley
The ingredients for this dessert will cost you a little bit of Star Coins and require you to be further along in your progress. To get Slush Ice, an essential ingredient to this meal, you must complete Remy's friendship tree. The rest of the ingredients should be easy enough if you have unlocked Dazzle Beach and Sunlit Plateau or the Glade of Trust. Here's where you can find all the elements you need:
Milk: Chez Remy, bought from Remy's Pantry for 230 Star Coins
Sugarcane: Dazzle Beach, bought from Goofy's Stall for 29 Star Coins ( 5 Star Coins for seeds)
Cocoa Bean: Sunlit Plateau or Glade of Trust, harvestable
Slush Ice: Chez Remy, bought from Remy's Pantry for 150 Star Coins
Once you have all the items you need, head to any cooking station to combine them together. This four-star Ice Cream is an excellent treat for your friends around the Valley or to help keep your energy up while you're completing tasks. There are plenty more recipes to learn, and once you have them in your collection, they are much easier to recreate in the future. Check out our other recipe guides for some more help as needed.
Looking for more Pro Game Guides Disney Dreamlight Valley content? Check out our guides on How to make Simple Fried Perch in Disney Dreamlight Valley or How to make a Tropical Pop in Disney Dreamlight Valley!