Disney Dreamlight Valley is a magical life-sim adventure where you can team up with some of your favorite Disney characters, with more exciting upcoming characters on the way. There are so many fascinating activities to complete around the Valley, but one of the best has to be cooking special Disney-themed meals. These meals are fun to create and benefit you in multiple ways. Some recipes even allow you to harvest the ingredients naturally from around the biomes, like this Spicy Baked Bream. You can whip up this dish by fishing up and acquiring a few simple ingredients.
Spicy Baked Bream Recipe in Dreamlight Valley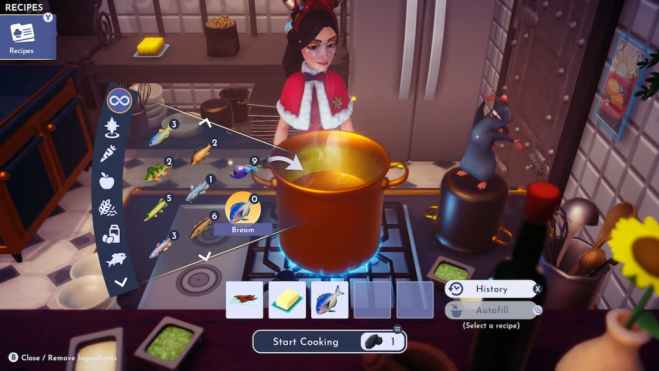 Spicy Baked Bream is a three-star dish that requires three various ingredients, one being the fish, another to add the spiciness, and one more savory element to top it off. It's not too different from other baked fish options, and it can benefit you. When eaten, this dish can restore up to 2,075 energy or be sold at any Goofy Stall for 767 Star Coins. Some characters around the Valley may even want this as their favorite daily gift or order it at the restaurant, allowing you to gain a boost of friendship with them. Here's everything you will need:
Bream x1
Butter x1
Chili Pepper x1
Related: How to make Crispy Baked Cod in Disney Dreamlight Valley
Where to get ingredients for Spicy Baked Bream in Dreamlight Valley
Acquiring these ingredients is not too difficult, but will require you to have the Sunlit Plateau biome unlocked. The main difficulty is catching the fish since there is no guarantee you will get it first try while fishing. If you already have it on hand in storage, this is a lot simpler. If not, that's okay! You can still whip up this dish in no time. You can pick up the other ingredients at some shops with a few Star Coins. Here's where you will find everything you need:
Bream: Peaceful Meadow, from white or blue fishing spots
Butter: Chez Remy, bought at Remy's Pantry for 190 Star Coins
Chili Pepper: Sunlit Plateau, bought at Goofy's Stall for 117 Star Coins ( 20 Star Coins for seeds)
Once you have all the items you need, you can head to the nearest cooking station and combine them to create this three-star meal. The easiest cooking spot to go is Chez Remy since you'll need to pick up some butter already. Once you create this dish, it'll be added to your collection and will be much easier to prepare again in the future.
Looking for more Disney Dreamlight Valley recipes? Pro Game Guides has plenty of tips and tricks to get you started, such as How to make Jam Waffles in Disney Dreamlight Valley or How to make a Large Seafood Platter in Disney Dreamlight Valley!