If you love Dragon Ball, the official tie-in mobile game Dragon Ball Legends is a must-have title. It has a great storyline, including all your favorite characters from the hit anime series, alongside exciting real-time battles where you can include your best heroes in your team and switch them tactically during fights. Complete the storyline, get involved in limited-time special events, then take on your friends in PvP battles and rise through the rankings.
Dragon Ball Legends QR codes, when in operation during special events, allow friends and influencers to share their friend code (via a QR code) with other players to give them in-game rewards such as unique dragon balls, Zeni, and crystals. If you want more help with Dragon Ball Legends, check out How to get Legendary Start Dash Summon Ticket in Dragonball Legends.
All Dragon Ball Legends Codes List
Dragon Ball Legends Codes (Working)
These are all the working Dragon Ball Legends codes.
There are no working codes for Dragon Ball Legends
Dragon Ball Legends Codes (Expired)
These are expired codes for Dragon Ball Legends.
There are no expired codes for Dragon Ball Legends
How to redeem codes in Dragon Ball Legends
Follow the instructions below to redeem codes in Dragon Ball Legends. However, it's important to note codes work differently in this game than they do in most other games. For more details on this, read below.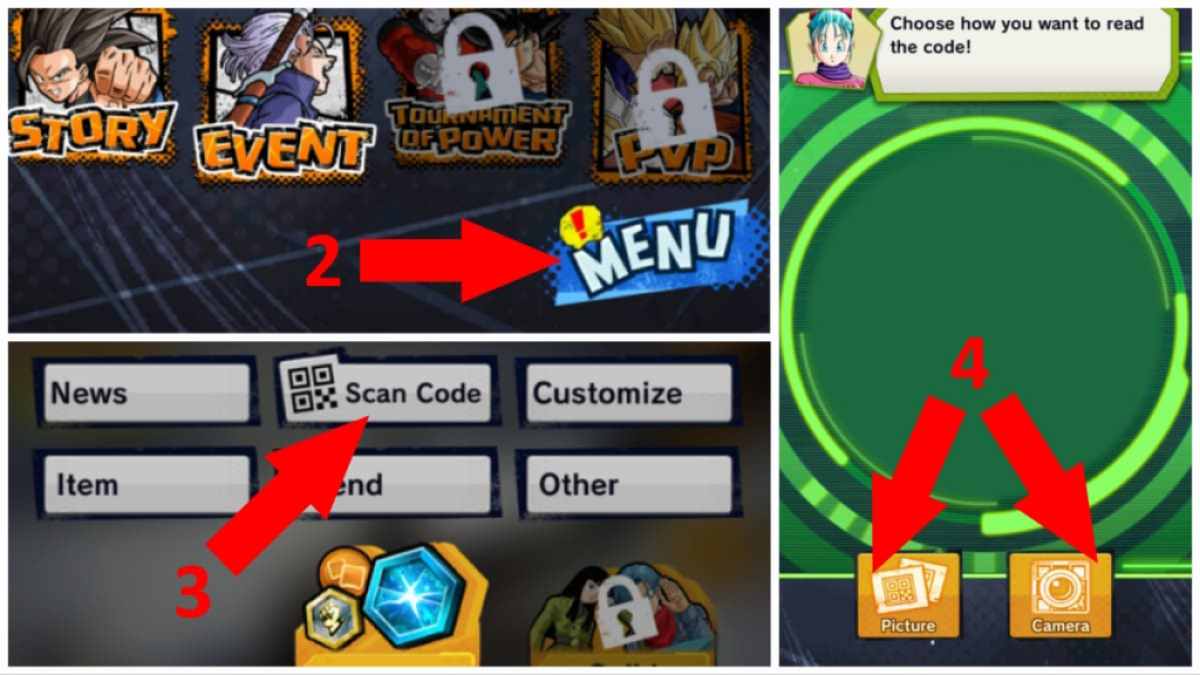 Launch Dragon Ball Legends on your device.
Press the MENU button on the bottom right of the screen.
Click the Scan Code button near the top of the screen.
Either upload a picture of the scan by clicking the Picture button or aim your phone's camera at the code after selecting the Camera button.
If confirmed, you will receive your reward!
How can you get more Dragon Ball Legends codes?
Dragon Ball Legends QR code events are rare, so it is a good idea to keep on top of all the game's social channels for the latest information. You can follow @DB_Legends on Twitter and db_legends on Instagram. Another option is to like the official Dragon Ball Legends Facebook Page while keeping an eye on the news channel of the official website (linked above).
Why are my Dragon Ball Legends codes not working?
Dragon Ball Legends codes can be generated by other players during the annual Dragon Ball Legends Anniversary each year in May. Although, it is worth keeping an eye on the game's socials (linked above) just in case other random events happen. During events, your friends and other players can share their friend code with you so that you can gain rewards. If a QR code isn't working, it means the event has likely timed out. We'll post above if any events are currently in progress.
Other ways to get free rewards in Dragon Ball Legends
There are many ways to get more free Dragon Ball Legends rewards, with your best strategy being to log in to the game every day. You'll get several Login Bonus rewards each day, including event and special weekend bonuses. Some even let you choose your next reward before you get it, so choose wisely! Once in-game, click the Menu button (bottom right) and look for any icons marked with a red circle with a number inside. This indicates new things to look out for in that sub-menus, which are often even more login rewards, such as Missions and Legends Ranking rewards.
What is Dragon Ball Legends?
Dragon Ball Legends is a mobile, battle-heavy JRPG with a gacha-style system of collecting heroes to battle with. Players can follow a storyline, take on challenges, or participate in PvP as they put together their dream team of heroes and level them up, equipping them with gear to improve their stats. Unlike many similar games, battles have real-time elements such as dodging and switching characters at key times during battle to gain an advantage.
If you're looking for codes for other games, we have a ton of them in our Roblox Game Codes post! You can also get a bunch of free stuff via our Roblox Promo Codes page. And in the meantime, take a look at the latest news to stay up-to-date on all things entertainment.