If you want to level up quickly in any Dragon Quest game, one of the best ways to go about it is by beating up Metal Slimes. However, these monsters rarely appear and disappear just as quickly, making them difficult to find. Here's where to find Metal Slimes in Dragon Quest Treasures.
Metal Slime locations in Dragon Quest Treasures
Truthfully, Metal Slimes always have a chance of appearing in places where nothing but small Slime spawn. We recommend you search in the following locations:
Palatial Ruins/Plains in the Patternoggin (up to level 12)
Mount Numbumb in The Hinterquarters (level 20 to 25) – scout around the location where you found, or will find, the Lapis Tail during the main story
A batch of Metal Slimes also appear in The Snarl by sheer luck. They're more often found in the lower-level portals.
If you need to grind levels higher than 30, what you should be looking for aren't Metal Slimes anymore, but Hardy Hands. These are the shiny, metallic cousins of the Hands family.
Related: How to use the Fortune Finder in Dragon Quest Treasures
How to beat Metal Slimes fast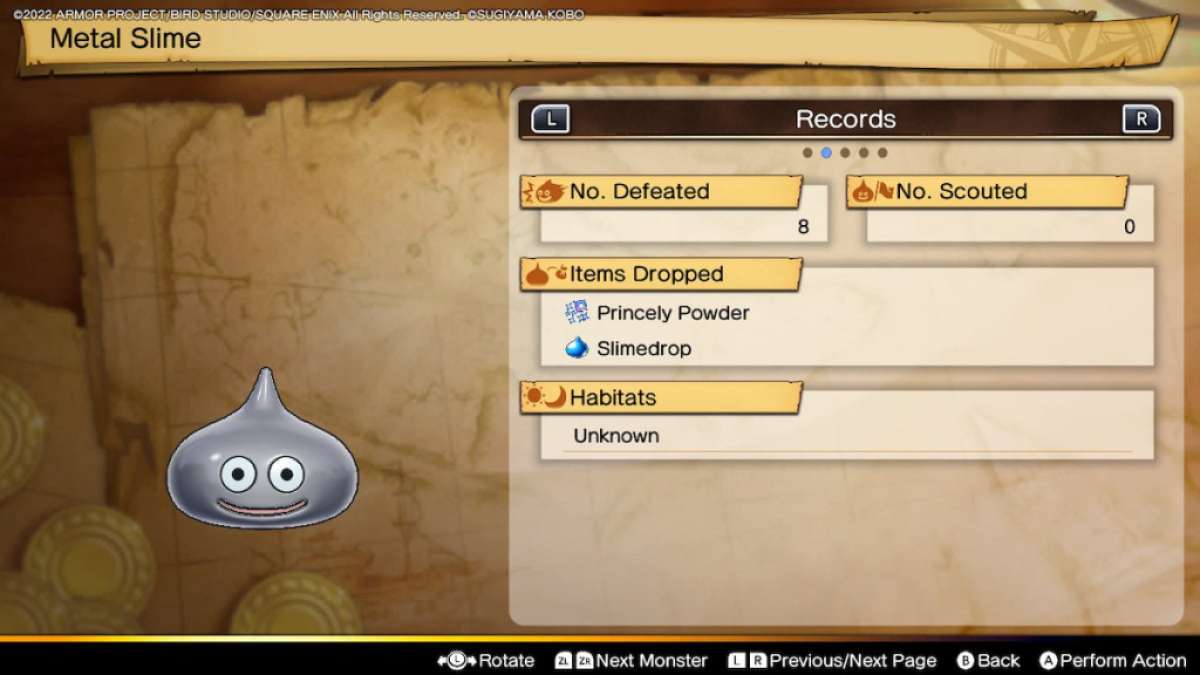 Metal Slimes run quickly, so you need to beat them before they flee. Metal Slimes are immune to magic, strong against physical attacks, and have three times the defense of a boss monster. However, its HP is low. So, as long as you can lower its defenses enough with a Sap Pellet and deliver a fatal hit, you should be good. Sometimes, you won't even need a Sap Pellet if you and your monsters are at a high enough level.
You can also try to sneak up on it from behind, crouch, and deliver a critical hit. After all, Erik and Mia's sneak attacks are always critical hits! Just be mindful that these things are extremely sensitive. Press up in the opposite direction of the Metal Slime to trigger "Go, Go, Go!" and send your monsters away.
Other ways to level up early in Dragon Quest Treasures
If you're stuck in early game (pre-level 25) and are looking to level up quickly, you don't actually need to search for Metal Slimes to grind. At level ~15, you can start recruiting monsters that are level 20 to 27 and swap your current party members with stronger ones. Then, have those battle monsters at least five levels higher than they are. Higher-level monsters will always provide more EXP.
For more Dragon Quest Treasures coverage, take a look at How to use your catapult effectively in Dragon Quest Treasures and Can you remap buttons in Dragon Quest Treasures? here at Pro Game Guides.