In Elden Ring, players will find various key items which are essential to complete certain NPC Quests. The Weathered Map is one of the key items you will discover while exploring the map, and it's essential to progress in Seluvis' Questline. The Weathered Map needs to be purchased from another NPC. Here's how players can find and use the Weathered Map in Elden Ring.
Where to find the Weathered Map in Elden Ring?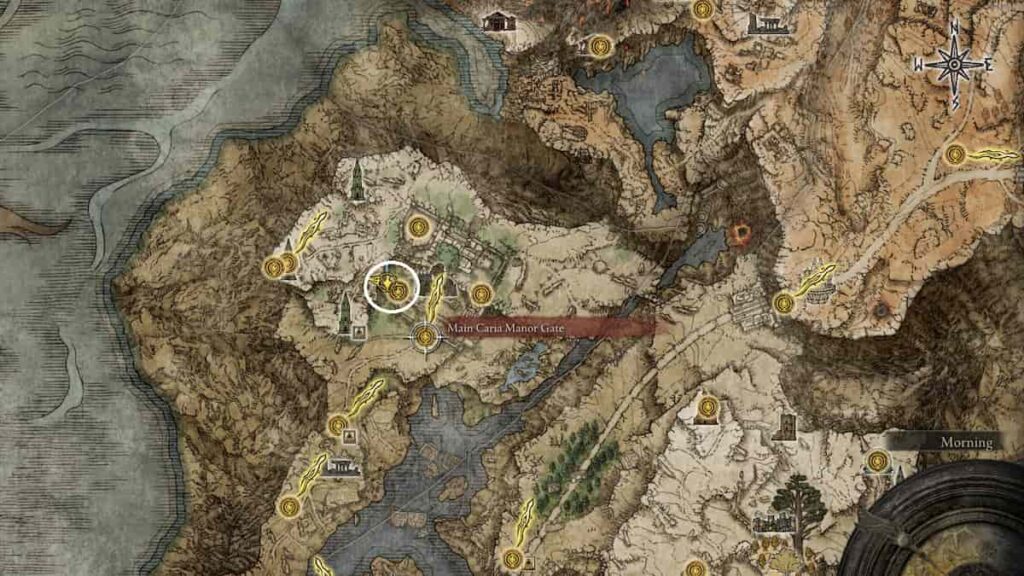 The Weathered Map can be purchased from Pidia, Carian Servant. This NPC is located in Caria Manor, and you will find him on the southeastern corner of the building. Follow the white circle on map image above to see the exact location for this NPC. You can reach Pidia's room via the Three Sisters. The Weathered Map costs 600 Runes, and Pidia also sells a Celestial Dew, Ash of War: Carian Retaliation, and Larval Tear.
To reach this spot, you will need to travel north from Seluvis' Rise tower and take a sharp right towards the Carian Manor. Players will reach a cliff facing the Caria Manor; you can jump from this and land on the wooden platforms. You will find a ladder connecting to Pidia's room, climb up to access this room. After finding the NPC, interact with him to access his shop. In case the NPC is dead, you can take Pidia's Ball Bearing and offer it to the Twin Maiden Husks.
Related: Where to find Flame Grant Me Strength Incantation in Elden Ring
How to use the Weathered Map in Elden Ring
The Weathered Map reveals the location of the Amber Starlight shard, and players can check the map to see this item's location. The Amber Starlight is located north of the Altus Highway Junction Site of Grace. Follow the white circle map image above to locate this key item. While the Weathered Map shows various locations, we recommend visiting the area north of Altus Highway Junction to acquire the Amber Starlight quickly. Seluvis wants to create a potion that can turn a demigod into a puppet, and for this, he needs the Amber Starlight shard. Handing over the Amber Starlight shard will reward players with the Magic Scorpion Charm.
For more on Elden Ring guides, check out Best Staffs in Elden Ring and What are the best starting classes in Elden Ring? here on Pro Game Guides.