Pablo Simon Bolivar is a Support Survivor in Evil Dead: The Game who focuses on Shields. Players using Pablo can synergize very well with Army of Darkness Ash and can make the entire team tanky enough to withstand even the boss's damage. Naturally, being able to create Amulets, Pablo is a welcome addition to any team, including ones that already have a Support. These are the best Pablo builds in Evil Dead: The Game.
Pablo Simon Bolivar Build Guide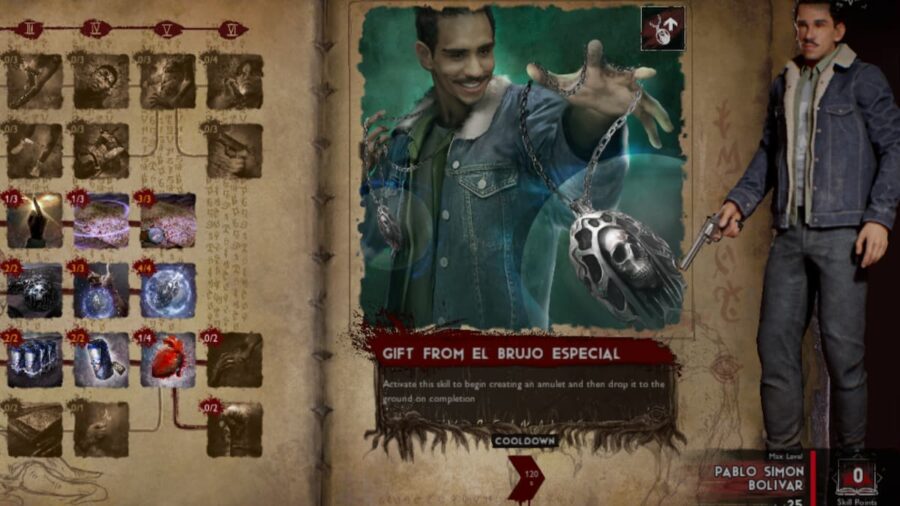 Pablo's Active Skill, Gift From El Brujo Especial, creates an Amulet and places it on the floor. With a 120-second Cooldown, this Skill can be used as soon as it is available. Pablo has three Passive Skills, too, starting with Infernal Camouflage. This allows Pablo to become undetectable by the Demon. At level 10 Pablo gets the Legacy of El Brujo Skill, allowing him to start the game with two Amulets instead of one. At level 25 Pablo gets the Shamanic Protector Skill, allowing him to gradually recover his Shield to the first bar.
Related: Best Cheryl Williams Builds in Evil Dead: The Game
Solo Survivor
With Pablo's Infernal Camouflage Skill, he is undetectable, making it possible for him to go around the map solo to reach the objectives. By speccing into the top part of the tree and upgrading his damage output, players can often grab map pieces without much worry. Once players all meet up, Pablo can then use his Amulets to give everyone in his aura Shields. This strategy is pretty niche, as managing Fear as a group is easier. However, players fighting Demons that are focused on one spot can be tricked by a clever Pablo sneaking off to find the map pieces.
Attentive Healer
Much like Cheryl and Ash, Pablo does the best while staying in a close group. This is because all Support characters have an aura around them that makes it so when they use a Shemp's Cola or Amulet, everyone in proximity receives that healing or Shields from them. Investing in the Shield Skills like Reinforced Amulets and the ability to carry both more Shemp's Cola and Amulets with the Deep Pockets Skills will give Pablo more chances to heal the entire team. The objective Skill Fast Foward can also be specced into, and even stacks with, other players' Fast Forward Skills.
For more Evil Dead guides, check out How to play Support in Evil Dead: The Game on Pro Game Guides.