The Summer Squads Fall Guys event runs from July 21 to July 26 and features free rewards to earn just by playing. The event includes a limited-time mode Squad Celebration which has teams of four competing in multiple rounds of games. Here are all the rewards that can be earned in the Summer Squads event.
Fun in the Sun Nickname — 100 Points
200 Kudos — 200 Points
Neener Emote Nameplate — 300 Points
Citrus Splash Pattern — 400 Points
Stripey Fanny Pack — 500 Points
Each challenge completed gives you 100 points so each one must be completed to earn the Fanny Pack skin. Here is every challenge and tips on how to complete them.
Own a tail for 15 seconds in Squad Celebration
Be in the air for a total of 60 seconds in Any Show
Reach the Final Round in Squad Celebration 6 times
Qualify from Team Rounds in Any Show 3 times
Qualify from the first round of Squad Celebration 3 times
Win 3 Games of Squad Celebration
Luckily, Squad Celebration is a 16-bean, four-team game, so the Squad Celebration challenges are not too bad. To own a tail for 15 seconds, you must be playing the Golden Tail Tag game and have the tail a total of 15 seconds. This can be done in multiple games so just hope for the Tail Tag minigame. The other three Squad Celebration challenges just require you to make it multiple rounds and win, and since the games are focused on team elimination, you can rack up wins if you have a good squad.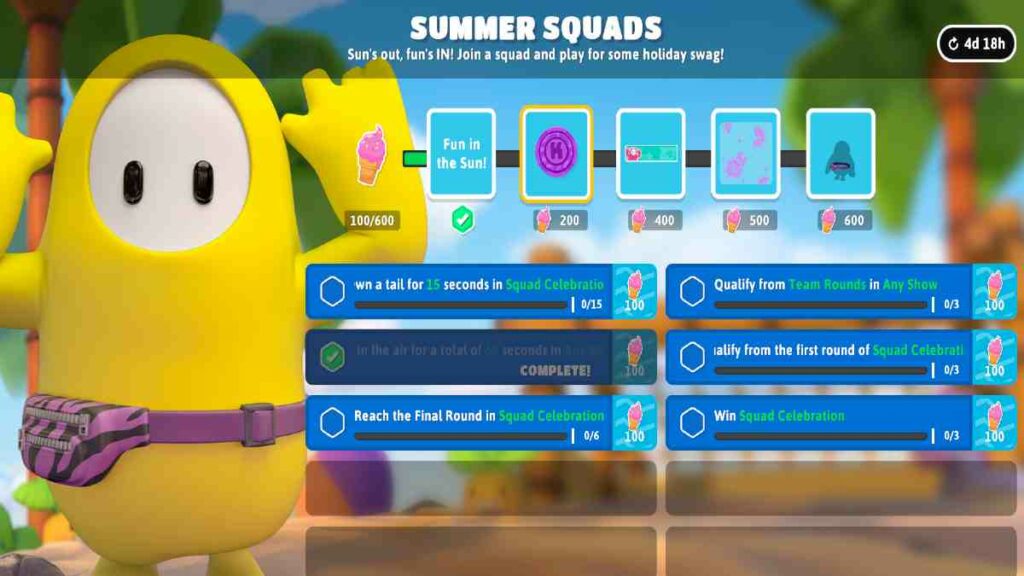 Being in the air for 60 seconds is pretty easy on certain Fall Guys minigames like Hoops or some obstacle courses, so use lifts and bouncy areas and you should complete the challenge quickly. Qualifying from team rounds in any show can be done in Squads, Duos, or Squad Celebrations, so the challenge can actually be done at the same time as qualifying from the first round of Squad Celebrations.
For more Fall Guys guides, check out How to get Kudos in Fall Guys on Pro Game Guides.