Potash is an uncommon item in Final Fantasy XIV that's used in a number of higher-level crafting items, especially the highly sought-after Vanya Silk. But unlike many Reagents, Potash can't be made or brewed. As a result, we've listed all the best ways to get Potash in Final Fantasy XIV below.
Using Company Seals to farm Potash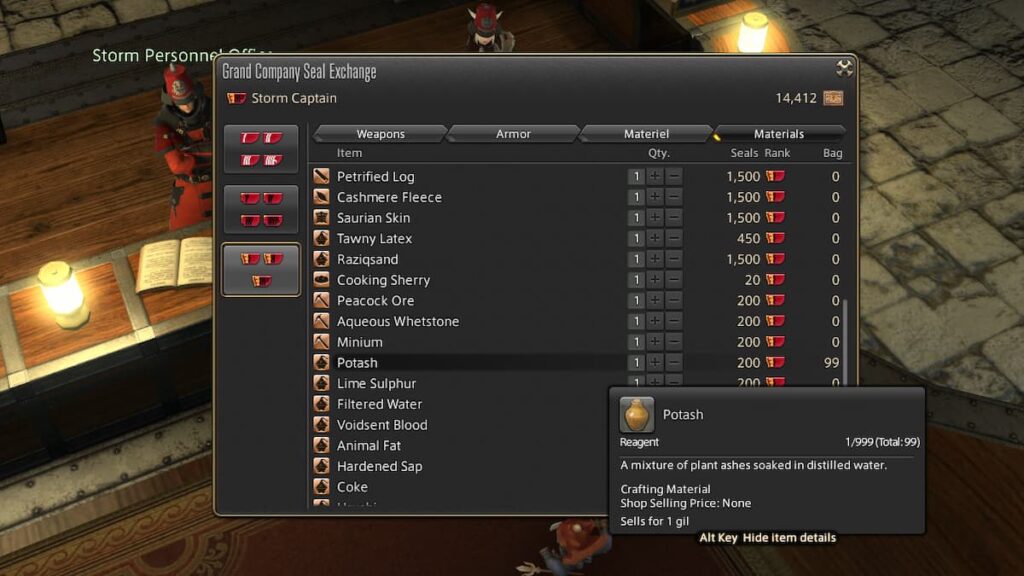 The Quartermasters for each of the Grand Companies stock Potash for those who have achieved at least Second Lieutenant rank in their respective Grand Company. This will cost 200 Company Seals.
Related: Final Fantasy XIV's next Moogle Treasure Trove event will start on July 25
Ixali Oaknots
If you've progressed through the Ixali Beast Tribe quests past the point of the Standing at the Helm quest, then the Ixali Vendor in North Shroud, Peacegarden (X: 25, Y: 22.8) will have two Potash for sale in exchange for a single Ixali Oaknot.
Treasure Maps
Potash drops from Boarskin Treasure Maps and Leather Buried Treasure Maps as an uncommon drop in the final chest. This is a quite expensive and inefficient way to farm Potash
Desynthesis
Deynthesising Hingan Chochin Lanterns has the possibility of yielding Potash. This is highly inefficient and is not recommended in any way.
Items made with Potash
Potash is used to create the following items:
Blank Grade 2 Orchestrion Roll
Blank Grade 3 Orchestrion Roll
Dodo Message Book Stand
Farreach Canvas
Hingan Chochin Lantern
Message Book Stand
Odder Otter Bench
Odder Otter Hanging Andon Lamp
Paper Partition
Vanya Silk
For more Final Fantasy XIV news, information, and guides, check out Everything added in Final Fantasy XIV Patch 6.18 on Pro Game Guides.