In Forager, there are many Galaxy Puzzles you must solve to progress through the game. In this guide, we will explain how to solve the Fire Galaxy Puzzle. This a relatively difficult puzzle, but there is a fool-proof solution!
Fire Galaxy Puzzle Solution
In this puzzle, you must depress all the pillars. The challenge is that every pillar you interact with will toggle the positions of any adjacent pillars! One step forward, four steps back. What do we do?
Unfortunately, there isn't a proper way to guide you without giving away the solution itself. If you were hoping to solve this without spoilers, you mostly need to experiment with different options to see what works. If you don't mind spoilers, continue reading!
Solver
The most important thing for the solution below is that you don't change any pillars before using it. If you do change the lights, you can reset the puzzle by leaving and re-entering the tower. Or, you can use the following link for the new pattern of lights you've made: Lights Out Puzzle Solver.
Related: How to Solve the Frozen Galaxy Puzzle in Forager | Frozen Galaxy Puzzle Solution - Pro Game Guides
The solver above is an online solver for puzzles like this. You can select any size for your grid (in the game it's 6 x 6) and click Edit to change the pattern displayed. When you click Solve, it gives you the solution for the puzzle in the box below it!
Solution
If you entered or re-entered the Puzzle Tower, it will reset the puzzle to its original form. To solve it, simply toggle the Pillars circled in yellow in the image below. Believe it or not, you can toggle them in any order you choose! However, recommend toggling the circled ones from top to bottom and left to right to keep track of which ones you've done.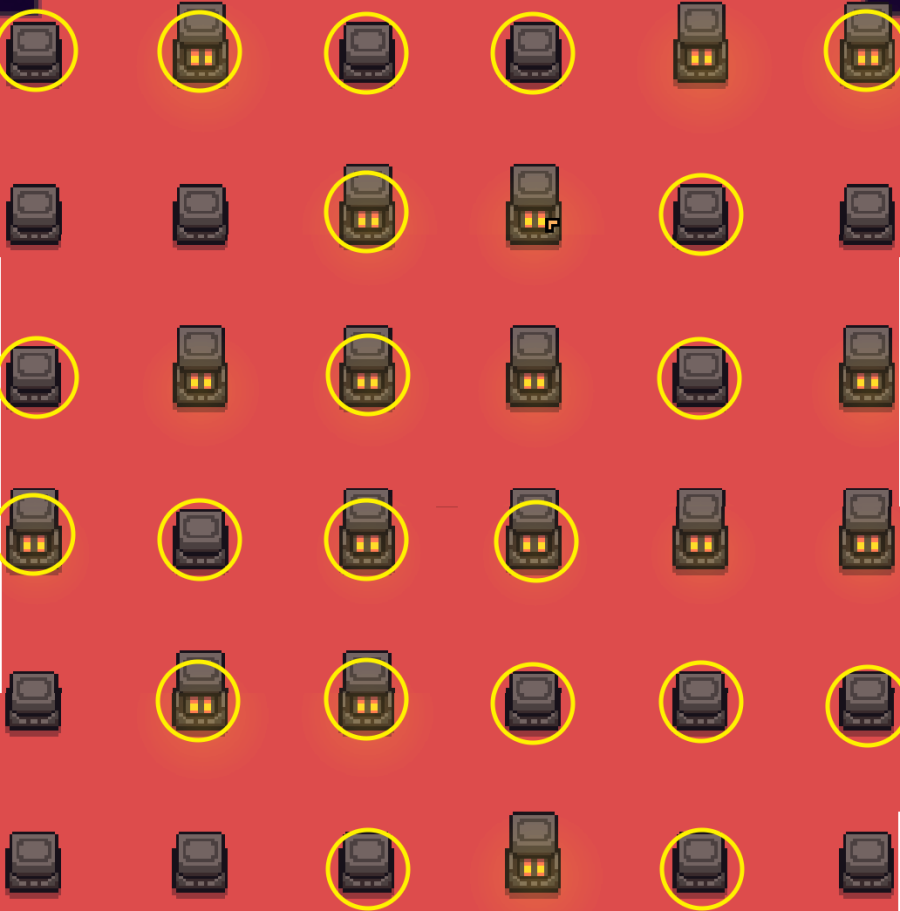 When you solve the Fire Galaxy Puzzle, you are awarded five chests. The largest chest must be unlocked with a Key. Upon opening it, you are given the Fire Galaxy Seal and a Spirit Orb.
Do you need Saplings for some recipes? Check out our guide on How to Get Saplings in Forager!