Forager has over 15 basic puzzles for us to solve throughout the world. Most of these are relatively simple, but sometimes players just want to play the game, not solve riddles!
How to Solve the Graveyard Biome Dark Bells Puzzle
The Dark Bells Puzzle requires keen observation and memory. If you have already interacted with them, you'll notice that they each produce a different tone when you did. There are three bells, three tones, and three different lines in the sign in front of them. So what do we do with the magical number three?
Related: How to Solve the Fire Galaxy Puzzle in Forager | Fire Galaxy Puzzle Solution - Pro Game Guides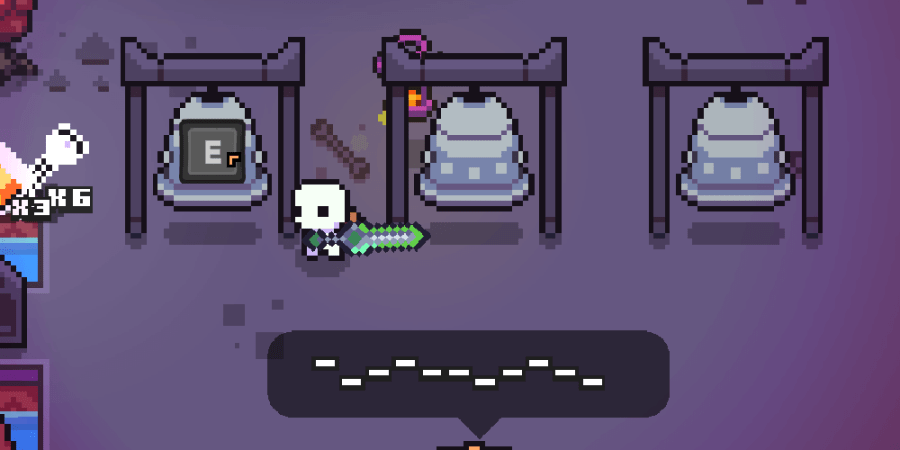 As you can see in the images above, you are given the option to ring each bell when you approach it. The solution to this puzzle lies in what order you ring them. The sign shows three different heights for the lines, and each line represents a tone. As you've probably now realized, you need to hit the bells in the order that produces the short song shown on the sign.
The order in which you must hit them is as follows: Right - Left - Middle - Right - Middle - Middle - Left - Middle - Right - Middle - Left.
Once you've done that, the puzzle will be complete, and you'll receive a Big Chest as a reward.
All Graveyard Biome Puzzles
We have covered all the other puzzles in Forager's Graveyard Biome! You can find the links to each guide in the list below.
Each puzzle comes with its own reward, which is usually a Big Chest. Every guide listed above provides the most simple way to solve them, so be sure to check them all out if you need the answers quickly!
Were you looking to solve the Skull Galaxy puzzle instead? Check out our guide on How to Solve the Skull Galaxy Puzzle in Forager!