Forspoken has a massive explorable world with a variety of creatures, from zombified humans to a flying Dragon. Athia also has different terrain features and variable weather conditions across the continent. In this guide, we'll find out what are Breakstroms, where do they occur, and why they bring the deadliest of beings with them.
What are Breakstorms in Forspoken?
According to the game journal, Breakstorms are "huge maelstroms of concentrated Break." The Break or the corruption is the phenomenon that has plagued Athia for decades, turning humans and animals into horrifying creatures. In the depths of corruption, where the Tantas reside, the effects of the Break are the strongest. In these areas, you'll sometimes find yourself stuck in the middle of a Breakstrom.
How to survive a Breakstorm
When a Breakstrom arrives, it brings blue fog, high winds, and Nightmares. Nightmares are termed the deadliest of all creatures in Athia. These foes will attack you, and your best bet is to flee away from them. Furthermore, the Breakstrom keeps chipping away a small portion of your health. Therefore, it's advisable to find the nearest Pilgrim Refuge and take some rest until the storm is gone.
All types of Nightmares in Forspoken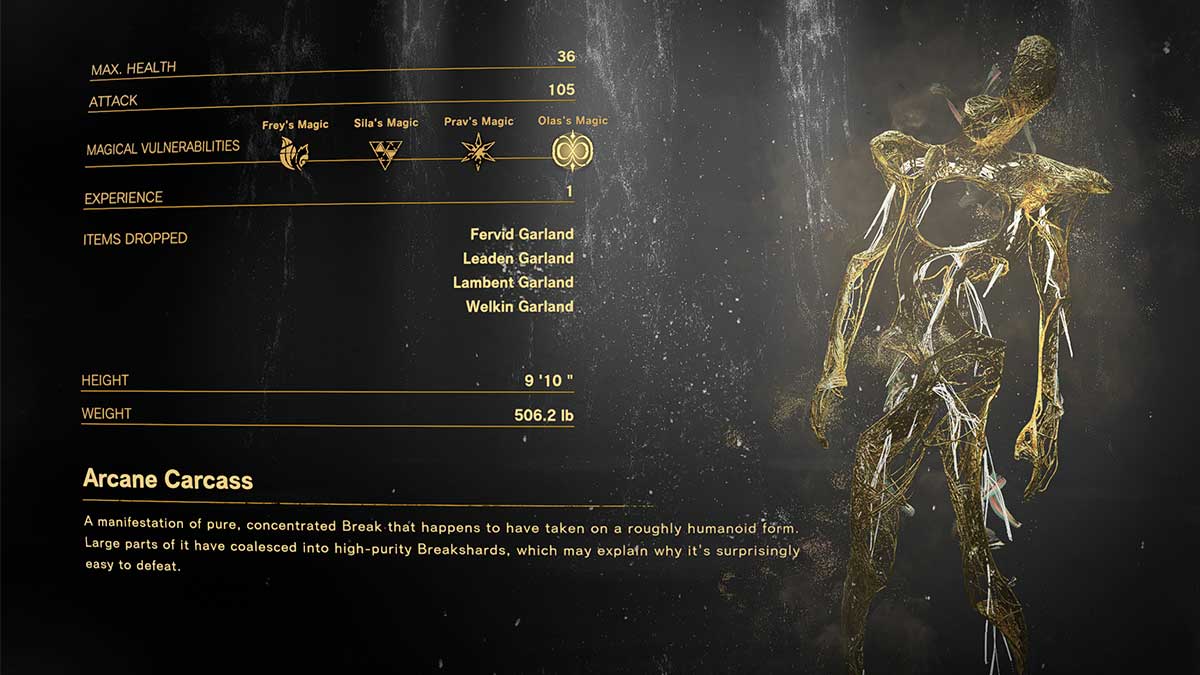 There are six different types of Nightmares that you may encounter in a Breakstrom. You may fight them for bonus XP, but you should use the right magic. Below is a list of all Nightmares and the magic they're most vulnerable to:
Arcane Carcass: Ola's Magic / Green Magic
Riven Carcass: Ola's Magic / Green Magic
Riven Wing: Prav's Magic / Blue Magic
Riven Antler: Frey's Magic / Purple Magic
Riven Claw: Sila's Magic / Red Magic
Besides these beings, there may be a chance that a Giant Nightmare will spawn inside the Breakstrom. These are some of the biggest creatures in all of Athia and are extremely difficult to kill. Nonetheless, you can fight it if you're well-prepared with improved stats, high-tier magic spells, upgraded gear, and sufficient healing items.
How to defeat Giant Nightmares in Forspoken
Gyre is a round-shaped Giant Nightmare with lots of tentacles surrounding its giant eye in the middle. This creature is vulnerable to Sila's Magic, hence we recommend you use Red Magic spells to kill it faster. Use Sila's Surge Magic (LT + RT) or Crucible spell to burn its tentacles and then attack its eye while it's vulnerable. Similarly, the Bandersnatch is a serpent-like monster that can be defeated by using Ola's Magic. Jabberwock is another slender, horse-like creature that you can tackle using Frey's Magic, and remember that its eye is its weak spot. You may also find the lesser versions of these Giant Nightmares in Flashbacks and Locked Labyrinths.
Stay tuned to Pro Game Guides for more Forspoken content. In the meantime, head over to our article on All map Icons and what they mean in Forspoken.