Fortnite continues to be one of the best battle royale games due to its ever-evolving content and exciting new features and events that cycle into the game continuously. One of their fan-favorite events is Fortnitemares because the game is filled with fresh surprises and scares and fun rewards for players to claim. You can also win more rewards by joining the Fortnite Escape Rooms. This is a limited-time event where you can win exclusive prizes that you won't be able to get any other way. Jump on the site and get working on your challenges to claim yours.
How to participate in Fortnitemares Escape Rooms
To start winning some spooky prizes in Fortnite, you must navigate the Fortnite Escape Rooms site and sign in. This will allow you to connect your Epic Games account, so no matter what platform you are playing on, your progress will be tracked and saved for these unique tasks. You can begin working on the tasks in-game to win four special rewards that will transfer to your game upon completion (which may take a few days).
How to win rewards in Fortnite Escape Rooms
Once you are logged in, you can scroll down to take a look at your trophy room. In your virtual trophy room, you can keep track of your prizes and see the tasks you need to do to complete each room and claim them. You will need to jump into any Fortnite Battle Royale or Zero Build modes to start tackling these challenges.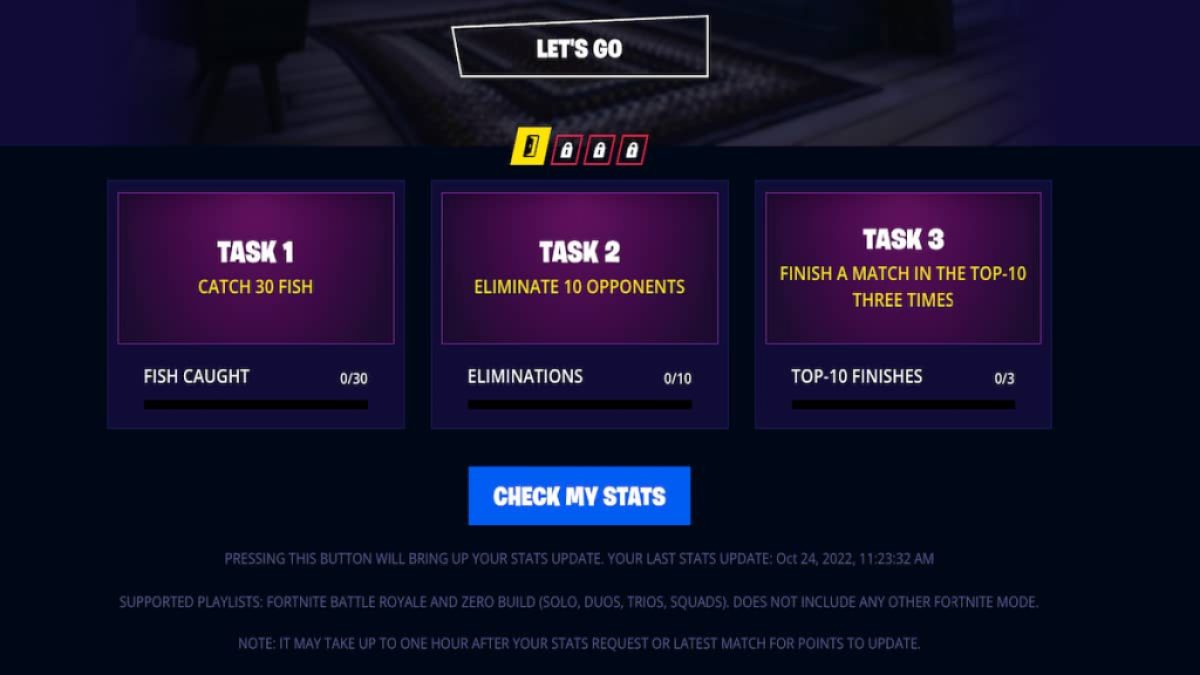 Related: All Fortnitemare Rewards and how to unlock them in Fortnite
How to complete Room 1 Tasks
Catch 30 Fish
Eliminate 10 Opponents
Finish a Match in the Top-10 Three Times
Complete these three tasks to win the Room 1 reward: "Spoooooky" Emoticon
How to complete Room 2 Tasks
Complete this task to win the Room 2 reward: 20,000 XP
How to complete Room 3 Tasks
Complete this task to win the Room 3 reward: "Octoeye" In-game Cosmetic Spray
How to complete Room 4 Tasks
Complete this task to win the Room 4 reward: "Niterave" In-game Cosmetic Wrap
You can earn all these exclusive rewards by completing these tasks in the Escape Rooms. It may take a little while to complete all four, but if you are an experienced player, you should be able to breeze through them quickly enough. Put your survival and fighting skills to the test and collect all your prizes!
Looking for more Pro Game Guides Fortnite content? Check out our guides on How to destroy haunted household furniture in Fortnite or How to find and beat the Inkquisitor in Fortnite!