With every new season, we are presented new NPCs with weapons to sell. Some of these are Exotics (unique weapons with special abilities), and some of them are Mythics (unique weapons with enhanced stats). In Chapter 2 Season 8, we have plenty of Mythics and Exotics available, some of which have returned from previous seasons. In the guide below, we explain where to find them all!
Weapon Map
The map below provides the location of each Mythic or Exotic weapon. If a weapon is not shown on the map, it most likely doesn't have a specific location and needs to be obtained through some other means. For more details about how to get the weapons, continue down the page.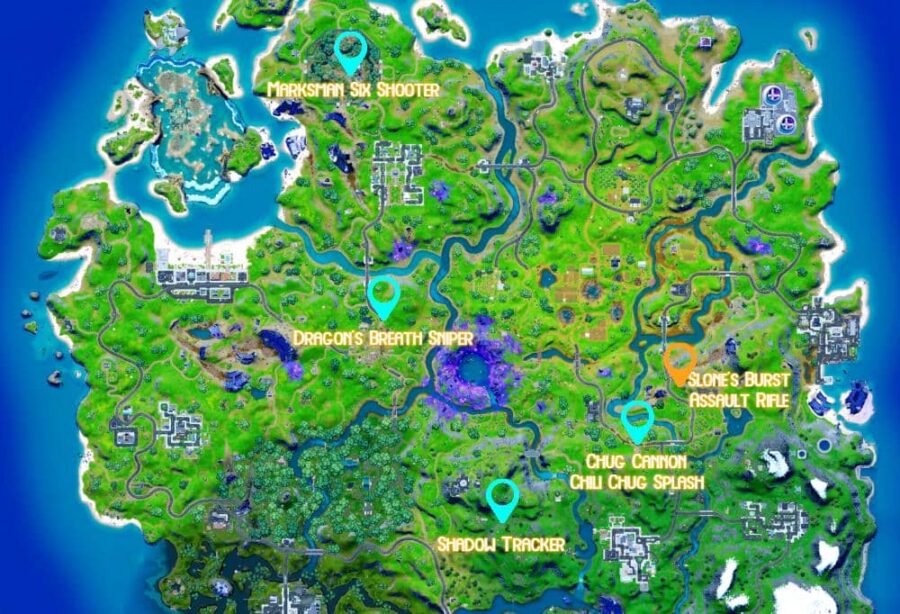 Mythic Weapons
Mythic Weapons in Fortnite are weapons in the game that typically have enhanced abilities or are attributed to special characters/outfits. This season, we have the following Mythics:
Slone's Burst Assault Rifle: This is the only Mythic Weapon this season with a set location. You can get it by defeating Doctor Slone. You will find her at the location marked on the map above.
Mythic Sideways Minigun: You can get this weapon by defeating the Cube Assassin in a Sideways Encounter. These are randomly placed on the map, and it changes with every match. The only way to find the Cube Assassin is by visiting the Sideways Encounters and hoping to run into the Cube Assassin. Use the following guide for help: Where to Find NPC #17 Cube Assassin. You can also get this by upgrading a Sideways Minigun using Sideways Cube Parts.
Mythic Sideways Rifle: You can get this by upgrading a Sideways Rifle with Sideways Cube Parts.
Venom Symbiote: The Capsule for the Venom Symbiote is dropped at a random location at the start of the match.
Carnage: The capsule for the Carnage Symbiote is dropped at a random location at the start of the match.
Exotic Weapons
Exotic Weapons are weapons with special abilities beyond their normal function that are not attributed to a specific character. Some of them might heal, track, or set fire to other players!
Dragon's Breath Sniper Rifle: Sold by Pitstop for 400 gold in the northeastern corner of Boney Burbs.
Shadow Tracker Pistol: Sold by Dusk for 400 gold south of Primal Pond, the landmark in the hills south of The Aftermath.
Chug Cannon: Sold by The Brat for 400 gold at Fork Knife Food Truck, the food truck north of Lazy Lake.
Marksman Six Shooter: Sold by Wrath for 400 gold at Deep Woods Dish, the landmark satellite location in Stealthy Stronghold.
Chili Chug Splash: Sold by The Brat for 210 gold bars at Fork Knife Food Truck, the food truck north of Lazy Lake.
That's it for the Mythic and Exotic weapons this season!
Can't find some NPCs this season? We have you covered! Check out our guide for All Fortnite Chapter 2 Season 8 NPC Locations.