Fortnite is one of the best family-friendly battle royales, with tons of new content constantly that will keep you entertained and excited each week. They are constantly collaborating with fan-favorite franchises such as Star Wars, Marvel, Dragon Ball, and more, such as the Rocket League High Octane collab. You can complete these unique Rocket League-themed quests on Fortnite to win rewards in-game and for your Rocket League and Sideswipe accounts. Here's how!
All High Octane Quests in Fortnite
Here are all the quests you can complete in Fortnite, in standard and creative modes, to earn unique rewards such as account XP, Backbling styles, sprays, a special Pickaxe, and even a new car and styles for your Rocket League accounts.
Octane Battle Royale & Zero Build Quests
You can complete these quests in the standard modes, such as Battle Royale and Zero Build, using the Octane car that has arrived on the map in various locations.
Fly 100 meters continuously in an Octane
Perform a 720 front or back flip in the air with an Octane
Hit opponents while riding in an Octane (3)
Octane Creator Experience Quests
These quests take place in individual Creator Experience modes. You can jump into each one using the Island Codes or searching the hub under Octane modes.
RL Live ( Island Code: 9775-0165-8588)
Earn Points in RL Live (250)
Earn Points at RL Live (100)
Octane Race ( Island Code: 3847-7344-8745)
Complete a lap in under 2 minutes 30 seconds in Octane Race
Complete laps in Octane Race (2)
Snipers vs. Octanes ( Island Code: 8992-9205-6512)
Eliminate sniper opponents in Snipers vs. Octane (1)
Damage car opponents in Snipers vs. Octane (600)
Rocketeer Ruins ( Island Code: 5620-6416-3977)
Collect coins at Rocketeer Ruins (8)
Reach each Hardpoint at Rocketeer Ruins (5)
All High Octane Rewards in Fortnite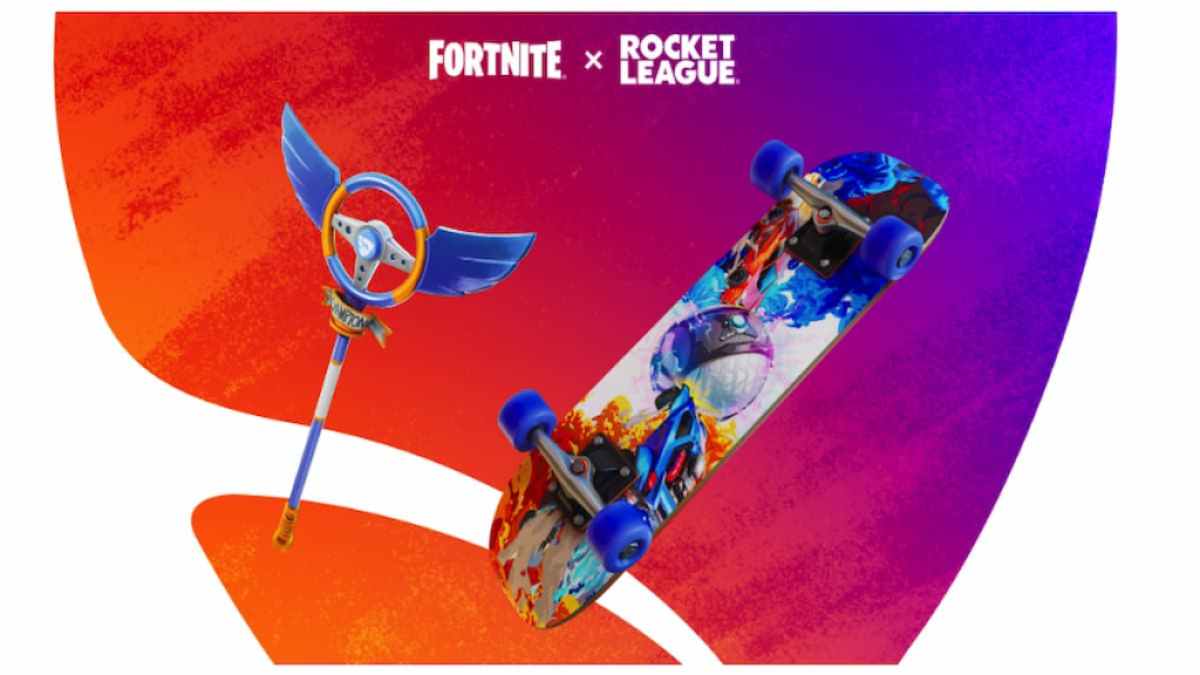 These are all the rewards you can win by completing the above quests. You won't be able to unlock rewards for Rocket League and Sideswipe until making it through eight quests. Ensure your Rocket League accounts are connected to the same account you use for Fortnite, such as a Microsoft or Sony account.
Complete 2 Octane Quests:
Shot in Flight Emoticon
Back Board Backbling Style: Aerial Assist ( & Backbling if not already owned)
Complete 4 Octane Quests:
Back Board Backbling Style: Brella Beach
Octane Smash Spray
Complete 6 Octane Quests:
Back Board Backbling Style: Battle Blaze
Complete 8 Octane Quests
Back Board Backbling Style: Fifty-Fifty
Clutch Victory Pickaxe
You will also unlock the Rocket League and Sideswipe rewards at this point, which are:
Whiplash Car
Whiplash Wheels
Flame Decal
Stripes Decal
Wings Decal
Lightning Decal
Jump into Fortnite to get started on these quests and earn your rewards before they are gone. They will only be available for a limited time, until December 3, 2022. Most of these challenges are a breeze and allow you to try out new Creative experiences that are a bunch of fun.
Looking for more Pro Game Guides Fortnite content? Check out our guides on How to get the Herald Outfit in Fortnite or Best Fortnite Racing Map Codes– Best driving maps!