It's looking like it might be time for another update in Fortnite! These patches generally include quite a few leaks, but will also add a fair amount of new stuff to the game. You can possibly expect to see new POIs, weapons, items, bosses, and new modes added to the game. While Epic has ceased giving detailed patch notes, we look to compile an unofficial list of them with every single update! As soon as anything new is discovered, you can expect to see it in the details below.
While Epic no longer gives out full update notes, content creators are sent a general outline of what you can expect from the update. We will have that available in this post as soon as it is sent out. This generally gives us a pretty good idea of the main parts of the patch. However, there's usually a lot of smaller changes that are added, and those are the things we will be covering.
Patch Release Date & Time
The Fortnite Season 14.20 Patch has been officially announced, and it will be released on September 23rd! The downtime will start at 4 AM ET (08:00 UTC), and you can expect a couple of hours before the patch is officially live, so don't wait around for it, even if you're excited to play!
Unofficial 14.20 Patch Notes
Here's where we will be detailing all of the updates and changes that have been added to the game and haven't been covered by Epic. If you're looking for leaked skins, we will have a full look at them right here.
Two New Secret Challenges
You can complete two more hidden challenges after the patch for some pretty easy XP. Check out our guide for them right here.
New Legacies
Some new achievements have been added to the game in the patch. This confirms that the Daywalker reference in the patch was referring to Blade.
Daywalker - Sniped an opponent as Blade.
Kraven the Hunter - Hunter the Wolverine.
SNIKT! - Awakened Wolverine.
New Super Store POI
Not much in the way of map updates in this patch, but there is a new Super Store POI that is near Holly Hedges!
Gift Boxes Return
It looks like gift boxes are being added back into the game to celebrate Fortnite's birthday! Here's what you can from them if you can open one up (Credit HYPEX):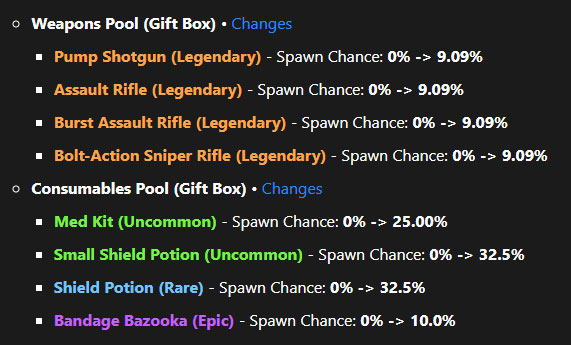 The Uncommon and Rare Scoped Assault Rifle have been Vaulted
Whoops, looks like not all of the Scoped ARs were vaulted as originally reported! It appears that just the green and blue options won't be available.
Midas Fish Now Available
The Midas Flopper will turn your entire inventory into gold, which means all of your weaponry will become Legendary! Being that the Midas Flopper is particularly strong, it's going to be extremely rare, basically the same as the Mythic fish. According to HYPEX, it has a catch rate of 1%, which is the same as the Vendetta fish.
New Punch Card
It looks like there's a new punch card called "Fishy" that is going to be available. This will require you to complete your fishing collection to complete it.
Fishy - Completed fishing collection
Confirmed: Birthday Event
Fortnite Battle Royale's birthday is on September 26th, and we've already seen a leaked wrap added to the previous patch. From the official patch notes, it sounds like we're going to get some new challenges to complete, and there will be some rewards to be earned by completing them!
Here's a look at the challenges and rewards you'll be able to earn. I'm not sure the first part of the challenges is actually part of it, that might have been a bug in the export process of this list.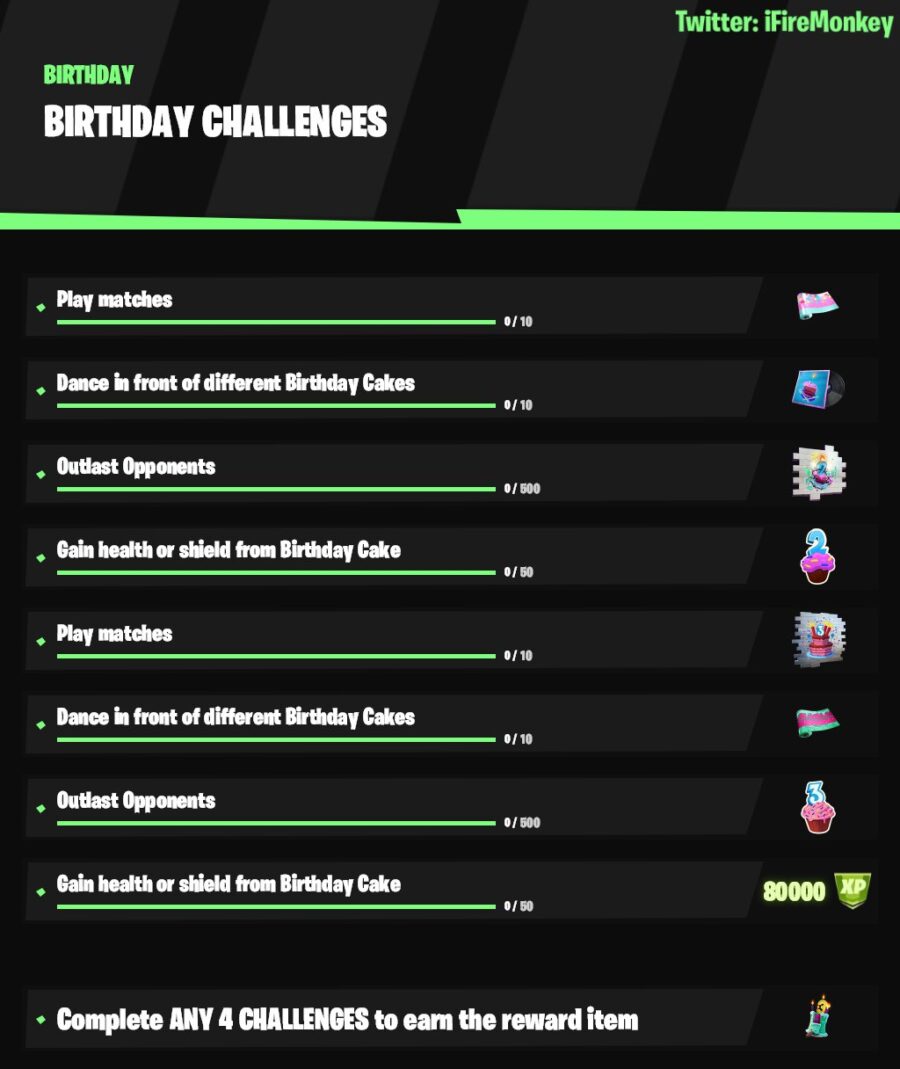 Confirmed: New Boss - Wolverine
In the 14.10 patch, we got Tony Stark and his huge new POI area that plopped down on Frenzy Farm. You can now head over to Stark Industries and fight Iron Man himself to gain his superpowers and unlock his vault for some sweet loot. We also got a bunch of the new superpowers that were leaked to play with in the game. These can be easily accessed in the Marvel LTM modes, where you will be able to try all of them out. These powers have started rumors about the likelihood of seeing a Venom and even a Black Panther boss possibly being added to the game at some point.
In the official notes, it looks like Wolverine is going to be the new boss and he will be found in Weeping Woods!
Possible: Halloween skins coming soon?
A couple of new strings were found for the Fortnite Item Shop in the previous patch. Epic is testing a new Item Shop layout, and with it comes some new labels that describe certain sections of it. Two of the strings that were leaked are "Start the Party!" and "Spooky Offers". Based on these, it looks like the inky colorful female party skins are going to be available again. This will likely be around the BTS x Fortnite event. The more interesting one is the "Spooky Offers", which means we are going to see some Halloween skins start to infiltrate the shop.
Official Patch Notes
The official notes that get released to content creators are out! It looks like we're getting Wolverine, who will be the boss of the Weeping Woods. He is apparently going to be pretty tough to eliminate, but if you can take him down you will get his claws to use. I'm curious if he will have henchmen around him or not. There's a new Takeover LTM, that will allow you to hold outposts, something like King of the Hill. There's going to be a birthday event for Fortnite, and it looks like there's going to be some challenges and rewards that you can earn!
In the notes there were letters colored red, and if you put them all together it spelt out the word "Daywalker." It is possible that this is a reference to Blade, who is half human and half vampire, which gives him the ability to walk during the day. That could possibly mean he will be involved in the storyline or could be a skin that finds its way into the item shop!
New Boss: Wolverine

Confront Weapon X deep in Weeping Woods, take him out, and shred through your opponents with the Wolverine's Claws mythic power. Like other bosses on the map, he won't go down without a fight. Let us know what you think!

Takeover LTM

Earn points by capturing and holding outposts in a new Marvel-themed game mode. During your Island domination, you'll start with a random primary superpower and see comets in the sky dropping more powers of all types to build your perfect loadout.

BTS in Party Royale

BTS will premiere a special dynamite video 9/25 @ 8 PM ET. Keep eyes on our announcement blog for the latest news for content creators. See you there.

Fortnite Turns Three

Special birthday-themed plans are lined up this weekend to celebrate Fortnite's third birthday. More challenges to earn XP, new rewards, and cake.

Llama-Rama Starts September 26

Play Rocket League to unlock items for both Rocket League and Fortnite. And watch Slushii on the Main Stage celebrating Llama-Rama on 9/26 @ 5 PM ET in Party Royale.

See you on the bus!

- The Fortnite Team
Fortnite 14.20 Patch Bug Fixes
These were taken from the Trello that display all of the stuff that Epic is working on in terms of bugs.
Battle Royale Issues
The Heroes Park and Ghost House locations don't count as discovered locations when discovered.
Some PlayStation 4 players may not see any recorded replays when viewing them in the Career tab.
On PC, having your "Effects" setting set to "Low" can make Fishing Spots disappear, even at close range. (Fishing Spots should still appear normally with Effects set to Medium or above.)
Creative Issues
Grass will be coming out of the ground floors of any structures built on the islands that have grass.
Some players are not granted items from a "team settings" and inventory device at the beginning of any round after the first round.
Save the World Issues
Redline Ramirez's Commander Perk doesn't apply its fire rate buff to charged Sniper Rifles. This includes the Boom Bow.
Mobile Issues
The visibility of Fishing Spots can be inconsistent at close range on Nintendo Switch and Android, sometimes disappearing then reappearing.