Fortnite has changed the way Legendary Quests work for Chapter 2 Season 7. Instead of the accolades we saw in previous seasons, Legendary Quests for Season 7 are more like advanced Epic Quests. In this guide, we are covering the basic instructions to complete these quests as easily as possible.
Cheat Sheet Map
The map below provides the locations of all the spawns for this week's Legendary Quests with specific locations. Follow the instructions below the map if you need more detail.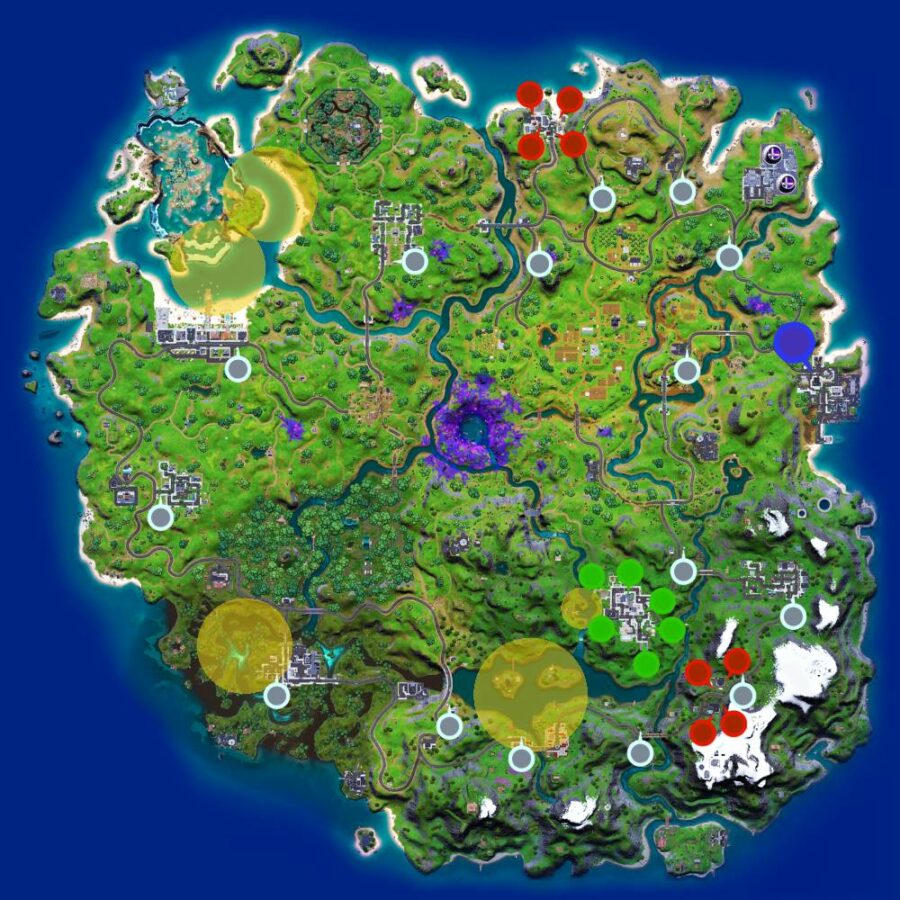 Related: Fortnite Chapter 2: Season 7 Guide - Challenges & Information - Pro Game Guides
Guides & General Tips
Get Slone's Orders from a payphone. [1]

The light blue markers on the map above show the locations where you can complete this quest. You only need to interact with one of them to complete the quest. Any payphone will work.

Catch fish at fishing holes. [5]

The yellow highlighted circles in the map above show you the best spots to catch fish. Note that you must actually catch fish, not weapons.

Collect a vintage can of cat food in Catty Corner or Craggy Cliffs. [1]

Both Catty Corner and Craggy Cliffs have four vintage cans of cat food placed at random locations. You only need to find one of them to complete the quest. You can use the guide above fur detailed directions on where to find them in each area.

Collect a vase of flowers from Lazy Lake. [3]

There are several vases placed randomly around Lazy Lake. The easiest way to complete this quest is to simply go to Lazy Lake and look in the windows for a bright blue glow. You can also see where they are with the green markers on the map above. For more detailed instructions on how to complete this quest, use the guide listed above.

Harvest Wood. [250]

You can harvest wood just about anywhere on the map. However, you harvest the most amount of wood by breaking down trees with your pickaxe. For this reason, it's best to complete this quest in Weeping Woods or at The Orchard.

Talk to Joey. [1]

Guide: Where to Talk to Joey
You can find Joey at the blue marker on the map above. He is patrolling the northwestern corner of Dirty Docks. For more detail on where to find Joey, use the guide listed above.
That's all the Legendary Quests for Week 3 of Chapter 2 Season 7! Be sure to check our Fortnite Homepage for the latest news, content, and guides for Fortnite!
Don't forget to check out our full Fortnite Chapter 2 Season 7 Guide, which covers all updates, mechanics, and features to Season 7!