Our Fortnite Season 6 Week 3 Challenges List and Cheat Sheet brings you all of the solutions and answers for the challenges you need to complete for the week. We have maps to treasure and item locations, as well as tips for completing all of them as quickly as possible!
This week we're reviving players in different matches, searching chests in Lonely Lodge, ringing the doorbell of houses with an opponent inside, visiting Risky Reels and Wailing Woods, throwing a tomato at a player, shooting 3 targets in different Shooting Galleries, and eliminating opponents in different matches!
Fortnite Season 6: Week 3 Cheat Sheet
If you want to check at where to find all the challenges, here's a cheat sheet for you! Check below for more detailed information on these challenges. Credit to SquatingDog.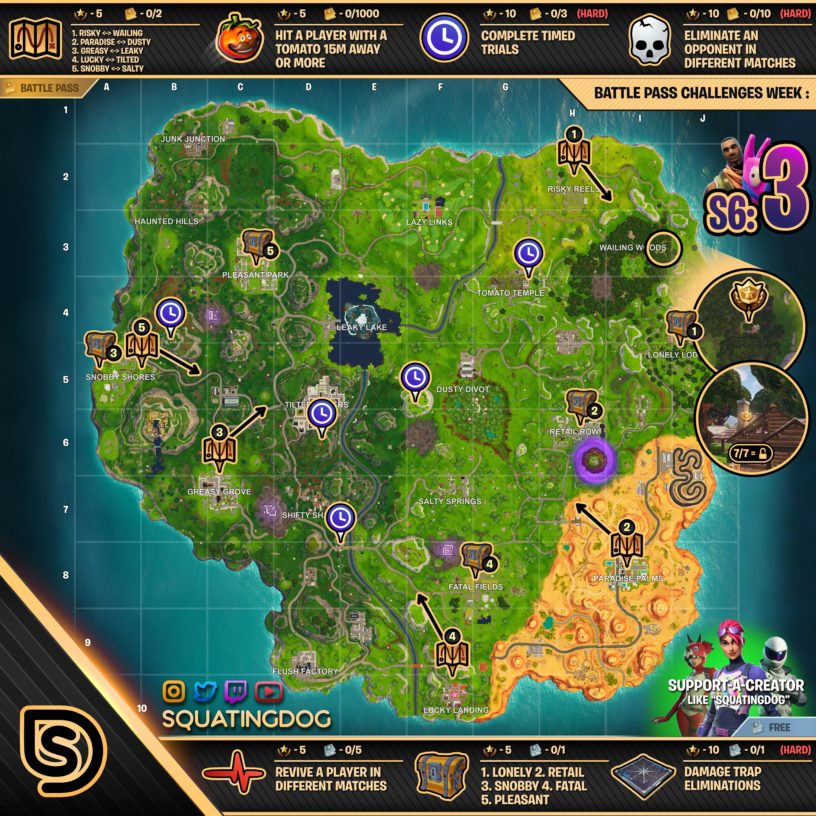 Week 3 Challenges List for Season 6
Free Battle Pass Challenges List
Paid Battle Pass Challenges List
Hidden Battle Star Week 3
Check out our Fortnite Season 6 Guide for guides on every week of challenges, and you'll find all of the hidden stars on our Season 6 Secret Battle Star Locations Guide!
Revive a player in different matches (5)
So, there's different ways you can approach this. You can be sneaky, and just duo with someone and have them jump off a cliff so you can revive them and do it for them. Then kill yourselves and go into another game. Another way is to just head into 50v50 and revive a player as there are always fallen players around. Or you can just play duos/squads in general and revive people as you play. Just remember you can't complete this in one match, you have to do it in five separate matches.
Stage 1: Search a Chest in Lonely Lodge (1)
Lonely Lodge is a pretty weak landing area, but you are stuck heading there anyway. Here are the following areas:
Retail Row
Snobby Shores
Fatal Fields
Pleasant Park
Damage Trap Eliminations (1) (HARD)
Eliminate someone with a trap! This can be a difficult one, and the easiest way to do this is to down an opponent, then box them in and place a trap on the floor. You can try to get lucky and place traps in high traffic areas, but this can be unreliable. It's also only good in solo mode usually.
Stage 1: Visit Risky Reels and Wailing Woods in a single match (2)
This one is kind of annoying, but you need to hit a certain place first and then head to the secondary location.
Risky Reels to Wailing Woods
Paradise Palms to Dusty Divot
Greasy Grove to Leaky Lake
Lucky Landing to Tilted Towers
Snobby Shores to Salty Springs
Hit a player with a Tomato 15m away or more (1)
You'll have to make sure you've unlocked the Tomato in your battle pass which is at tier 28. Equip that to one of your favorite emote slots, and then sling a tomato at someone. If you can do it to a teammate then this will be pretty easy. You can also just do it in 50v50 where there's a lot of different people available for tomatoing. If it has to be an enemy, well that's going to be a lot more difficult. You could potentially down an enemy and then heave the tomato at them to add insult to injury.
Check out our Fortnite Toys Cosmetic List for more information on the cosmetic.
Complete timed trials (3) (HARD)
It's time to quickly build and grab stopwatches to complete timed trials. These can be a bit tough sometimes, it's more to do with other players shooting your builds and killing you. However, if you slowly go through it once and setup your build, then run through it quickly, these shouldn't be too difficult.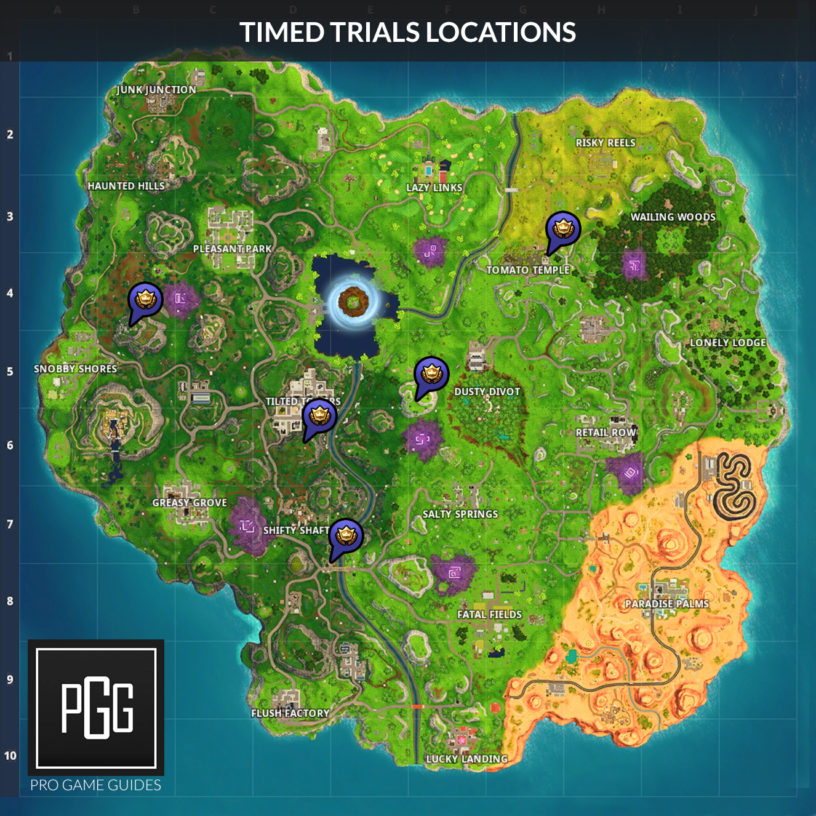 Here's a video of how to complete three of the easier ones:
Eliminate an opponent in different matches (10) (HARD)
This is going to take a while unless you just drop Tilted Towers every match and get a kill and then die yourself. You are going to have the best luck completing this by just beign aggressive in the early game, grabbing a quick gun and taking someone out. You can then just immediately get yourself eliminated or jump to your demise. Keep in mind that if you just disconnect from the game you won't get credit for the elimination.
Hidden Battle Star
Once you've completed all the challenges for the week you will be given the following loading screen. If you look to the top left of it, you will see the transparent battle star. That location is over in the north west portion of Wailing Woods. Check out the map below for the exact location.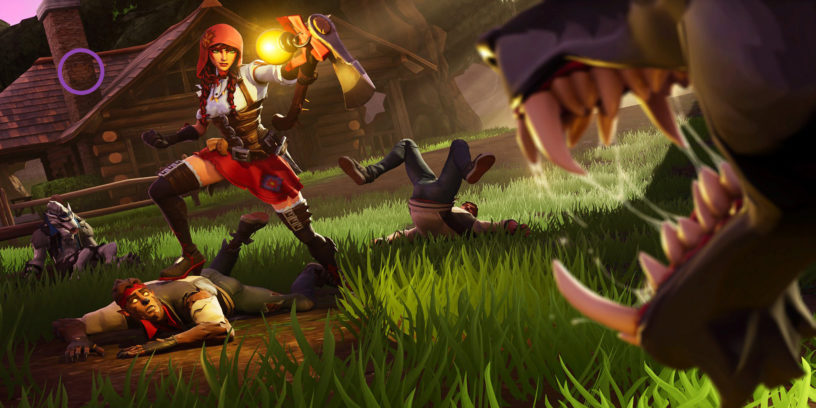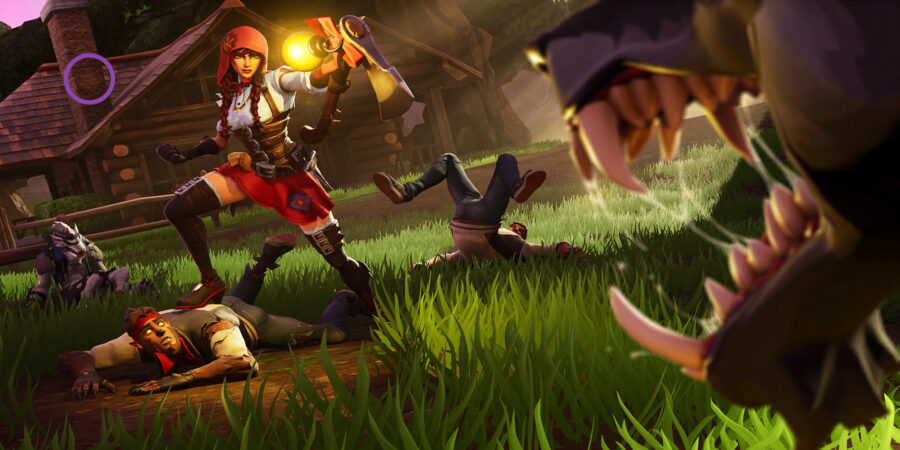 Here's a map to where to find this week's battle star: