Our Fortnite Season 6 Week 6 Challenges List and Cheat Sheet brings you all of the solutions and answers for the challenges you need to complete for the week. We have maps to treasure and item locations, as well as tips for completing all of them as quickly as possible!
This week we're placing chillers, searching chests in different named locations, getting shotgun eliminations, landing in different areas, beating people up with pickaxes, finding and playing sheet music, and elimination enemies with different rarity weapons.
Fortnite Season 6: Week 6 Cheat Sheet
If you want to check at where to find all the challenges, here's a cheat sheet for you! Check below for more detailed information on these challenges. Credit to SquatingDog.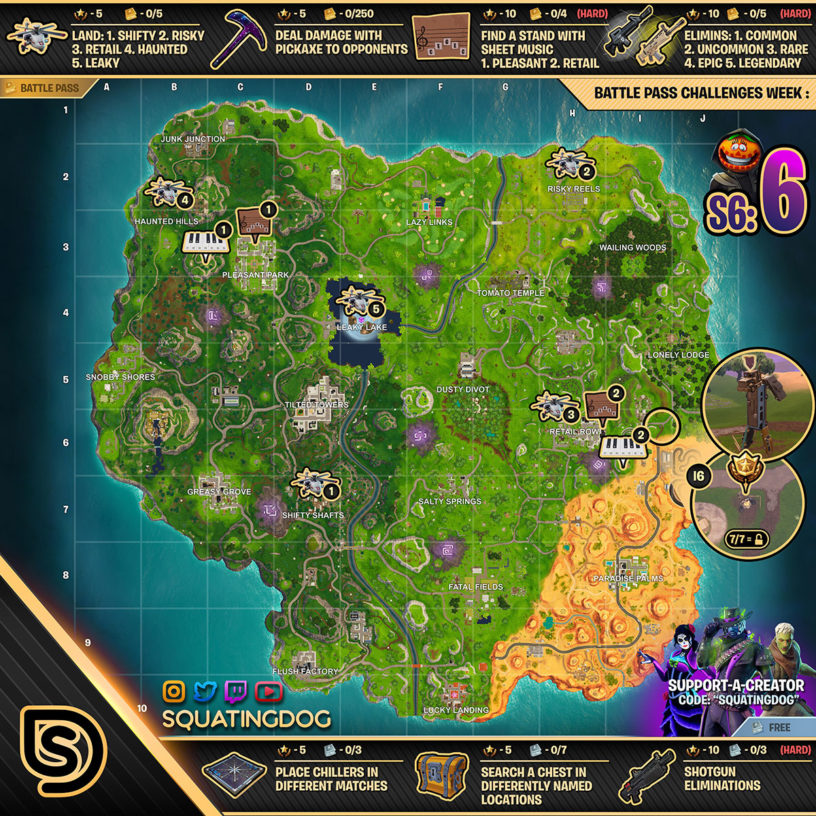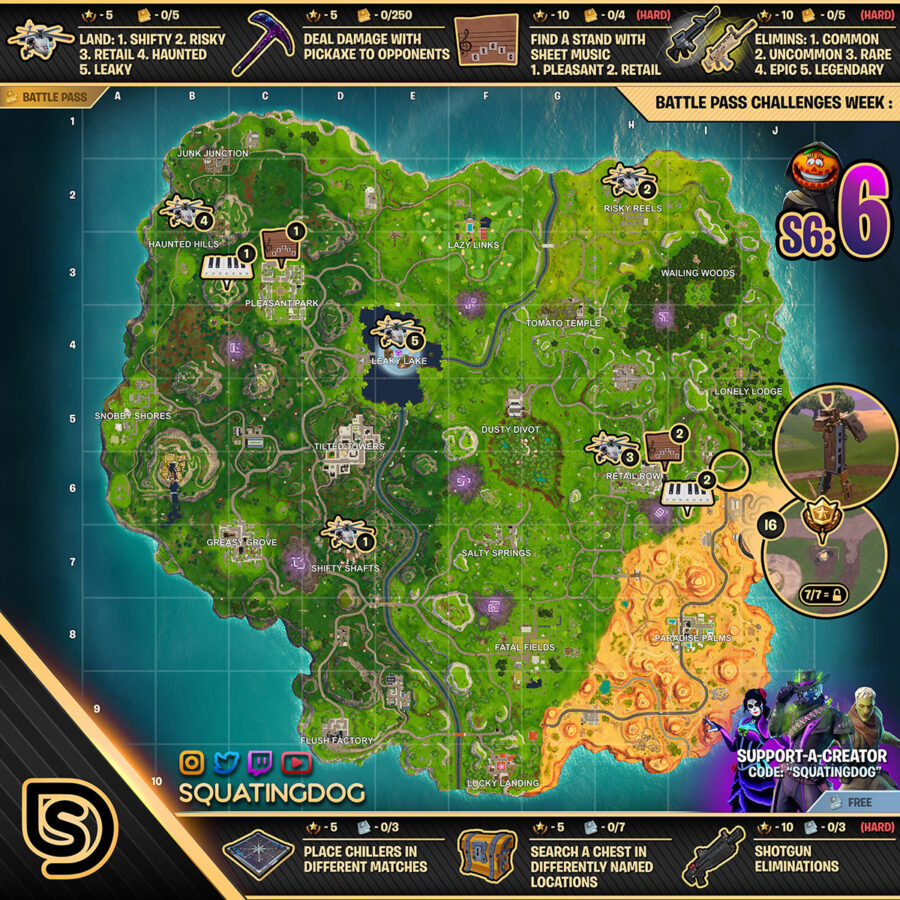 Week 6 Challenges List for Season 6
Free Battle Pass Challenges List
Paid Battle Pass Challenges List
Hidden Banner Week 6
Check out our Fortnite Season 6 Guide for guides on every week of challenges, and you'll find all of the hidden stars on our Season 6 Secret Battle Star Locations Guide!
Place Chillers in different matches (3)
Well, this one isn't going to be too difficult. Chillers are relatively new, but you should be able to find them around pretty easily. Just don't forget to place them so you get credit! You need to place one in three separate matches.
Search a Chest in different Named Locations (7)
This will either vary up your landing destinations or will have you traveling all over the map. I'd try to complete this one passively, but obviously you can try to bang it out by flying around and hoping for chest spawns in the various named locations.
Shotgun Eliminations (3) (HARD)
Boy is this one lacking any creativity. I imagine if you are this deep in the battle pass, you shouldn't have a problem blasting people with the shotgun.
Stage 1: Land at Shifty Shafts (5)
You have to land at five different places, here they are in order: Shifty Shafts, Risky Reels, Retail Row, Haunted Hills, and Leaky Lake. This is a good one to do with the searching of chests in different named locations.
Deal damage with a pickaxe to opponents (250)
Your best bet is to head into duos or squads and beat on downed players with your pickaxe. I don't recommend trying to do this in solos unless you just want to beat anyone who dares land next to you!
Stage 1: Find the Sheet Music in Pleasant Park (4) (HARD)
Sheet Music has been placed in two spots, but that isn't the only part of this challenge. You need to find the sheet music, and then head to a piano that's been placed on the map and play the music. This is a bit weird, so refer to this video if you are having troubles:
Stage 1: Elimination with a Common weapon (5) (HARD)
As you might expect, after the common weapon comes the uncommon, rare, epic, and finally legendary stages for this challenge. There's no real trick to this one, just get out there and slay with the various rarities!
Hidden Banner
Once you've completed all the challenges for the week you will be given the following loading screen. You can see the hidden banner location shown on the tree. It's a picture of the transformer like monster created out of cars and other vehicles.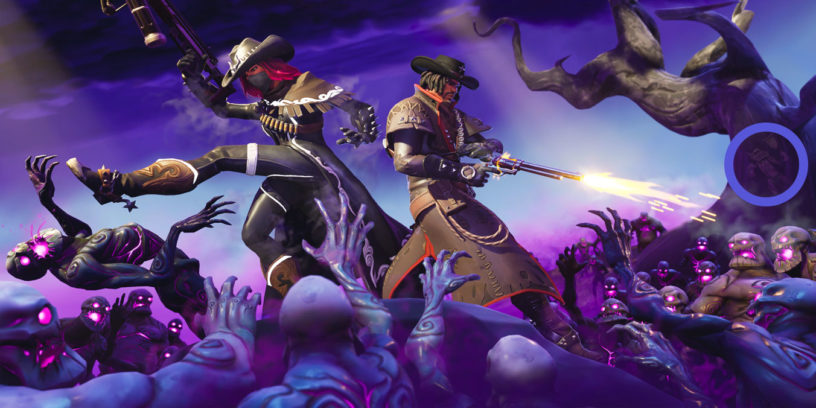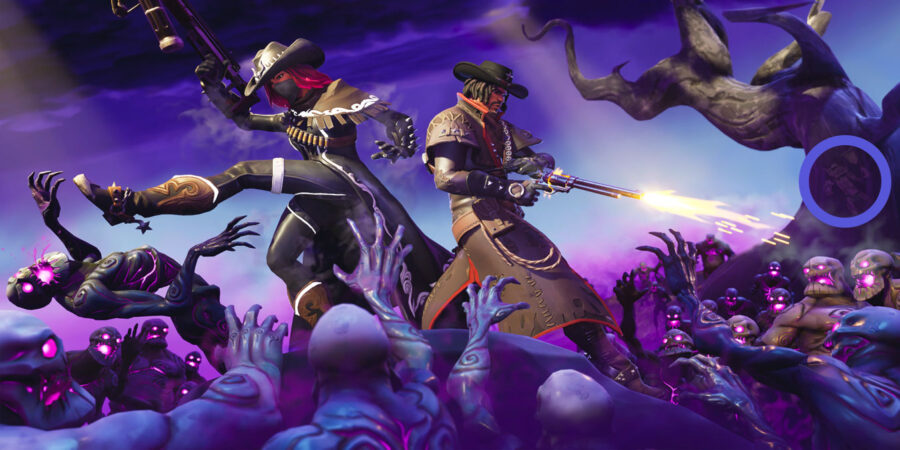 You can find truckasaurus to the east of Retail Row and to the south of Lonely Lodge. Check out the map below for the exact location!