Prop Hunt might be one of the more famous and popular games you can play in the Creative portion of Fortnite. You are either disguising yourself as an item that exists on the map to avoid detection, or you are looking out for players that have transformed themselves into objects! If you're seeking, then you will need a keen eye for things that look different on the map. If you're hiding, you will need to do your best to blend in with your surroundings. This is a great mode to play with friends, and can be played by players young and old! To narrow down your options when it comes to Prop Hunt, we've picked out some of the best map codes so you don't have to look too far.
If you're looking for maps where you don't have to turn into objects, you can find those on our Fortnite Hide and Seek Codes post!
How-to Use a Creative Code
Once you load up the game you will be given the three options on what you want to play (Save the World, Battle Royale, and Creative). Click the creative option and then click PLAY and then CREATE (don't start a server if you want to play solo).
Once it has loaded, you will see an Orange Rift that will take you to islands where you can create custom maps. We don't want this right now, so look around for the featured portals. Fortnite now puts you in a custom portal area, so you might need to seek it out a bit. Find the portals with the console in front of them and interact with one.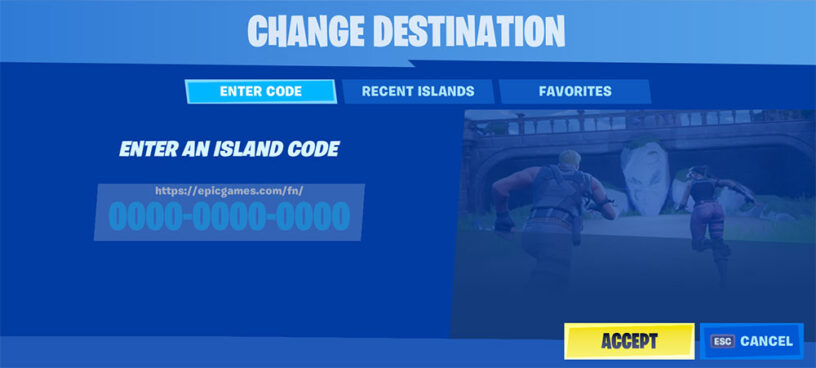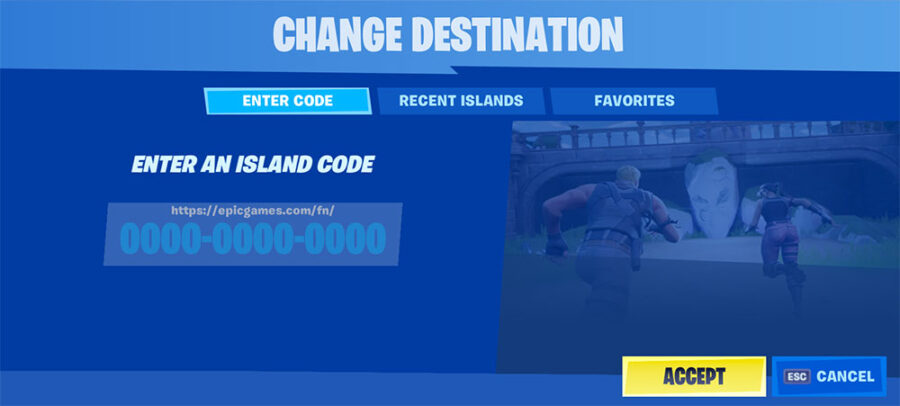 From here you can either select one of the codes you've added to your favorites, or you can paste a code you have at the end of the URL. Click "Accept" and it will load up the island of your choice. You can then run into the rift and it will transport you to it!
Prop Hunt Map Codes List
Here's our list of the best Fortnite Prop Hunt Codes:
I will be going into more detail below on each of these maps and including some videos that should explain more about the course when necessary!
Laser Tag Prop Hunt
This was a featured map at one point and for good reason! While it's somewhat similar to the arcade map, it's still sets itself apart with some great looking areas and utilization of some of the new stuff that has been added to creative. Not only does it have a great looking lobby that you no doubt recognize if you've ever played laser tag, there's also an area where you'd actually play laser tag in which is another great representation of the game! All in all, this is a well designed map that is a load of fun if you enjoy prop hunt.
Indoor Water Park Prop Hunt
If you're looking to play some fun games with friends or queue up a really interesting theme map then this indoor water park prop hunt should be a great way to kill some time! The design of this one is outstanding, you've got a great looking water park theme throughout the map fitted out with a huge pool and a ton of slides. There's even a locker room where you'd change your clothes to get ready for the water!
The Yacht Prop Hunt
Ever wanted to float on the ocean on a massive yacht? But instead of being a passenger your pretending your random things on board and hoping not to be found out? well now you can, and the entire yacht is your oyster!
Shop til you Prop
This is another fun idea that has you running around a shopping area that kind of looks like Retail Row. Enter in to a variety of shops where players can turn into various props related to each of the particular stores. There's so many objects and things to become a prop that the hunter will have their work cut out for them!
Prop Hunt...but in a Taxi
Enter multiple different cars and hide as a piece of trash! These are some messy cabs, so you'll have plenty of different things to hide yourself as. If you're the hunter, you'll need to clean up some mess, so locate the people who are hiding out. For every wrong shot you take, you will take damage, so you can't spam everything you see. If you do find someone, however, you'll get healed a bit, so make sure you guess right!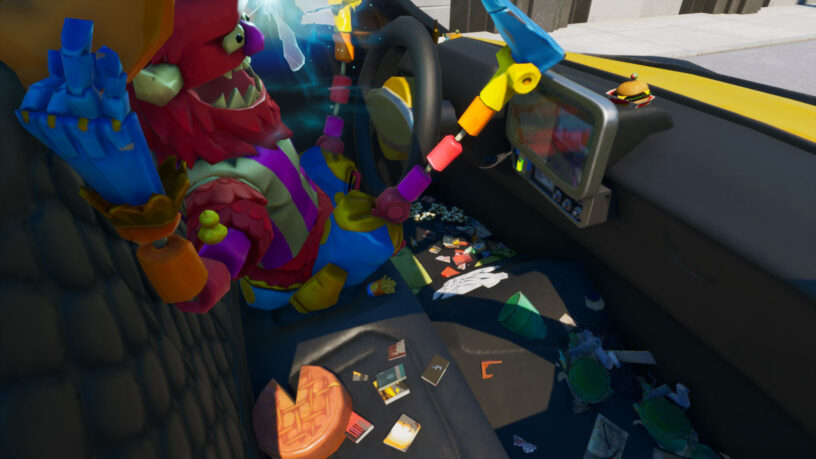 City Park Prop Hunt
You're in a big city area with some great landscape and visual surrounding the map. On the interior there's a large park with a whole lot of interesting area that can be used as props! So, if you are or were a city kid, then this might just remind you of home.
Tidal Wave Prop Hunt
Bring in the summer with this great prop hunt map that will have you hiding and seeking around the beach and huts. What make this particularly unique though is that periodically throughout the time you play on this map a tidal wave will come through and move players around! It's a pretty fun map with a lot going for it, so I highly recommend checking it out.
Battle Pass Prop Hunt
In Chapter 2: Season 2 there's a pretty awesome area where you can explore the battle pass. This features an area for the skins, to view challenges, rewards, and even has the hidden Deadpool location. Well, this prop hunt map recreates this entire area and allows you to disguise yourself as some select items from it. It's a pretty tight map, so if you're looking for something a bit smaller to play on this is a quality option.
Toy Story Prop Hunt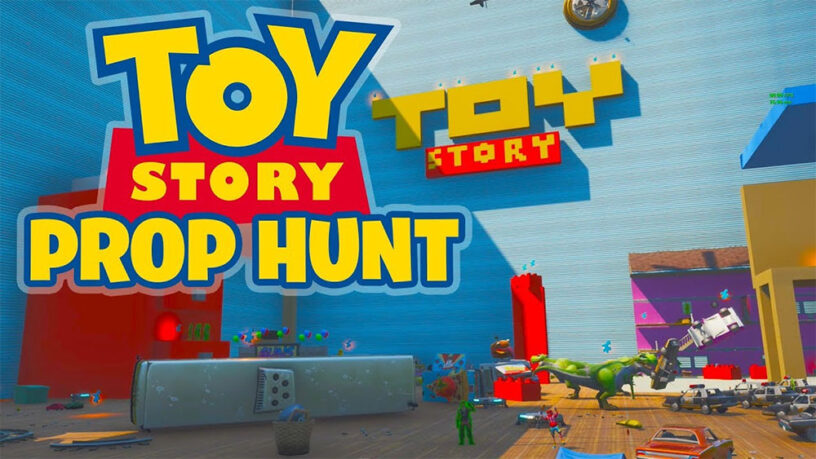 While this one is a bit old, it still holds up as a pretty fun version of Prop Hunt! You will delve into a world that's very reminiscent of Pixar's first big movie, Toy Story. There's toys everywhere to become and emulate, even a dinosaur that looks remarkably like Rex from the movies. If you're on the toy side of things, then you're looking to collect 12 different puzzle pieces to win. However, if you're Zurg's team then you will need to track down those impostor objects before they can get them! All and all, this is a classic version of Prop Hunt that should be tried at least once if you're a fan of the mode.
Stray Kite Farms Prop Hunt
If you're looking for another classic map then Stray Kite Farms is up there with some of the most popular versions of Prop Hunt! This farm is littered with stuff to transform into, and you will really need to be on your toes as a hunter to find people. This game is recommended for 6-16 players, so you will want quite a few people to be jumping in to really get the most out of it. If you're on the prop team, you will want to collect coins and avoid the hunters. If you're on the hunter's side, then look for those players aggressively, and use the timed pings to your advantage! The team with the most points at the end of the game will be crowned the winner.
Asteroid Arcade Prop Hunt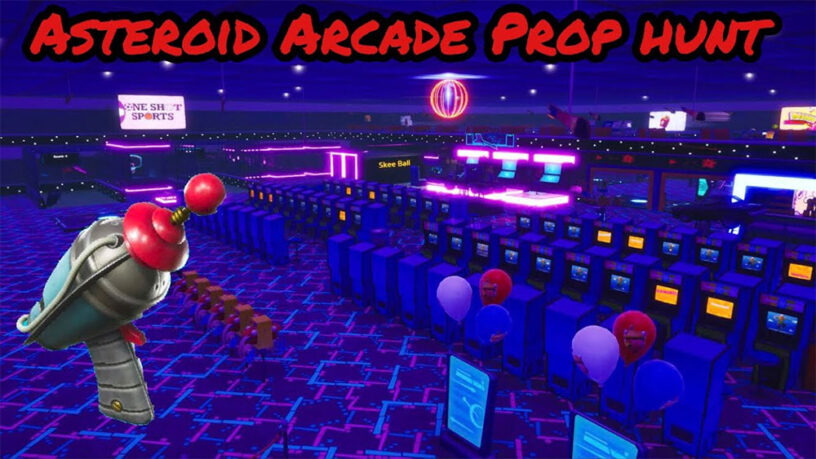 If you're reminiscing for the days of the old school arcade then this will bring your nostalgia to the forefront! Even if you don't remember those days, seeing such a great replica of a classic arcade is awesome to see. The lights, colors, and design is outstanding and really gives you that atmosphere you would feel as you were pumping quarters into the machines. You've got ski-ball, hoops, Dance Dance Revolution, claw games, and just about everything else you would expect at an arcade. This is a really fun map to try just due to all the care that was put into its creation.
The Simpson's Krusty Burger Prop Hunt
All you Simpson fans should love this one because it's a close replica of Krusty Burger from the show! This is a great little map that you can play that centers around the burger joint which can obviously be one of the places you decide to go.
Phone Prop Hunt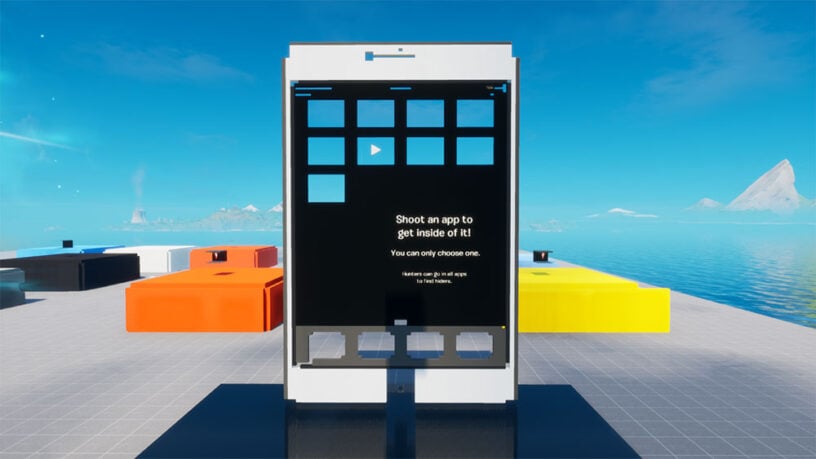 This is a really unique option that lets the hiders choose an application on a phone, which they can then hide in from the hunter! You can only choose one application per round as a hider, so make sure to choose wisely. If you're on the Hunter's side, you can go in and out of the apps to find other players. I find this one to be a nice spin on the format, and should give you a bit of a different feel if you've played a lot of the mode before.
Prop Heist Hunt
This is another map with a twist on the Prop Hunt game type and should be a really fun option if you like heists! Teams are similar to a normal game, with the hunters and the hiders, but the players hiding have an additional objective of having to locate jewels and bring them back to trucks! If you can you will score points for the team. If you're on the hunter's side, then you will need to prevent them from doing this! This is a bit more of an action-packed game, so if you get a bit bored with the standard version of Prop Hunt then this will hopefully make things more exciting.