Our Fortnite Season 9 Week 2 Challenges List and Cheat Sheet brings you all of the solutions and answers for the challenges you need to complete for the week. We have maps to treasure and item locations, as well as tips for completing all of them as quickly as possible!
This week we're launching off of Air Vents, landing at various parts of the map, eliminating opponents in Sunny Steps or Shifty Shafts, dealing damage to opponents with pistols, visiting an oversized phone, big piano, and a giant Dancing Fish trophy, searching chests in different named locations in a single match, and eliminating opponents from at least 50m, 75m, and 100m away!
Fortnite Season 9: Week 2 Cheat Sheet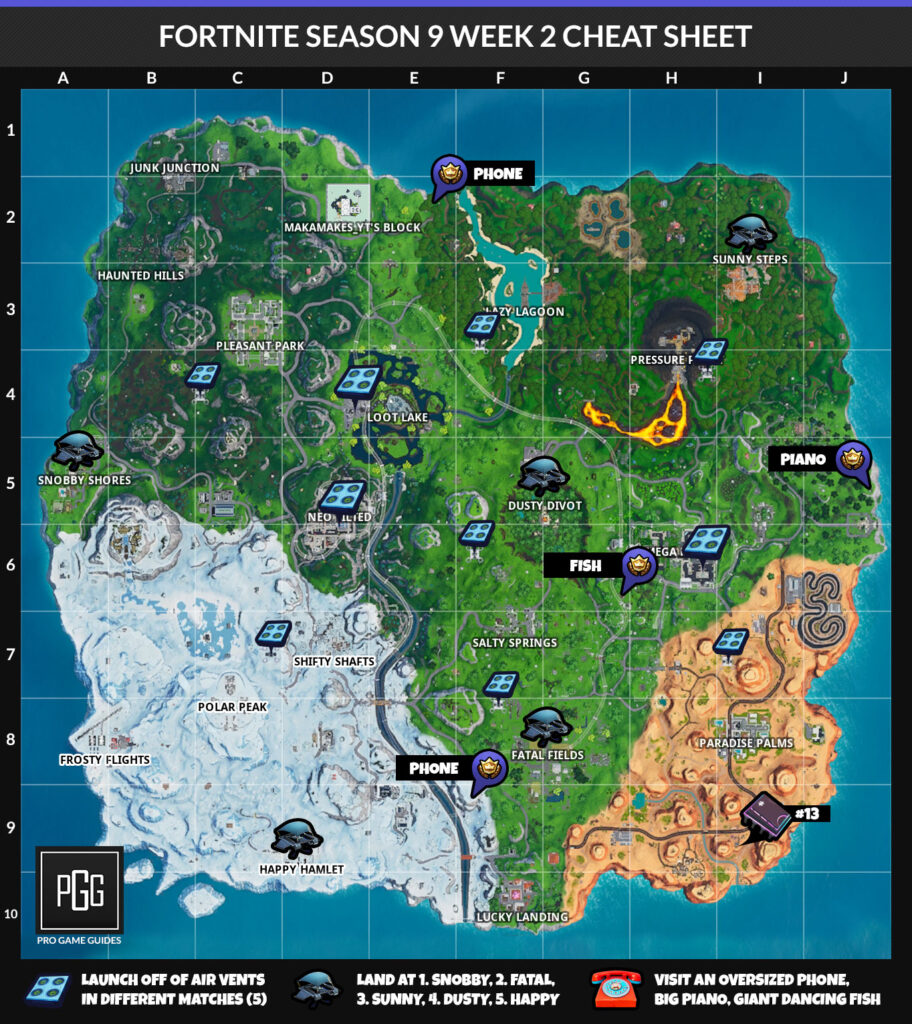 Week 2 Challenges List for Season 9
Free Battle Pass Challenges List
Paid Battle Pass Challenges List
Hidden Item
Check out our Fortnite Season 9 Guide for guides on every week of challenges! We've also got all of the hidden items in our Season 9 Hidden Battle Stars Locations post.
Launch off of Air Vents in different matches (5)
Air Vents were a bit of a less celebrated addition to the game in Season 9. They aren't flashy or anything, but they can get you out of a tight spot on once in a while. You'll find these on all of the Sky Platforms, and on the roof of some of the more technologically advanced cities like Neo Tilted, Mega Mall, and Loot Lake. Here's what they look like: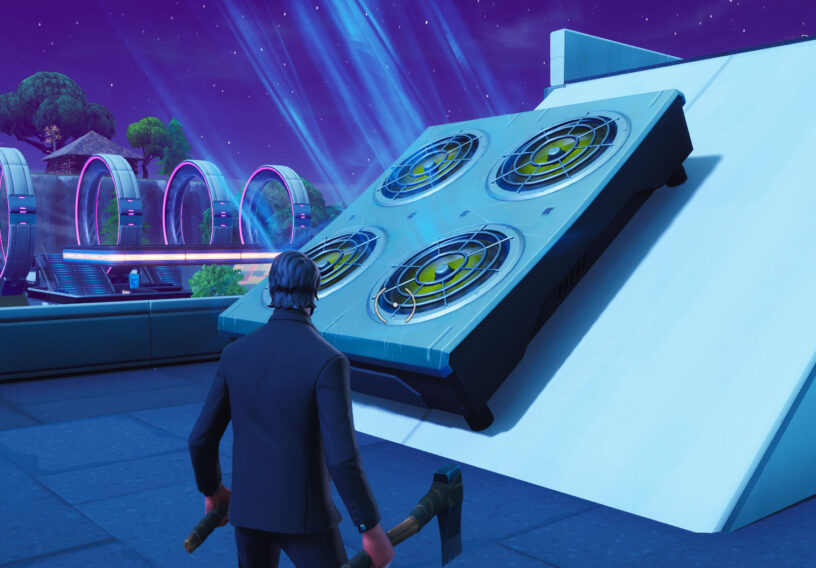 If you jump on these, you become immune to fall damage and you are launched a short distance. Could be useful for getting out of a sticky situation, or something to aim for if you are getting knocked off a high area. Here's a map of their locations: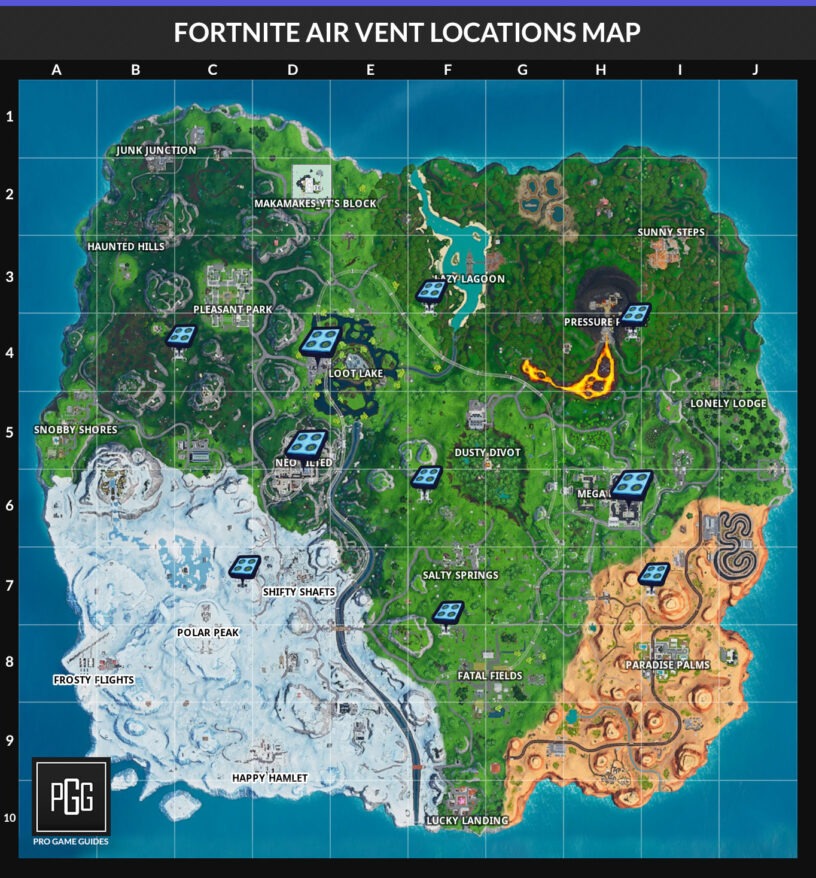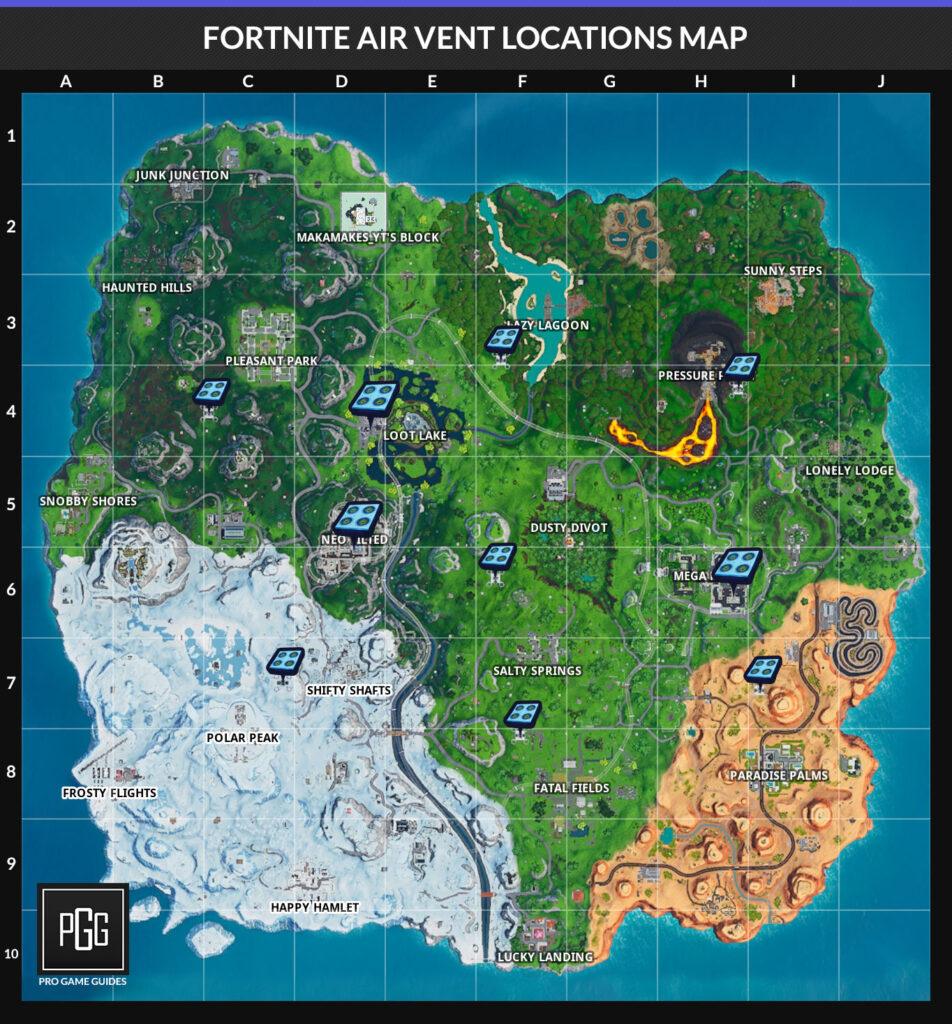 Step 1 of 5: Land at Snobby Shores (1)
This challenge will require us to land at different spots in five separate matches. The first spot is Snobby Shores, so fly on over there to get credit. If you for some reason want to land elsewhere, you can use a Redeploy Glider to glide over to the location and you will get credit for it. The bummer about the "land at" challenges is that you can only do them one step per match.
Step 2 of 5: Land at Fatal Fields
Glide on over to Fatal Fields for credit.
Step 3 of 5: Land at Sunny Steps
Glide on over to Sunny Steps for credit.
Step 4 of 5: Land at Dusty Divot
Glide on over to Dusty Divot for credit.
Step 5 of 5: Land at Happy Hamlet
Glide on over to Happy Hamlet for credit.
Eliminate opponents in Sunny Steps or Shifty Shafts (3)
Both of these places aren't particularly popular, but Sunny Steps is on the newer side so might see a bit more action. It largely depends where the bus path is, so pick your poison based on what kind of action you want. In Team Rumble, you are far more likely to get a circle centered around Shifty Shafts.
Deal damage with Pistols to opponents (500)
Pistols are a bit on the weak side for the most part, however, the Flint-Knock Pistol can do some big damage if you've got the aim for it. This one is probably best done in the Team Rumble LTM where you can just pick up a Suppressed Pistol and shoot at people from a distance.
Visit an oversized Phone, a big Piano, and a giant Dancing Fish trophy (1)
This is a pretty easy one, you just need to visit each of the locations specified. They are kind of spread out a bit on the map, but you should be able to complete them all in one match if you can move around quick enough. There are two phones currently on the map, so I'm not entirely sure if they both work. I'll post an update about that if we find out only one of them counts for the challenge.
For a more detailed look at this challenge, check out our Oversized Phone, Big Piano, and Giant Dancing Fish Trophy Location Guide!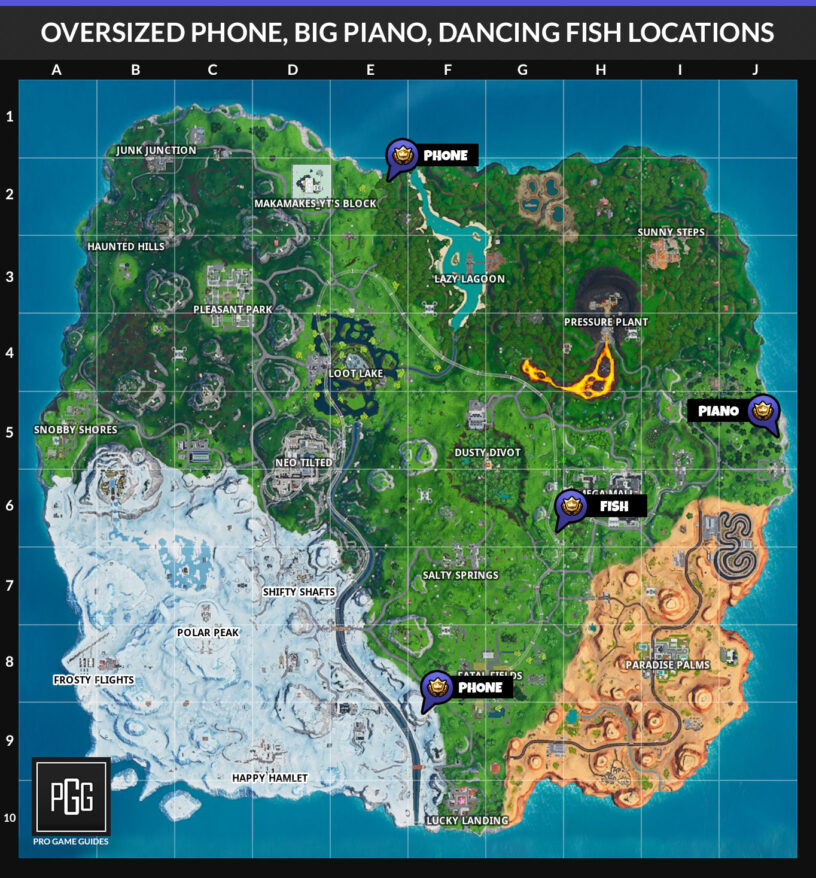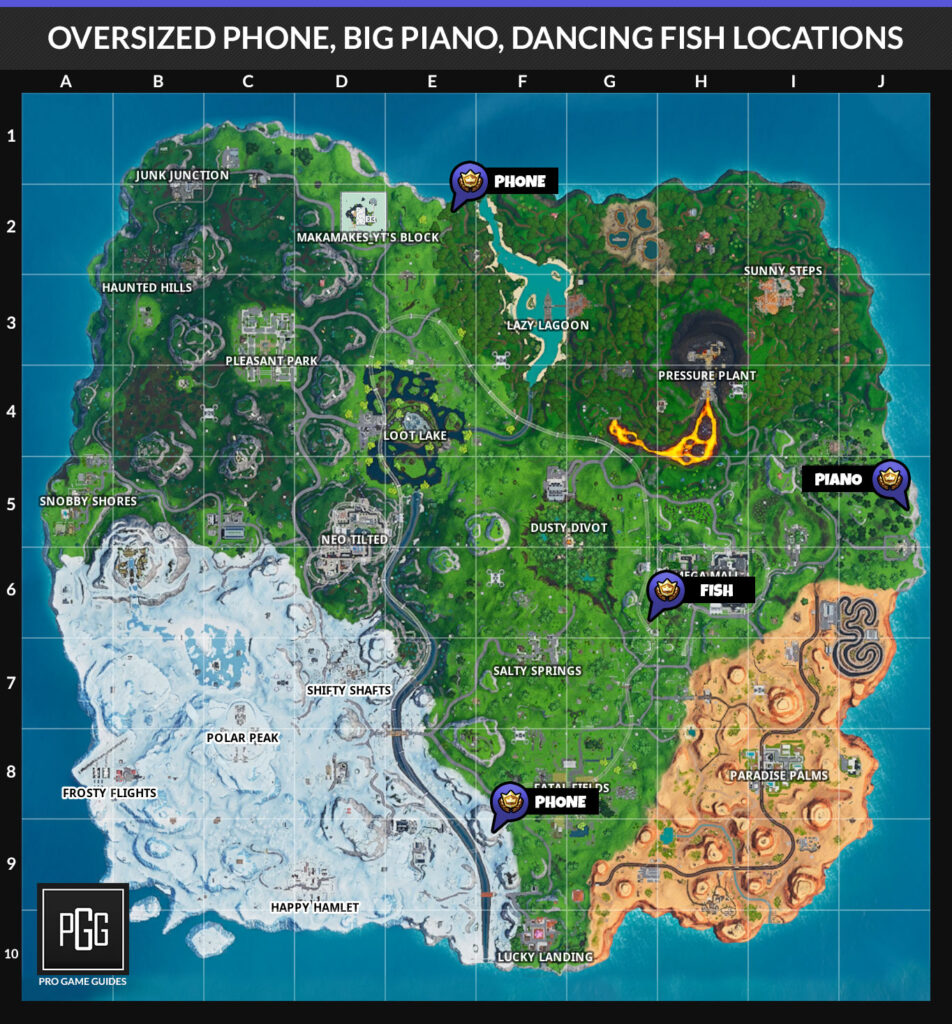 Search a Chest in different Named Locations in a single match (3)
Pretty easy one, but you'll need to survive to make it to three different locations. This is another good one for doing in Team Rumble, you won't have to worry about surviving through the match. Just make sure to land somewhere you can easily get to the other locations via vehicles, slip streams or volcano vents. Mega Mall isn't a bad idea, you can take the slip stream to Dusty Divot and make your way to Salty Springs. You could also start at Loot Lake, slip stream over to Neo Tilted, then hit the slip stream again to get to Shifty Shafts.
Stage 1 of 3 - Eliminate an opponent from at least 50m away (1)
Pretty easy one if you are good with a sniper rifle, but might be problematic if you aren't. The distances get further away as we get deeper into the steps, but overall this shouldn't be a real issue. I would do this in Team Rumble if given the choice, you should very easily be able to pick off someone from the distances specified with an assault rifle or sniper rifle.
Stage 2 of 3 - Eliminate an opponent from at least 75m away (1)
Same thing but even further away!
Stage 3 of 3 - Eliminate an opponent from at least 100m away (1)
Same thing but even more further-er away!
Hidden Item
Season 9 works a bit differently than previous seasons of the Battle Pass. There's no longer banners to find on the even weeks. Instead, it looks like we'll be able to find Fortbytes based off of clues in the loading screens. The clue is in the description for the loading screen, which reads: "Last seen battling at Dino Park outhouse, these two can't be stopped." The Dino Park can be found in the south part of the desert biome!
Find all of the locations for this new addition to the game with our Fortbyte Locations Guide!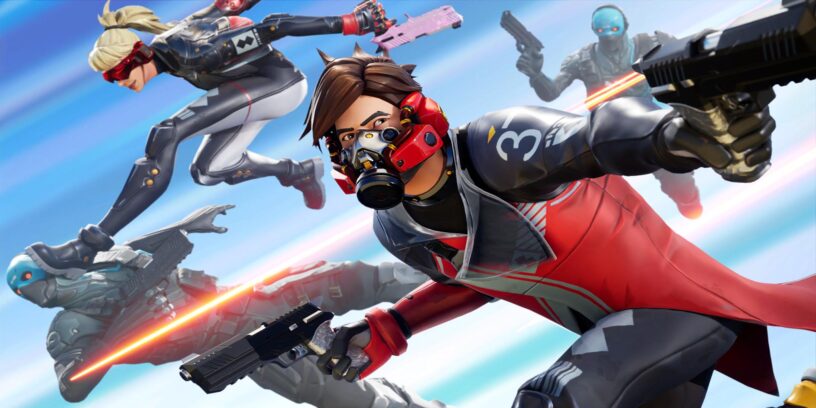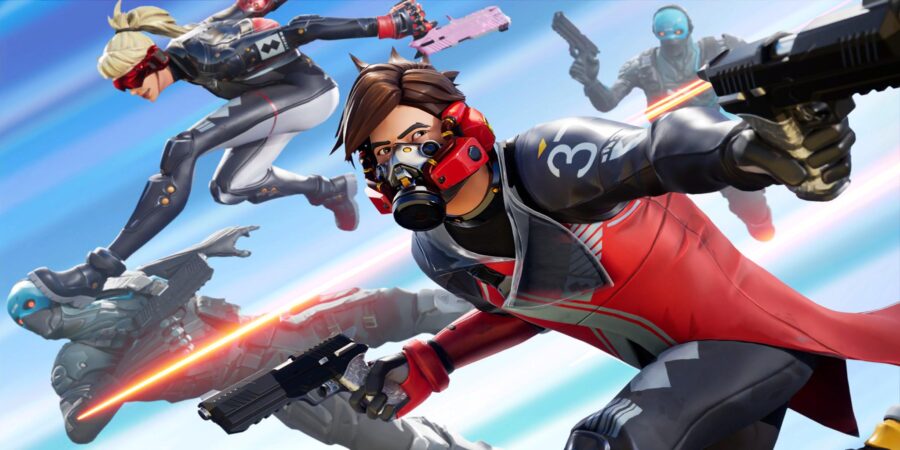 To find the exact location of Fortbyte #13, you'll head south of Paradise Palms.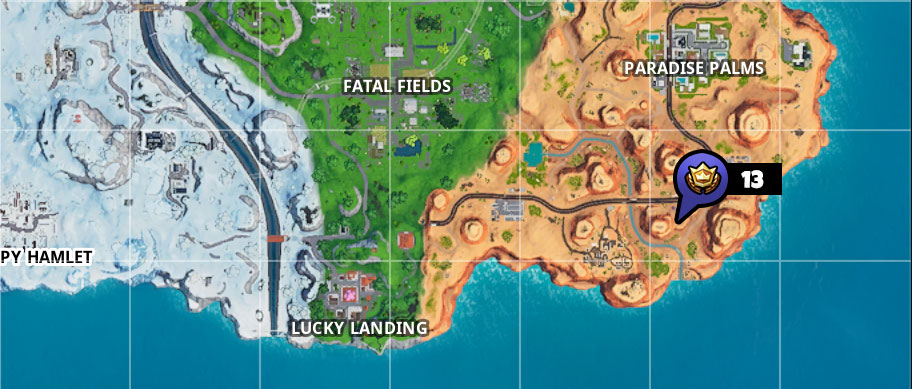 You can then find the Fortbyte underneath the Port-a-Potty.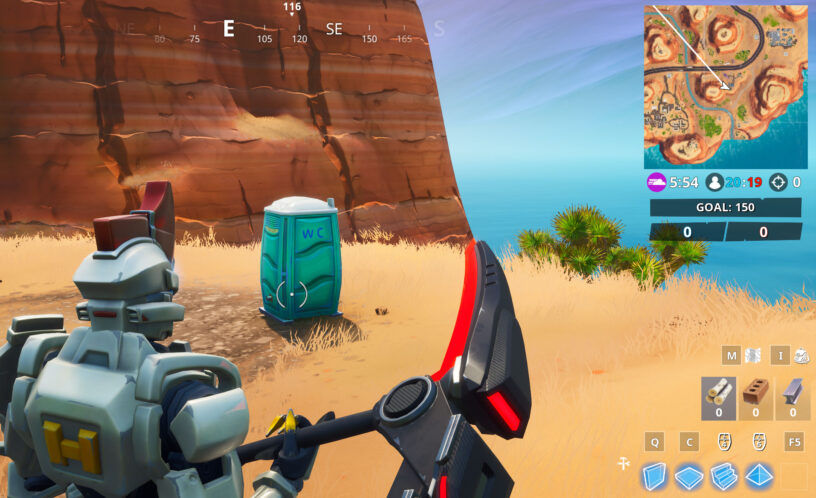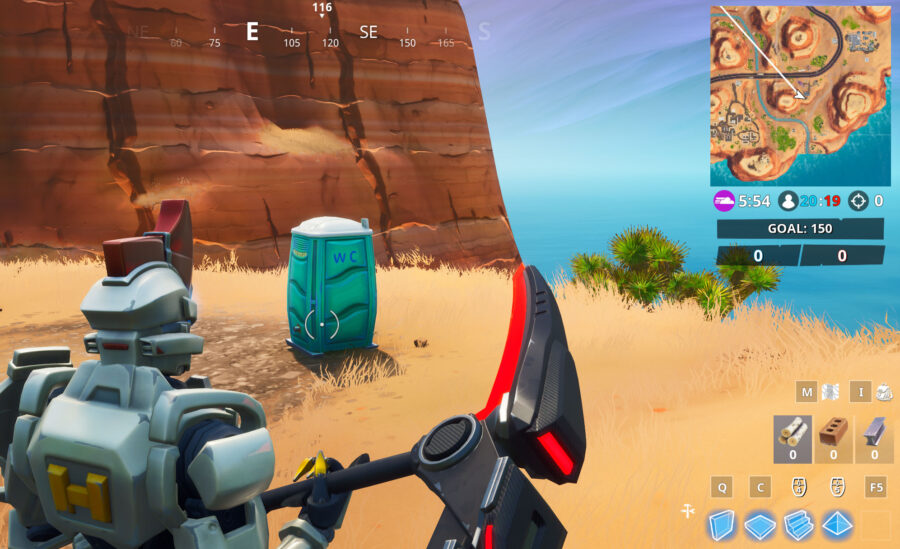 Break that down, and underneath you will find Fortbyte #13!