In Fortnite Chapter 3 Season 4, players will see three of the most popular Star Wars characters, Luke Skywalker, Leia Organa, and Han Solo joining the game. Outfits for all three characters are available in the Item Shop, and you'll need to purchase them with V-Bucks to complete the Star Wars collection. Epic Games have also added a set of challenges for players to complete and earn XP from in the Skywalker Week Quests. Here's how to get the Millennium Falcon Back Bling in Fortnite.
All cosmetics in the Han Solo and Leia Organa Bundle in Fortnite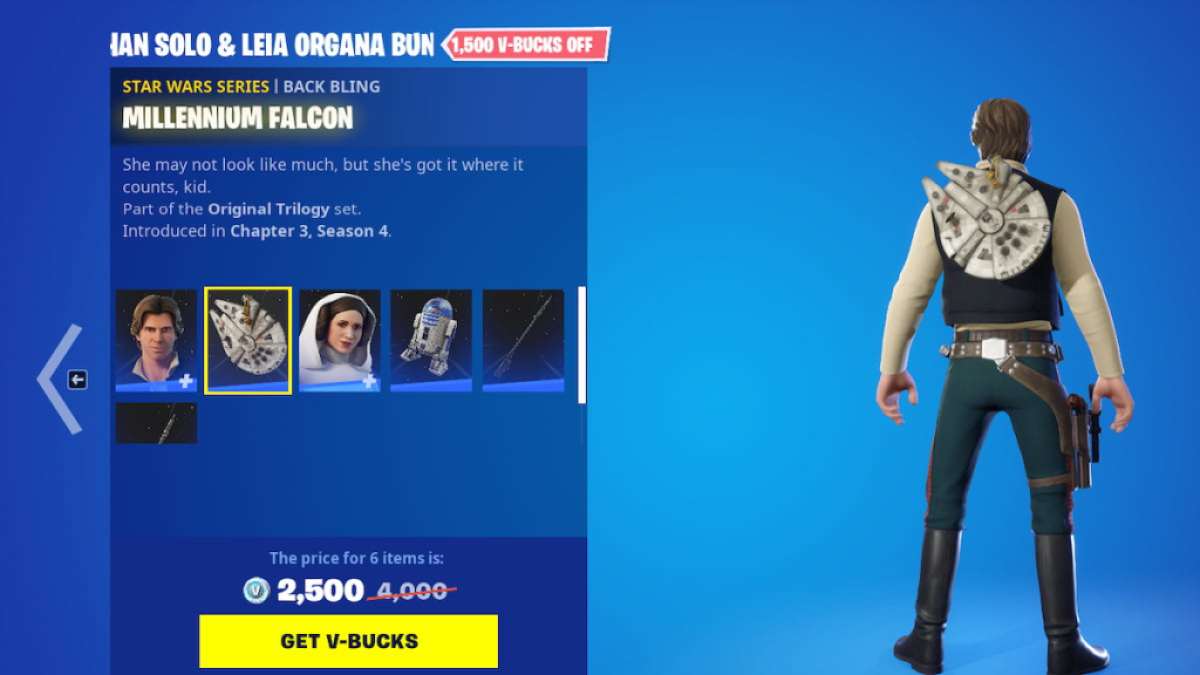 The Millennium Falcon Back Bling can be acquired in two ways. You can purchase the Han Solo Outfit for 1,500 V-Bucks to get this iconic cosmetic. Similarly, players will automatically get the Millennium Falcon Back Bling by purchasing the Han Solo and Leia Organa Bundle. It's ideal to purchase the Outfit itself if you are just looking to get the popular Back Bling. The Han Solo and Leia Organa Bundle in Fortnite costs around 2,500 V-Bucks and has six different cosmetic items you can acquire. All the items included in the Bundle are listed below.
Related: How to fix Fortnite Error ls-0016
Star Wars fans were looking forward to seeing the characters from the Original Trilogy joining the fray. Besides Darth Vader, Kylo Ren, and Obi-Wan Kenobi, players will now get to drop in with Leia Organa, Han Solo, and Luke Skywalker. Lightsabers have been unvaulted as well, and you'll get to complete the Skywalker Week Quests to earn XP.
Looking for more Pro Game Guides Fortnite content? Check out our guides on Is Fortnite shutting down in 2022 or 2023? or How to complete a Bounty in Fortnite: All current Bounty Board locations!