Star Wars and Fortnite are two massive titles, and when they collide, joyful chaos ensues. Three Star Wars skins have arrived in Fortnite, including Luke Skywalker, Han Solo, and Leia Organa. In addition to these skins, players can purchase the X-34 Landspeeder glider, the Electrostaff harvesting tool, and several other Star Wars cosmetics. Here's how to get the beloved R2-D2 in Fortnite.
How to get the R2-D2 cosmetic back bling in Fortnite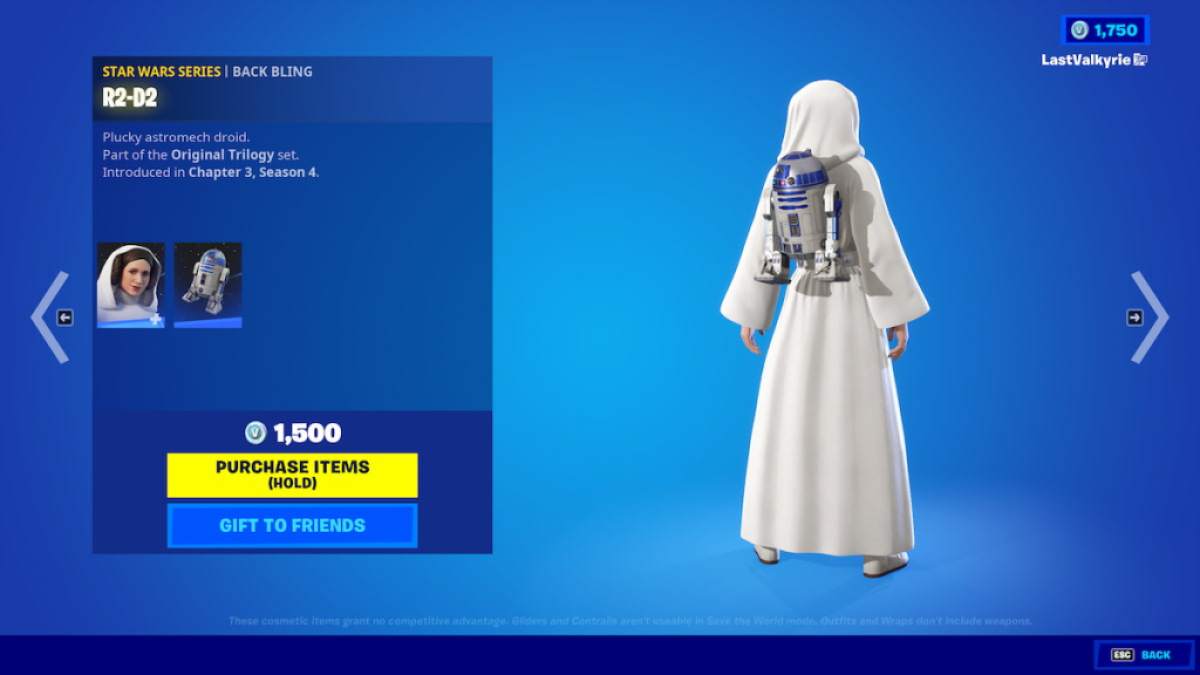 The R2-D2 back bling must be purchased in the Item Shop with the Leia Organa outfit bundle and cannot be bought individually. This item allows your character to wear R2-D2 as a backpack as he looks around and kicks his robotic legs. After purchasing this bundle, you do not have to equip the R2-D2 back bling exclusively on the Leia skin, rather you can mix and match it with any other Fortnite skins you own.
Related: Is Fortnite Cross-Platform? How to toggle Crossplay
Although 1,500 V-Bucks may seem like a hefty price tag for the back bling, it also comes with a customizable Leia Organa skin. In addition to the base style, you can equip Leia's Boushh disguise, which completely changes the look of the skin. You can also decide whether Leia is wearing her hood or not. On the Boushh disguise, you can toggle a cape on and off, which can be worn over back bling. Due to these potential customizations, buying the Leia Organa bundle is like purchasing two separate skins, an R2-D2 back bling, a cape, and a hood that you can toggle on and off.
For more Fortnite guides, come check out Is Fortnite based on a true story? – Fortnite Backstory here on Pro Game Guides.