Some new possible POIs have been leaked and could be added to Fortnite's map in Chapter 2 Season 4. One makes it pretty obvious that Black Panther will be making some kind of appearance in the game. One points to a Collector area, this was a character who was involved in the Guardians of Galaxy and Avengers movies. There are also a couple of locations with code names, these are Dog House and Security Truck!
HYPEX keeps coming out with intriguing leaks, and this one is a pretty interesting one if you like new places to explore on the map. Here's a look at an image HYPEX made that shows where the new POIs will be located and what some of them look like!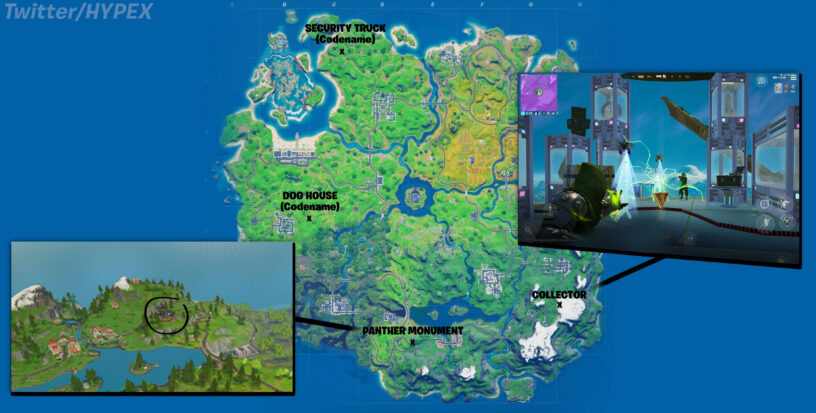 The Panther Monument seems to point to the fact that it's very likely that Black Panther is going to be a boss or a skin in the game. We covered this previously, because some icons from possible abilities of the character were found in the files. This location will be to the west of Misty Meadows and will be near a gas station.
The Collector is particularly intriguing, because if you check out the image above you can get a sense of what the locations will look like. The Collector appeared in Guardians of the Galaxy and was located in a place called Nowhere. As his name suggests, he collected rare artifacts, one of which was an Infinity Stone. It looks like the area will house some of those rare items from Fortnite's past in it. So, be prepared to fight off other players while being surrounded by priceless artifacts!
Looks like the Dog House turned out to be Ant-Man's location! So, we'll see how he might factor into the story in the upcoming weeks.
Security Truck will also possibly be related to Wolverine, but I have a bit more proof this time. In the leaked challenges for Wolverine, there's one where you will need to "Locate a <Mutant Containment truck>" which could be the Security Truck that the location is referring to! The X-Men were always fighting against having their freedom, and it's possible that some kind of evil force is looking to put a stop to mutants again!
I would expect that these POIs are going to be added to the game in future patches, so be on the lookout for more information on these as the seasons goes on!