The Grapple Glove has been leaked as an exciting new tool for players to experiment with in the Fortnite Battle Royale. It's not quite clear exactly where this glove spawns the most often, but there are some rumors as to where to look.
Where is the Grapple Glove located in Fortnite Chapter 3 Season 3?
Grapple Glove locations in Fortnite
There are ten locations where a Grapple Glove could be located, you may get lucky and find one, or by eliminating someone, you could loot one off their corpse and save you the headache of finding one.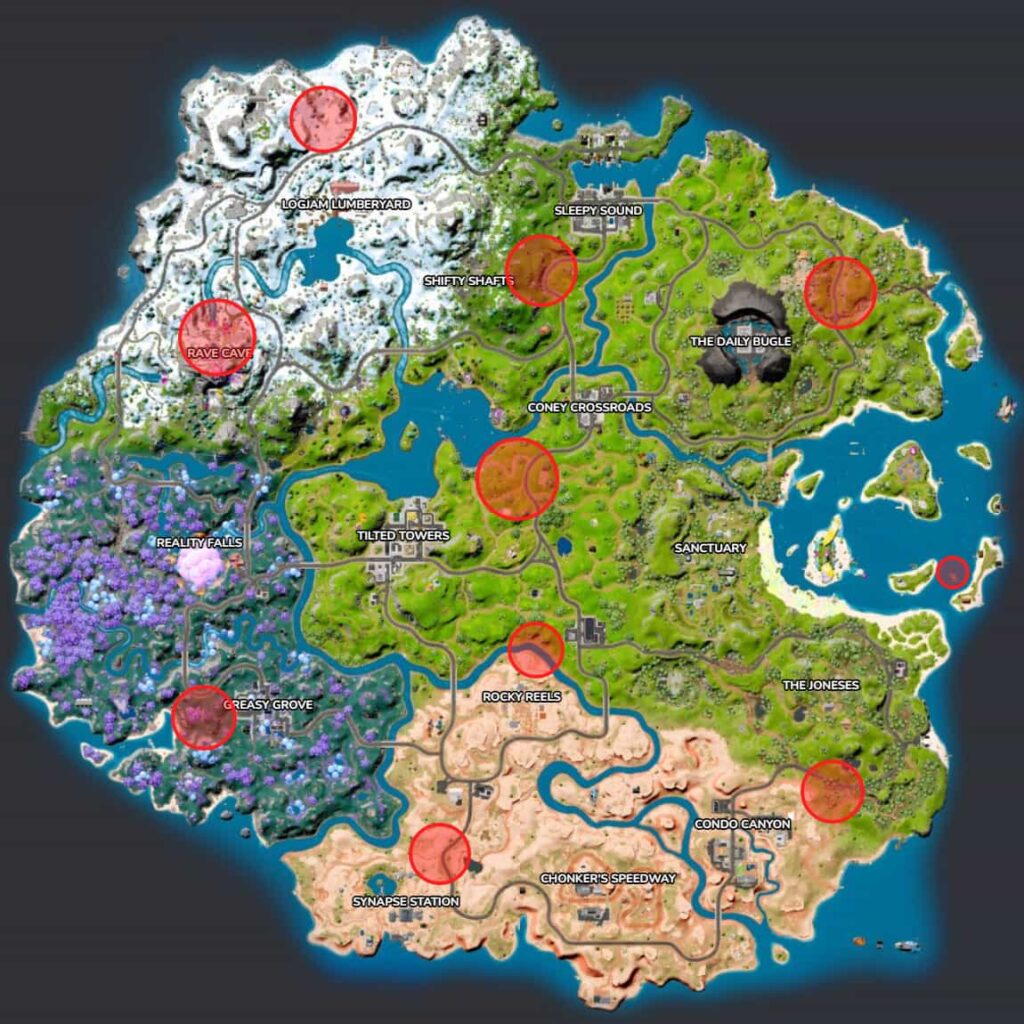 Southwest of Greasy Grove, below the curve heading east.
Inside the Rave Cave, southwest of Logjam Lumberyard.
North of Logjam Lumberyard.
East of Shifty Shafts, where the curve in the road is.
Northeast of Tilted Towers, again where the road curves.
Slightly northeast of Synapse Station
Northeast of The Daily Bugle
On a tiny island to the northeast of The Joneses
Northeast of Condo Canyon, and south of The Joneses.
North of Rocky Reels, southeast from Titled Towers.
You'll likely be looking for a Grapple Glove toolbox, which is a special item made to hold the Grapple Glove. These boxes are distinguished by their bright purple color and have two drawers on the bottom. These toolboxes can allegedly be found throughout the map, but it has been rumored by some Fortnite players that they are especially easy to spot around more natural locations, such as beside trees and bushes.
Related: How to ride Wolves and Boars in Fortnite Chapter 3 Season 3
How to use the Grapple Glove in Fortnite
If you're familiar with other grapple-based tools, the Grapple Glove should be fairly easy for you to learn to use. Start by pointing the glove toward the environment you want to travel. When you are ready to swing through the air, hold down the fire button to do so. This will propel your player through the air and allow them to shoot more freely, as well as give the added bonus of making your player a moving target. The Grapple Glove is rumored to have 10 shots in Competitive and 30 shots in Public games.
Want to read more about Fortnite Season 3 Chapter 3? If so, check out What is Storm Sickness and how to cure it in Fortnite Chapter 3 Season 3 on Pro Game Guides.