Fortnite Chapter 4 Season OG is here to sprinkle nostalgia by bringing back blasts from the past. The Shopping Cart is just one of the many unvaulted vehicles this season, and definitely a favorite.
With the map constantly changing with the OG seasons, the locations of the Shopping Carts have been adapting as well. Plenty of them are scattered around the Fortnite Chapter 4 Season OG map, and we have all the locations for you below!
All Shopping Cart locations in Fortnite OG (Map)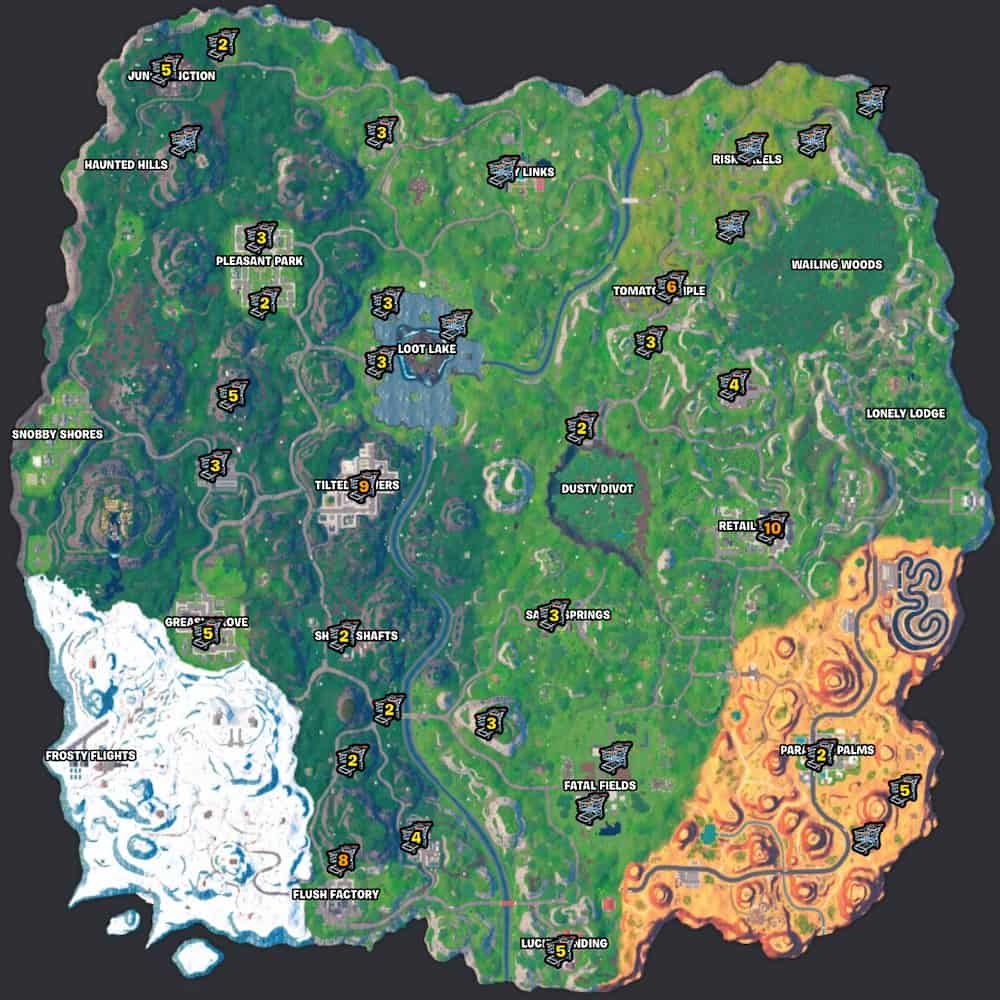 Shopping Carts are a type of vehicle that allows players to move quickly from one place to another by, yes, pushing yourself on or riding inside. While they were introduced in Chapter 1, Season 4, they were soon vaulted and have not returned until now. You can find them in the spots shown on the map above or in this list:
Junk Junction
Haunted Hills
Pleasant Park
Northeast of Pleasant Park
Lazy Links
Pleasant Park
South of Pleasant Park
Loot Lake
Risky Reels
Northeast of Risky Reels
Tomato Temple
South of Tomato Temple
North of Dusty Divot
Tilted Towers
Retail Row
Salty Springs
Shifty Shafts
South of Shifty Shafts
Greasy Grove
Paradise Palms
Fatal Fields
Lucky Landing
Flush Factory
Northeast of Flush Factory
You can seat up to two players in a Shopping Cart, but each of them will have a role to play: one will act as a driver and have to push the cart, while the second will sit inside the cart and can use weapons to eliminate other opponents. Although, you can give yourself a push and quickly switch seats to sit inside the cart on your own as well.
As a Shopping Cart has no brakes or engine, players will have to drive the cart into a wall or something similar to stop it. If you are playing in a larger squad, I recommend going for the All Terrain Kart, as it's much faster than the default Shopping Cart and can seat more people.
To find more on Fortnite, check out Where to find the Chug Jug in Fortnite or Fortnite OG Buried Treasure Map – How to use & legendary loot on Pro Game Guides.