Just in time for Easter, Fortnite has released new content to the Battley Royale island. In this week's Legendary Quest, your goal is to forage Bouncy Eggs that are placed randomly throughout the map. Let's look at where you can find some of them to collect all the XP.
Where to Forage Bouncy Eggs Hidden Around the Map
The most important thing to know about foraging these eggs is that they are hidden everywhere across the map. You will likely come across at least one set of them in every match. However, they are a floor loot item, so you will have to keep your eyes open.
There are also several locations in which eggs spawn in higher clusters. The map below provides some of the most concentrated egg spawn areas. All the known egg spawns are highlighted in yellow. We'd like to thank Fortnite.GG for the use of their map-drawing utility.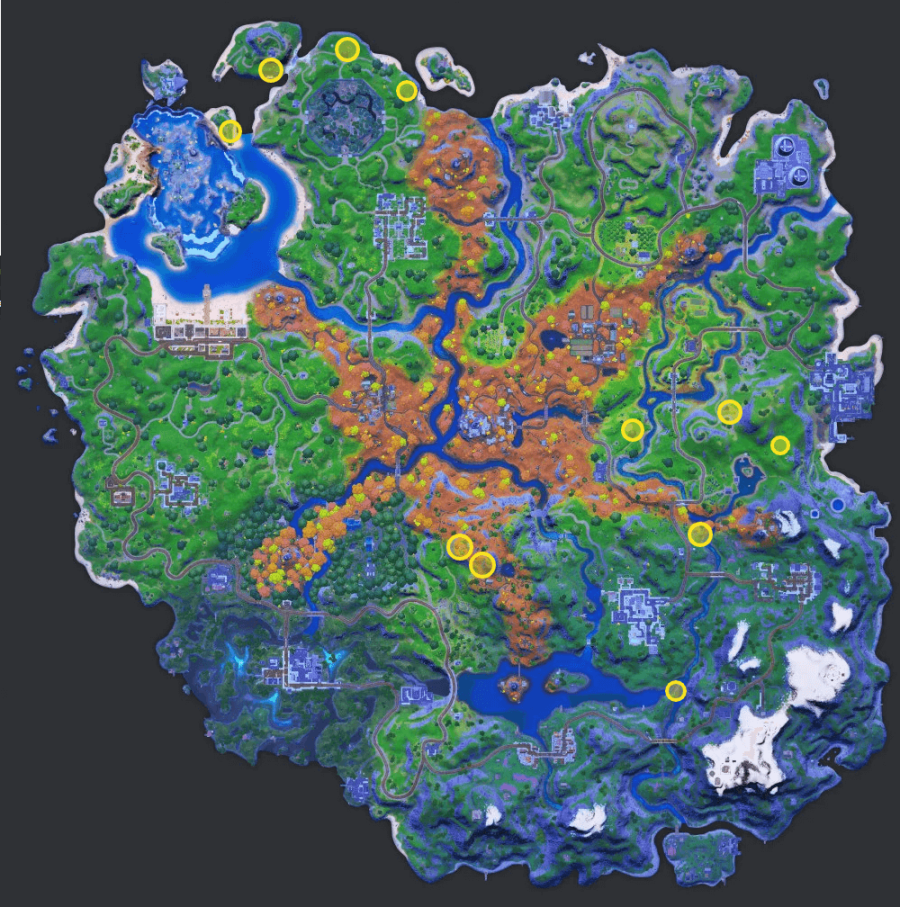 As you can see, we've so far located three areas that have a high concentration of egg spawns. If you travel across the northwestern edge of the island, you can find roughly 12 eggs in a single match. There is also a large cluster in the large, open fields around Lake Canoe. Lastly, you can find a cluster of about seven eggs just West of Primal Pond.
There are, of course, dozens of other spawn locations. If you find any on the map, let us know! We'd be happy to confirm it and add it to our list.
Related: Fortnite Chapter 2 Season 6 Milestones | Full List & Guides - Pro Game Guides
If you'd like to see a video guide on some egg spawn locations, watch the video below!
Info about Bouncy Eggs
Bouncy Eggs are a new Common item that you can forage. As stated above, they can be found all throughout the map to celebrate Easter and Fortnite's Spring Breakout event.
Bouncy Eggs provide some benefit to players apart from raking in XP from the Legendary Quest. They also give the player a small jump boost and prevent fall damage while a player is under their status effect. On top of all this, they also provide a small amount of Shield if you're not already maxed out.
Info about Legendary Quests
Legendary Quests are weekly challenges that reward you with massive amounts of XP for each tier of the challenge you complete. Typically, the tiers follow a specific pattern of increasing numbers, but sometimes they increase exponentially, making the higher tiers much more difficult to complete.
This week's Legendary Quest of obtaining Bouncy Eggs increases by 10 for each tier. When you complete the first tier, you'll receive the Tactical Quaxes Pickaxe. The required threshold for each tier is listed below.
Tier #1- 10 Bouncy Eggs | Reward: Tactical Quaxes Pickaxe, 35000 XP
Tier #2 - 20 Bouncy Eggs | Reward: 24000 XP
Tier #3 - 30 Bouncy Eggs | Reward: 24000 XP
Tier #4 - 40 Bouncy Eggs | Reward: 24000 XP
Tier #5 - 50 Bouncy Eggs | Reward: 24000 XP
In total, you can receive 131000 XP for complete every tier of this challenge!
Looking for more great Fortnite content? We cover all quests, game mechanics, and cosmetics in our Complete Fortnite Chapter 2 Season 6 Guide!