The time to challenge the mysterious Maguu Kenki has finally arrived! Act III of Genshin Impact's Midsummer Island Adventure is out, bringing quite a few familiar faces to the Golden Apple Archipelago.
Turn your game clock between 06:00-08:00 to begin the Dodo-King of the Sea: Lying in Wait quest and watch the opening cutscene. Afterwards, glide over to the island north of Pudding Isle to reunite with Kaeya and Diluc, who claim that Albedo and Razor are also somewhere on the islands.
You'll find Albedo at Twinning Isle, and will discover that he, along with the other three newly-arrived characters, received a personal letter from Dodo-King that targets their specific interests (also, can we just acknowledge how adorable it is that Albedo and Razor only came to save Klee?).
Related: The Other Side of Isle and Sea: where to find all murals
Razor is on the central island, where the immobile mechanoid (Maguu Kenki) lies in wait. Razor will hand you a device to activate Maguu Kenki, so prepare yourself for combat.
Battle Maguu Kenki
Maguu Kenki is agile and strong, and it can use its large mask for both offense and defense (blocking incoming ranged attacks). If it looks like Maguu Kenki is going to use its mask to attack, steer clear: the mask may shoot forward, dealing damage as it pushes through its path, or it might swirl around before exploding. Both attacks will deplete your HP fast, so watch out.
Defeating Maguu Kenki results in three colorful crystals being dropped, which you'll need to unlock the next area—a "southwesterly island" (as described in Dodo-King's next letter), which is currently blocked off by a large bubble barrier. Travel to the point marked on your map and listen to what your companions have to say about the mysterious devices on the island. Then, leave the crystals on the shore. There's nothing for you to do after that, meaning that its your turn to lie in wait until the next Act is unlocked.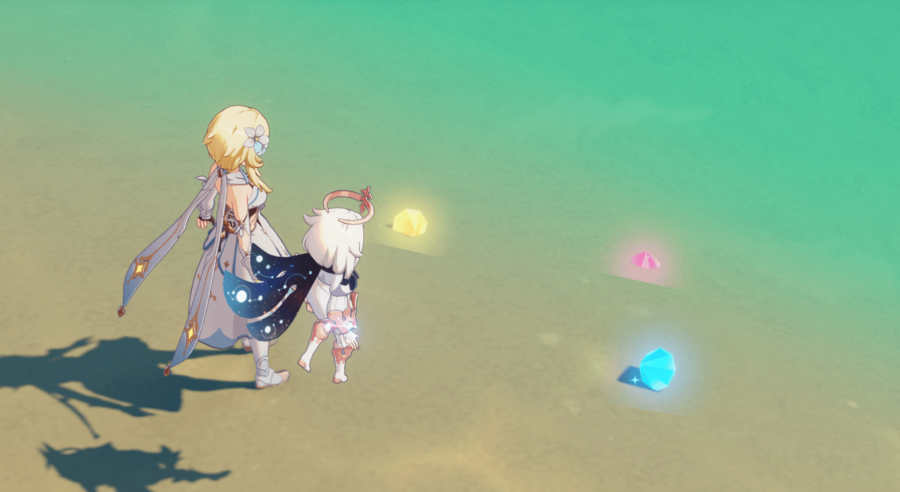 Read about Inazuma and upcoming events in our Genshin Impact 1.7/2.0 Leaks and Release Date article. We've also got you covered on the next Genshin Impact banner and codes to redeem for in-game freebies!