Genshin Impact's GENSHIN CONCERT 2022 - Melodies of an Endless Journey will go live on the game's official YouTube channel on October 2, 2022 (12:00 noon UTC+8). It will feature a collaboration between HoYoverse's in-house music studio, HOYO-MiX, and the Hollywood Chamber Orchestra, which will perform creative adaptations of Genshin Impact soundtracks directed by Music Director Shiro Sagisu.
From September 25, 2022, to October 1, 2022, players can also participate in a web event to get 40 Primogems for free, plus a chance to win even more Primogems and exclusive Genshin Impact merch!
How to participate in the Genshin Impact GENSHIN CONCERT 2022 web event
Head to the official GENSHIN CONCERT 2022 - Melodies of an Endless Journey preview page, where you will be prompted to log in. Input your Genshin Impact account details and select the correct server to ensure that in-game prizes are routed to your preferred account. Once you're ready, scroll down the website and select your preferred concert pass design by selecting an Element on the lefthand corner. Once you're satisfied, click Share Concert Pass.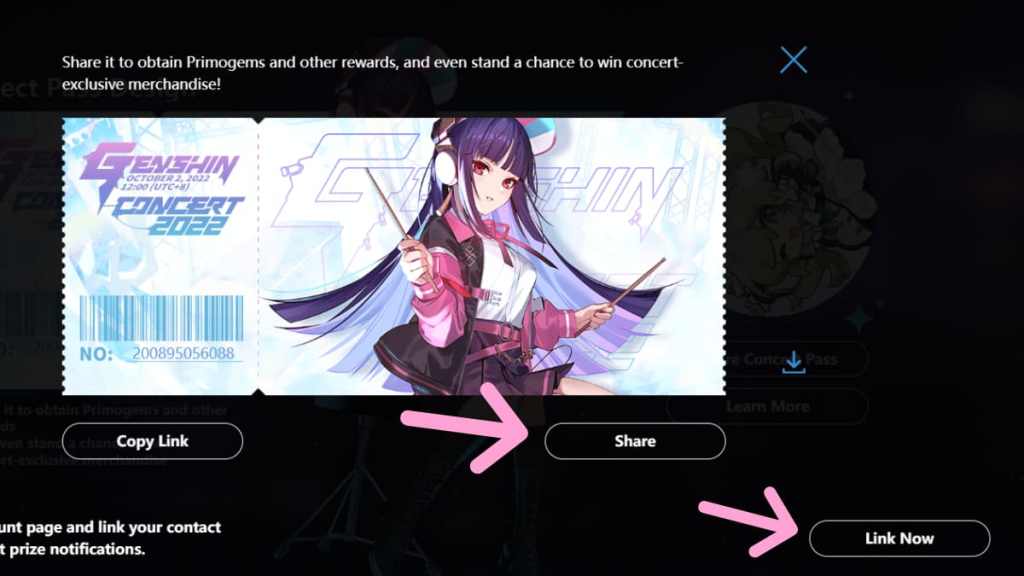 A popup will appear. Click Link Now to be redirected to HoYoLAB, where you must log in using your preferred Genshin Impact account, which is also your HoYoverse account. You need to link any contact information (preferably email) so that HoYoverse can get in touch with you on the occasion that you win real-life merch.
After that, head back to the popup and click Share, and choose your preferred social media platform to share the concert pass with your friends and followers. You'll immediately receive x30 Primogem and x20,000 Mora for your effort. This will be distributed via in-game mail and will expire in 30 days.
Related: How to unlock the Under the Umbrella's Shade Domain in Genshin Impact
How to win Genshin Impact merch in the GENSHIN CONCERT 2022 web event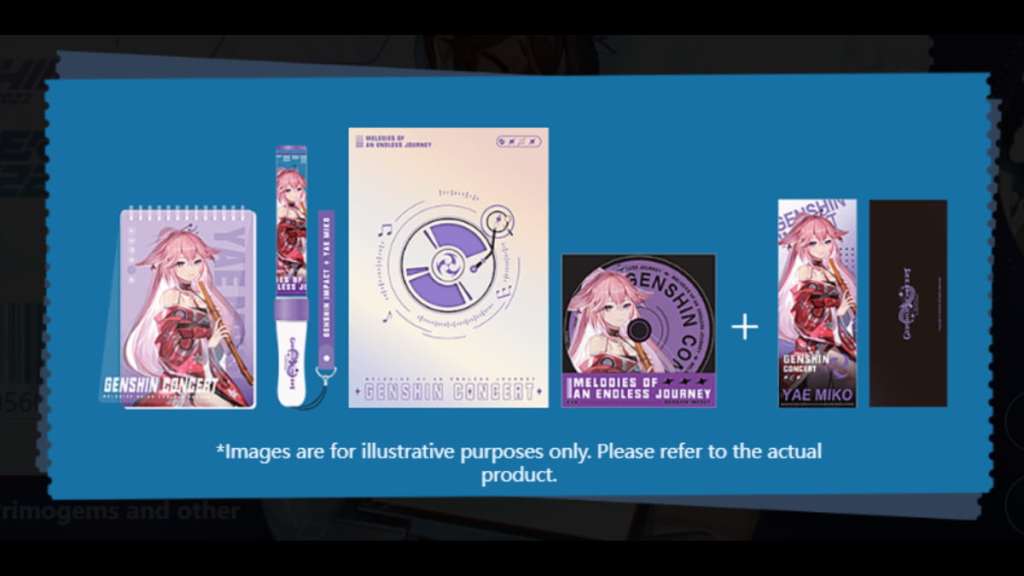 By sharing the above concert pass and successfully linking your HoYoverse account, you will automatically be placed in a raffle where 500 players will be randomly selected to win a GENSHIN CONCERT 2022 Series Character Mood Gift Box and a GENSHIN CONCERT 2022 Series Commemorative Hologram Ticket. Winners can only choose one character among the six featured characters (Xinyan, Shenhe, Yae Miko, Kaedehara Kazuha, Yun Jin, and Barbara).
Winners will be announced on the official preview website on October 2, 2022, at 11:50 (UTC+8). An email will be sent to all winners containing instructions to fill out their shipping address and contact information. Winners who fail to send their information by November 1, 2022, at 23:59 (UTC+8) will be considered to have forfeited their prizes and can no longer claim them. Use this timezone converter to ensure that you claim your prizes on time.
HoYoverse promises to value participants' privacy, and winning user IDs will not be displayed in full and personal information will not be displayed anywhere, nor will they be used for anything apart from identification, notification, and shipment purposes. If you have any questions or concerns, you can contact the Genshin Impact customer service team directly via [email protected].
Check out Genshin Impact's GENSHIN CONCERT 2022 takes the stage on October 2 to learn more about how to watch the amazing soundtrack medley.