The Ley Line Overflow is a recurring event that allows players to receive double the rewards from Ley Line Outcrops: the Blossom of Wealth and Blossom of Revelation. The event usually runs for seven days—complete it daily to make the most out of this resource farming opportunity.
Ley Line Outcrops
You might notice large elements' condensations around the map as you travel across Teyvat. These anomalies are Ley Line Outcrops, which come in two forms.
Blossom of Wealth—rewards x60,000 Mora, x100 Adventure EXP, x20 Companionship EXP
Blossom of Revelation—rewards x6-7 Adventurer's Experience, x4-5 Hero's Wit, x100 Adventure EXP, x20 Companionship EXP
Interacting with a Ley Line Outcrop will spawn monsters, and successfully killing them will allow you to claim the above rewards. Like Domains, you can use Condensed Resin to double up the rewards and save you from farming more Outcrops to collect essential resources.
Related: How does the Artifact Strongbox work in Genshin Impact
Event Mechanics
The Ley Line Overflow event changes up some core Outcrop farming mechanics. First, you can obtain double the amount of rewards without doubling up the cost, which means that it will only cost you x20 Original Resin per instance of double rewards.
This benefit applies to both Blossoms of Wealth and Revelation, but you're limited to claiming the reward thrice per real-time day. You can defeat more Ley Line Outcrops beyond the thrice-per-day limit, but those will no longer merit you double rewards.
Moreover, it doesn't matter what region you go to or which Ley Line Outcrop you choose to interact with, as they will all give the same rewards.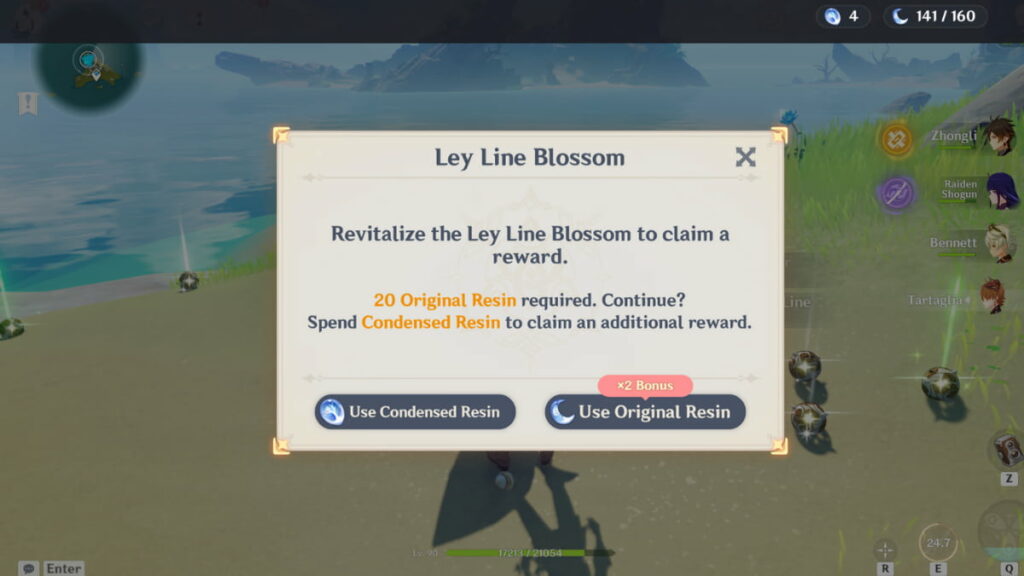 It's important to know that you can only use Original Resin during the Ley Line Overflow event to claim double rewards. Using Condensed Resin won't count toward your thrice-a-day double reward claim limit.
Check out our guide on How to use the Parametric Transformer in Genshin Impact to help you manage monster drops.