Genshin Impact is a beautiful game, and it shows that such games inspire it as Zelda: Breath of the Wild, which isn't a bad thing! Both are amazing titles! There are tons of things to do in the land of Teyvat, questing, farming for materials, exploring; it's incredibly easy to lose all sense of time and play this game for hours on end. Eventually, if you've been following the Archon questline story, you'll start coming up against some bosses to fight, and no doubt you've heard the name Stormterror before, otherwise known as Dvalin, one of the Four Winds protecting Mondstadt. Stormterror is the first proper boss fight you come against in the story, but after you have bested him in his Stormterror lair, you can choose to confront him again in his Domain.
In Stormterror's Domain, he is classed a World Boss, and at the moment, there are only two world bosses in the game, Stormterror and the Wolf of the North, Andrius. However, upon defeating the dragon in the story, to fight him again, you have to be Adventure Rank 25.
Stormterror's Challenge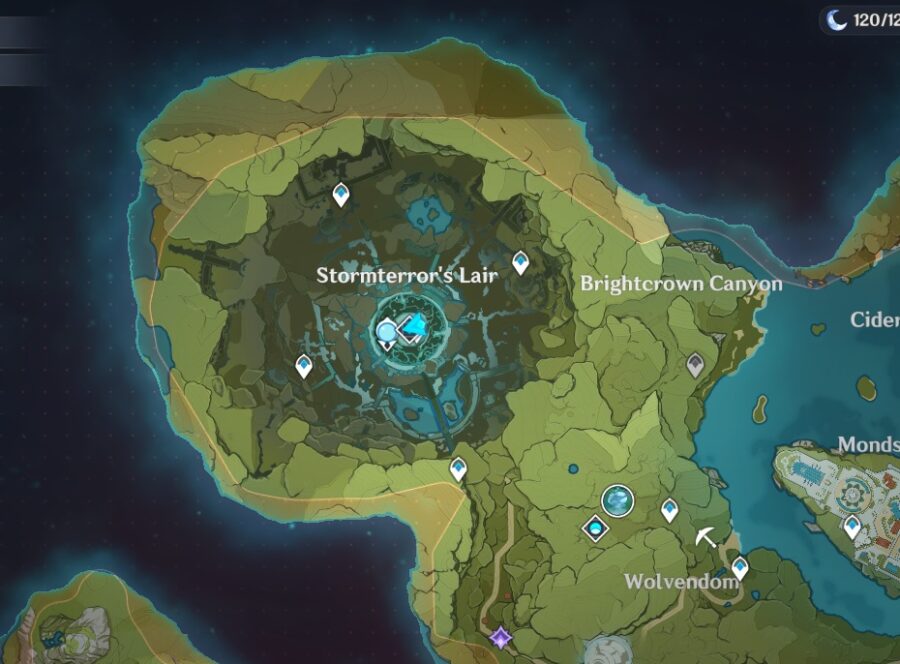 When Adventure Rank 25 has been achieved, go back to the fast travel waypoint at Stormterror's Lair and enter the domain. The recommended Party Level is 40, and World Boss's drop some pretty awesome rewards. You can possibly get the following:
Adventure EXP
Mora
Companionship EXP
Character Ascension Materials

Vayuda Turquoise Sliver/Fragment
Vajrada Amethyst Sliver/Fragment
Varunada Lazurite Sliver/Fragment

3 Star Artifacts Set

Berserker
Instructor
The Exile

4 Star Artifacts Set

Gladiator's Finale
Wanderer's Troupe
Berserker
Instructor

4 Star Weapon Material

Northlander's Sword Prototype
Northlander's Bow Prototype
Northlander's Claymore Prototype
Northlander's Catalyst Prototype
Northlander's Polearm Prototype
After Adventure Rank 25, you can unlock every next fight of Stormterror in every 5 Rank increases, so 30, 35, 40, etc. The higher the Adventure Rank needed, the better the rewards will be to even getting the chance of getting some 5 Star Artifact Sets!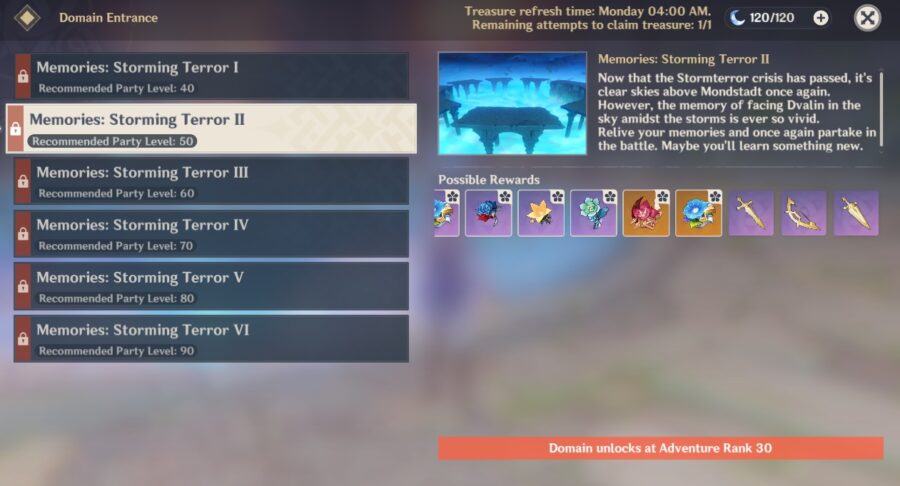 After you have defeated a World Boss once, you have to wait a week to be able to fight them again. World Bosses always reset on a Monday, and to find out when the daily reset time in your timezone is, check out our guide!
Like Ley Lines and Elite bosses, you have to use Original Resin to claim the reward once you defeat them. The amount differs for everything you use it for; for World Bosses, once they have been defeated, a Trounce Blossom appears, but you need to use 60 Original Resin; this is half of your daily amount to unlock the reward! Always keep some Original Resin spare, as the rewards are far too good to pass up on!
If you are having trouble with this boss fight, as weekly bosses are the hardest bosses in the game at the moment, you can watch this video for an in-depth boss guide on how to defeat Stormterror.