The Genshin Impact Vibro-Crystal Verification event runs from March 14, 2023, to March 27, 2023, featuring six combat challenges where you have to defeat as many opponents as possible to score points. New players are more than welcome to join, as the event offers trial characters and a difficulty selector.
How to unlock the Vibro-Crystal Verification event in Genshin Impact
You must complete the following prerequisites to unlock the event:
Reach Adventure Rank 28 and above
Complete the Archon Quest Chapter I: Act III - A New Star Approaches (complete The Rite of Parting)
While not a formal prerequisite, you must also have access to The Chasm, as the event is located west of Lumberpick Valley. Once you've completed the above requirements, you'll get an Event Quest called Vibro-Crystal Reharmonization, which will prompt you to speak to a researcher from Fontaine.
Related: Genshin Impact Kaveh kit – All Skills, Constellations, Passives & more!
How to complete the Vibro-Crystal Verification event in Genshin Impact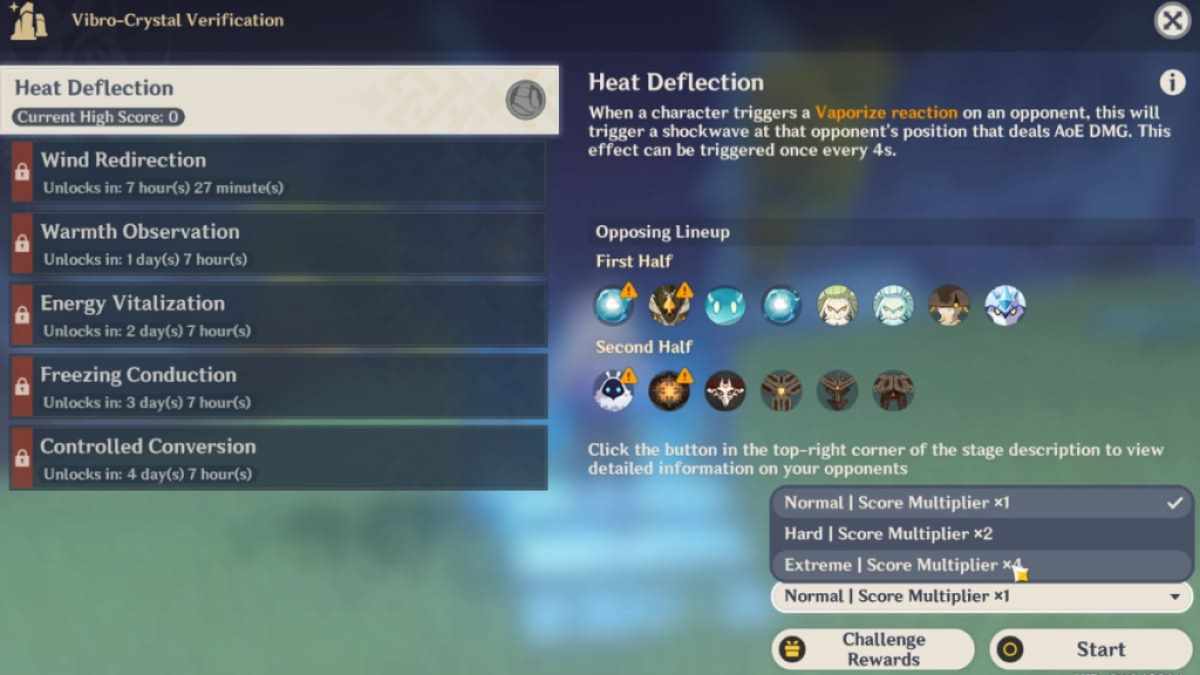 Interact with the event Domain west of Lumberpick Valley to begin. Its exact location is marked by a special icon on the World Map. There are six stages that unlock during the first six days of the event. Upon selecting a stage, pay attention to the information on the right half of the screen:
Bonus effects by triggering specific Reactions at the top of the page
Opponent lineup for each round—use these to help you build the perfect parties
Select your preferred Score Multiplier
Party Setup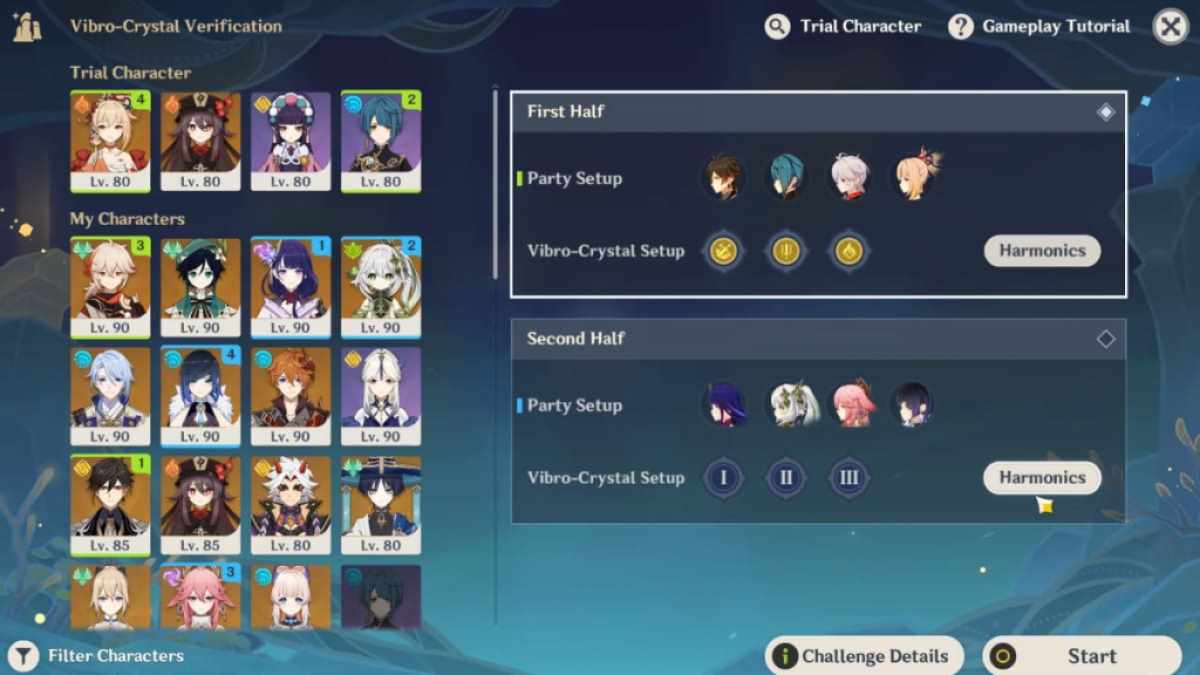 You need to set up two different teams for each half of the stage. You can pick any of the trial characters if you prefer, but if you already have them built, your existing character might be stronger. Each character can only be used once per stage.
Harmonics Setup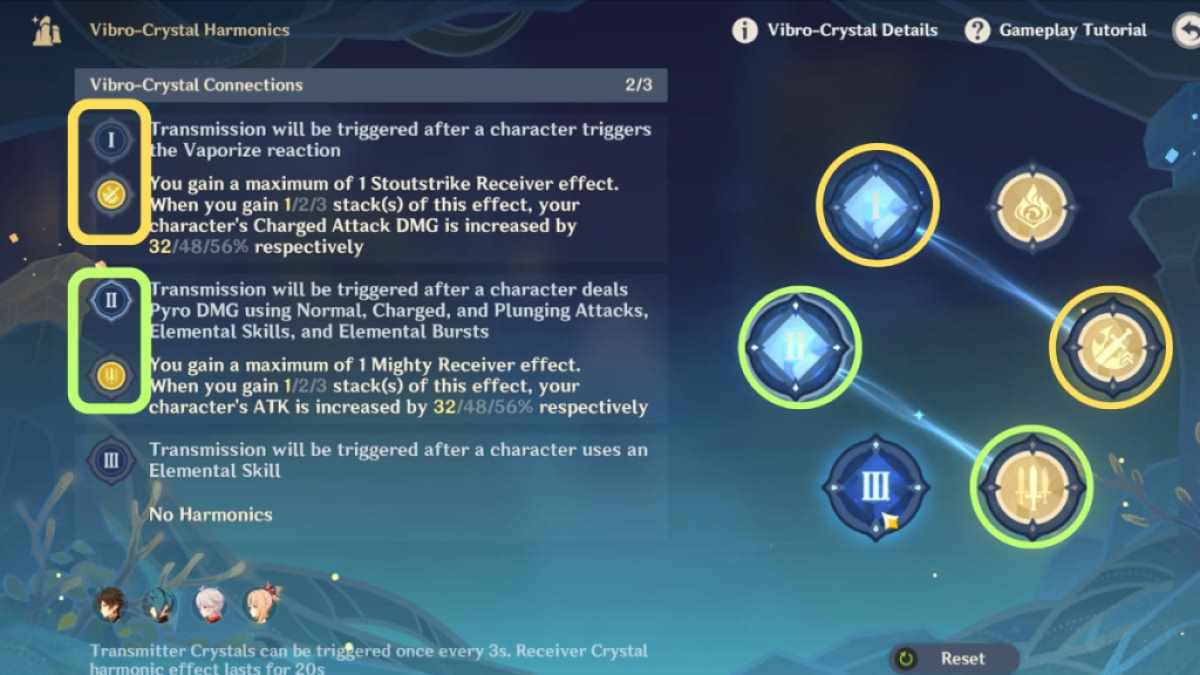 After setting up your party, click on the Harmonics button to configure your Vibro-Crystal setup. This allows you to customize cause-and-effect scenarios to buff your teams in battle.
The blue nodes are Transmitter Crystals, while the yellow nodes are Receiver Crystals. Click on a Transmitter Crystal, then click on your preferred Receiver Crystal to connect them.
Transmitter Crystal - contains the specific requirements to trigger an effect (see I, II, III on the left side of the screen)
Receiver Crystals - specifies the effects triggered by triggering the Transmitter Crystal
You can connect multiple Transmitter Crystal to a single Receiver Crystal, but not vice versa.
Combat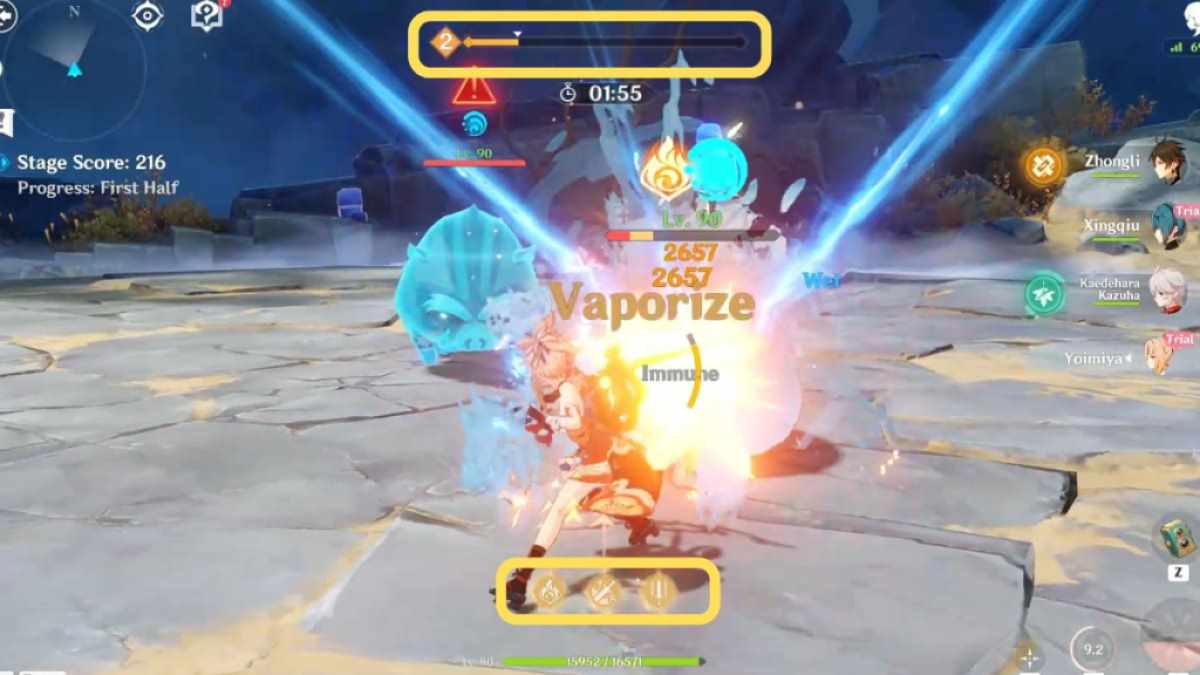 The goal of the event is simple: defeat as many opponents to score as many points as possible within the time limit. Each half is 2.5 minutes long (five minutes total per stage), and there's no limit to how many enemies you can defeat. The Harmonics buffs will help make the battle easier. Whenever you trigger Harmonics, your Harmonics Strength will increase, giving your party further buffs.
You need to score at least 500 points to get the Primogem rewards and 2,000 points for all of the rewards.
Check out our guide on Genshin Impact – All Windblume Character Locations (Act III) here on Pro Game Guides to chat with your favorite characters during the event.