Genshin Impact employs a unique gameplay mechanic called Energy Recharge, which directly relates to the amount of Energy each character is capable of generating. The Energy is then used to charge up Elemental Burst skills—ultimate attacks that some team compositions heavily rely on.
There's a bit of science behind how to generate Energy and how to optimize your characters' stats in consideration of their Energy Recharge capacity. Read on to learn more.
Energy Generation Mechanics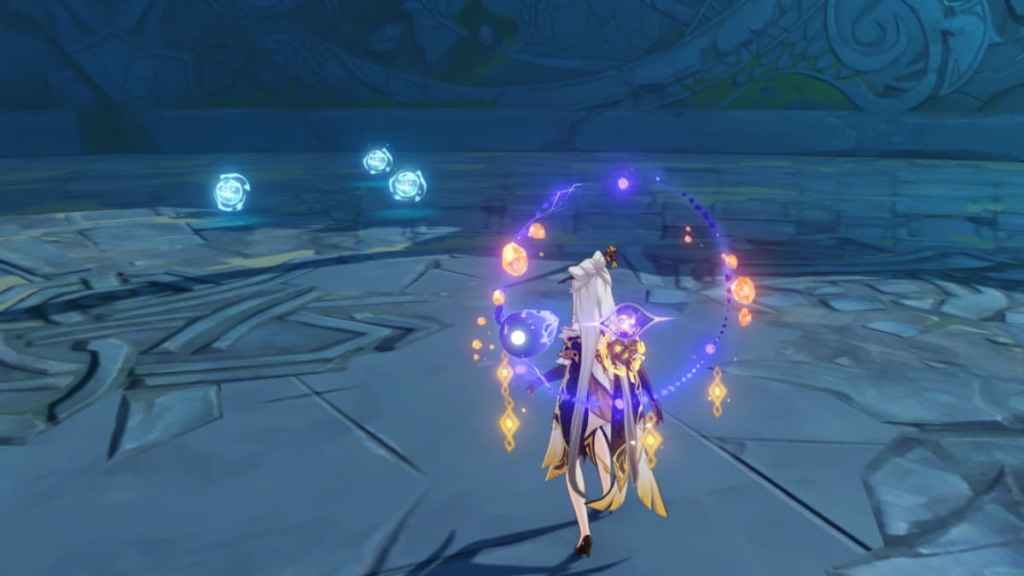 There are two kinds of Energy: Energy Particles and Energy Orbs. These are obtained in two ways—either through a character's skills or enemies when they reach a certain HP threshold.
Attacking Enemies
Monsters regularly drop Energy Particles and Orbs when they reach the following HP thresholds:
The exact type of Energy and threshold depends on each monster. For example, a Hilichurl will drop an Energy Particle at 50% HP and upon defeat. Some monsters will also generate Particles through their skills.
The Particles could be Element-neutral or specific to an Element, which give different amounts of Energy to team members. Larger enemies are more likely to drop Energy Orbs, which regenerate more Energy.
Elemental Skills
Some characters are able to generate anywhere between 0.5 to 4.5 Energy Particles by using their Elemental Skills. And because characters of the same Element as the Particles will receive more Energy, some team members can act as Energy Recharge batteries for others.
For example, a full Geo team of Ningguang, Zhongli, Albedo, and Noelle will be able to generate Geo Energy Particles for each other. As their Elemental Bursts will recharge very fast, you can spam them uninhibitedly.
Obtaining Energy
The Energy Particles and Orbs generate a certain amount of Energy depending on the receiver's Element and on or off-field status (more on that below), but only when they've reached the character. As a result, there's an opportunity to cheese through the narrow window before the Particles and Orbs reach you by switching to a character in need of more Energy.
This process can be helpful in content like the Spiral Abyss, where careful Energy consumption can make or break your runs.
Energy Conversion Breakdown
Energy picked up by the on-field character will be distributed to all members of the team. But the active character will always obtain more Energy. As you can deploy as little as one character, the number of characters in the team will affect the Energy distribution rate.
Meanwhile, characters of the same Element as the Energy Particles will obtain more Energy, while those of a different Element will obtain less.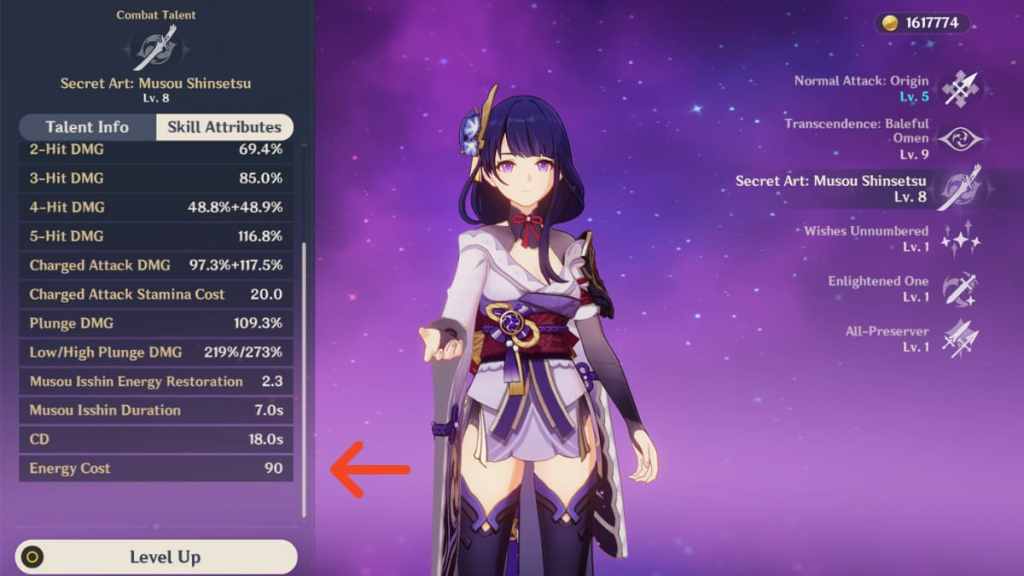 The numbers below signify the amount of Energy that goes toward a character's Energy Cost.
Related: Genshin Impact: Xingqiu Best Build, Team, and More!
Energy Particle Distribution
| Character Status | No Element | Same Element | Different Element |
| --- | --- | --- | --- |
| On-field | 2 | 3 | 1 |
| Off-field (four-member party) | 1.2 | 1.8 | 0.6 |
| Off-field (three-member party) | 1.4 | 2.1 | 0.7 |
| Off-field (two-member party) | 1.6 | 2.4 | 0.8 |
Energy Orb Distribution
| Character Status | No Element | Same Element | Different Element |
| --- | --- | --- | --- |
| On-field | 6 | 9 | 3 |
| Off-field (four-member party) | 3.6 | 5.4 | 1.8 |
| Off-field (three-member party) | 4.2 | 6.3 | 2.1 |
| Off-field (two-member party) | 4.8 | 7.2 | 2.4 |
Energy Recharge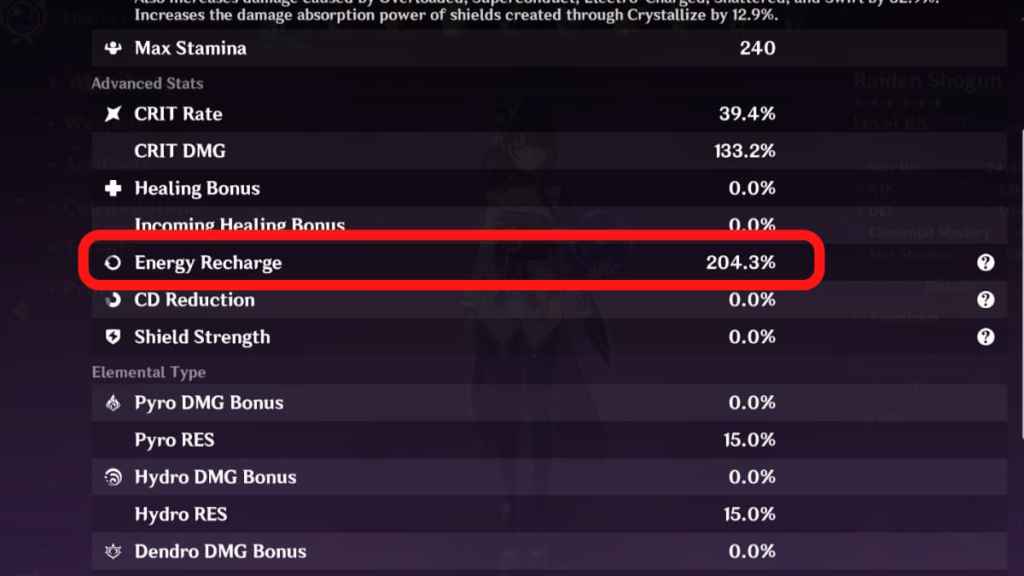 Energy Recharge is a valuable stat that increases a character's ability to generate Energy. It's useful for Support and Burst DPS characters who rely on their Elemental Burst skills to be useful in the team.
It's possible to obtain an Energy Recharge bonus from the following:
Weapons
Artifacts

Sands main stat
Substat
Set Bonus

Characters
Some of these bonuses involve directly regenerating Energy or dropping Energy Particles, which aren't dependent on the Energy Recharge stat. For example, you can't get a 200% increase in Energy Recharge for a Weapon passive that strictly drops 2 Energy per 12 seconds.
But the Energy Recharge bonus will apply when defeating enemies and other conventional forms of Energy generation.
Check out our Best Team Comps in Genshin Impact to help you build an Energy-efficient dream team.