Genshin Impact's Version 3.4 Lantern Rite event, The Exquisite Night Chimes, runs from January 19, 2023, to February 6, 2023, bringing a new wave of attractions and memories beneath Liyue's festive skies. During the event, you can participate in a plethora of activities to get amazing rewards, including a free Liyue four-star character of your choice!
How to get a free Lantern Rite four-star in Genshin Impact
Head to the event menu and select The Exquisite Night Chimes. On the bottom left of the screen, click on the Festive Fever button to claim rewards upon reaching score milestones. Festive Fever acts like event "EXP," which can be earned by completing stages across all the Lantern Rite activities: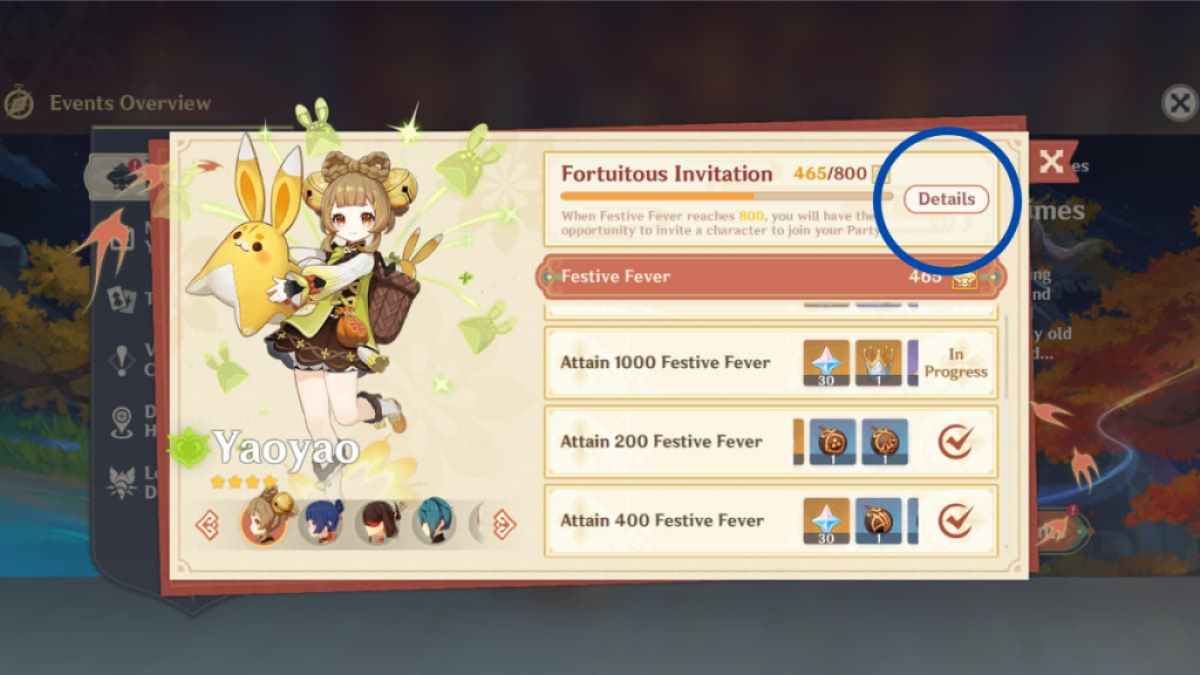 Once you've earned 200, 400, 600, 800, and 1,000 Festive Fever, you can claim rewards, including new firework designs and a Crown of Insight. Additionally, earning 800 cumulative Festive Fever will allow you to pick any Liyue four-star character of your choice. Click on Fortuitous Invitation to choose a character and invite them to your roster.
Related: Genshin Impact Paper Theater Over Peaks guide – The Exquisite Night Chimes event
Which Liyue four-star character should you pick in the Genshin Impact The Exquisite Night Chimes event?
Genshin Impact isn't a competitive game, so you can pick whichever character you love the most. However, we have a few tips to help you make that tough decision:
Yaoyao is a new four-star character. If you didn't roll on Alhaitham and Xiao's banners, consider getting this adorable new friend.
Chongyun, Xinyan, Yun Jin, and Yanfei are not part of the Paimon's Bargains Starglitter Exchange rotation. If you need their Constellations, take one for free!
Bennett, Xiangling, and Xingqiu are some of the most universal supports in the game—they even work well together in the famous national team.
If you're an early-game player and need a reliable bossing DPS, Ningguang makes a great pick.
If you're interested in pulling in the current banners, check out our Genshin Impact: Alhaitham Constellation Guide here on Pro Game Guides.