Genshin Impact's Core of the Apparatus event introduces players to Bertrand, a greedy toymaker from Fontaine looking to make a big buck from Inazuma's toy market. The event runs from June 29, 2022, to July 11, 2022, and is open to all players who have completed the following requirements:
Reach Adventure Rank 30 and above
Complete the Ritou Escape Plan part of the Inazuma Archon Quest: Chapter II: Act I - The Immovable God and the Eternal Euthymia
Complete the Chisato's Letter World Quest
How to unlock the Core of the Apparatus event in Genshin Impact
Once you meet all the requirements listed above, you'll automatically get an Event Quest called A-Toymaking We Shall Go. It will prompt you to speak with Katheryne in the Inazuma Adventurer's Guild, and then to the toymaker Bertrand in Ritou. The event is divided into three parts that release within the first three days of the event.
How to have Pyro, Hydro, and Electro applied to you in the Genshin Impact Core of the Apparatus event
After completing Source Material Collection and Elemental Charge, you'll receive the Event Quest called A-Toymaking We Shall Go: Core Propulsion. Speak to Bertrand and defeat enemies while equipped with the Material Collector Gadget to activate The Great Machine.
The first part of the quest will ask you to defeat three Slimes. You can find Slimes all over Teyvat, but here's a quick location you can go to to find a bunch of them. Head to the Teleport Waypoint west of the Dawn Winery to find a cluster of Cryo Slimes.
Next, you'll be asked to defeat two Specters. You can find these pesky mobs around Seirai Island and Watatsumi Island. An easy place to spot them is near the Teleport Waypoint north of the Slumbering Court, on the western side of Fort Hiraumi. From the Waypoint, head to the shore up north, where three Specters will spawn.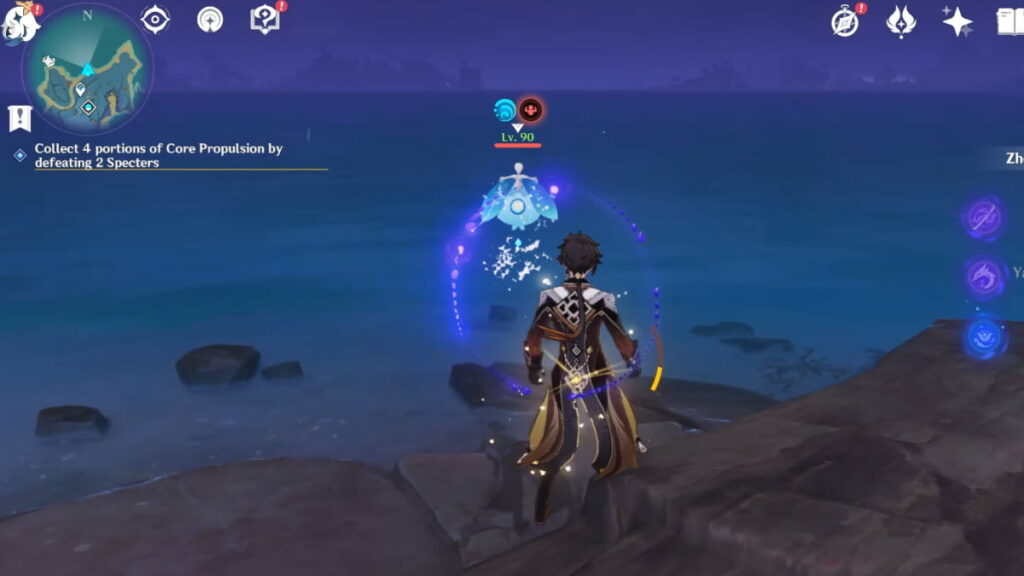 Lastly, you need to defeat one Hypostasis of any Element and in any region. These are the World Bosses that drop Ascension materials, but you don't need to spend Resin on the Ley Line Blossom. Simply defeat the boss to complete the quest.
Once you're done, return to Bertrand to report your progress. Don't forget to head to the Core Activation section in the event menu to claim 60 Primogems and other rewards for completing the segment.
Check out our compilation of Funny Genshin Impact Memes & Cursed Images to relax with content made by some of the community's greatest minds.